10. Writing Quality Tests - C1 / C2 Error Measurements
We measured the C1 / C2 error rate on the recorded discs we burned at the various supported writing speeds. The software we used is PleXTools Professional v2.20, and particularly the built-in Q-Check utility. The reader was the Plextor PX-712SA (firmware v1.05).
BenQ 80min 52X @ 32X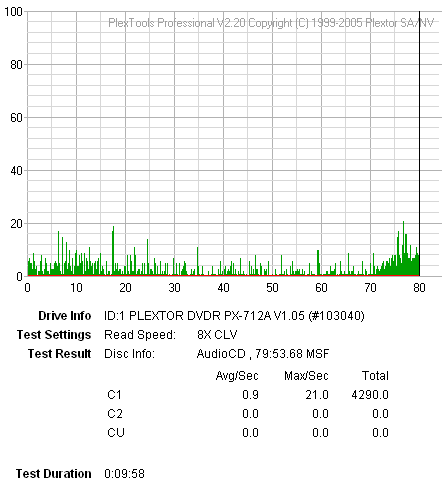 Intenso 80min 52X @ 32X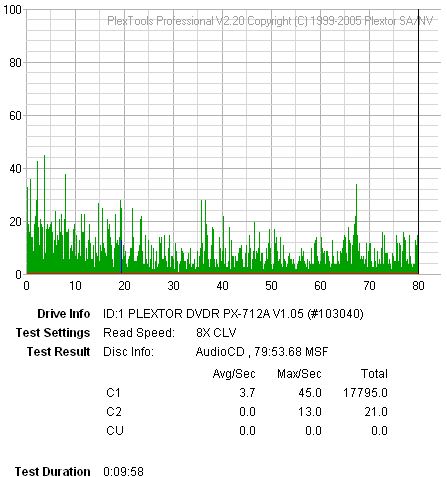 Ridisc 80min 52X @ 40X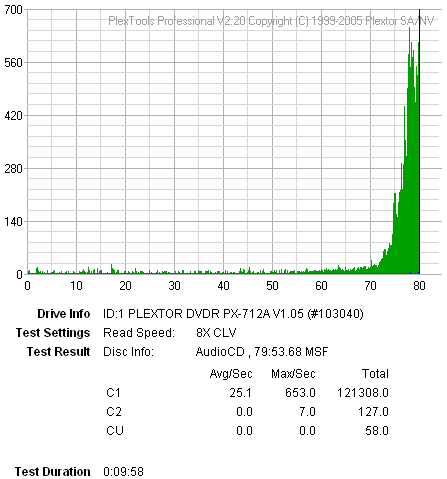 Traxdata 80min 52X @ 32X
Taiyo Yuden 80min 48X @ 40X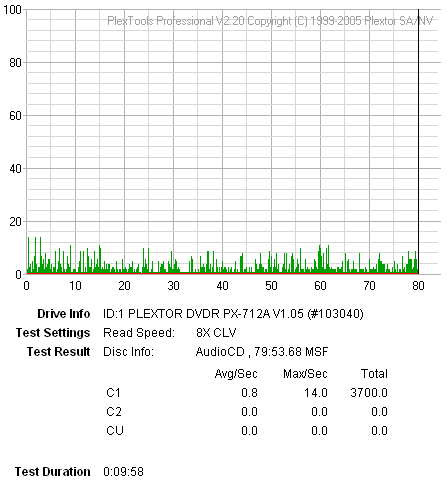 Verbatim 80min 52X @ 40X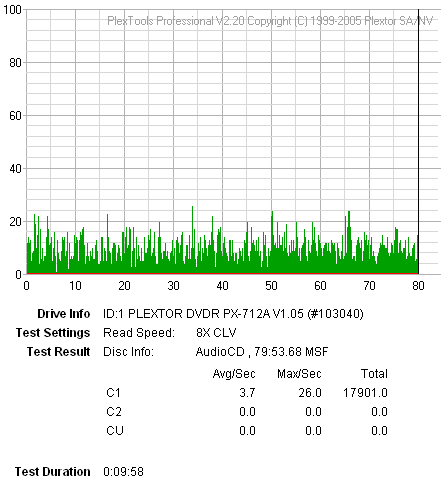 - Summary
Excellent performance with most media, except for Ridisc media which reported levels far beyond the acceptable limit hitting skyhigh at almost 700 near the completion of the reading process. All other media reported extremely low C1 and only Ridisc and Intenso media reported some C2.
- Appendix
| | | | |
| --- | --- | --- | --- |
| Media Label | ID Code | Manufacturer Name | Lead Out TIme |
| BenQ 52X | 97m22s67f | Daxon. | 79m59s74f |
| Intenso 52X | 97m32s19f | Prodisc | 79m59s71f |
| Ridisc 52X | 97m15s17f | Ritek Co. | 79m59s70f |
| Traxdata 52X | 97m15s17f | Ritek Co. | 79m59s70f |
| TY 80min 48X | 97m24s 1f | Taiyo Yuden | 79m59s72f |
| Verbatim 52X | 97m34s23f | Mitsubishi Chemical Corporation | 79m59s73f |