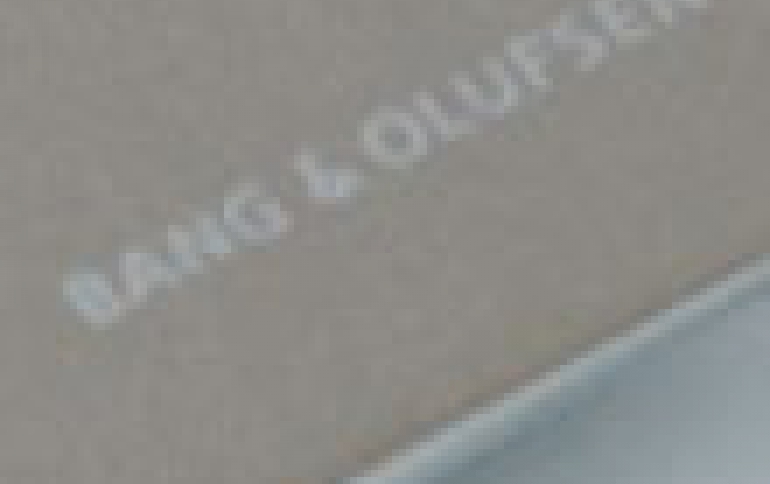 Bang & Olufsen Launches $8,000 BeoVision Avant TV
Bang & Olufsen is seeking to take back its European buyers with the release of the BeoVision Avant, a new 55-inch 4K TV that points itself to your direction. With the new $8,000 TV, which will be heavily marketed to "upper middle class" customers in Germany, Switzerland, the U.K. and other European markets, B&O hopes that it will attract buyers that have abandoned the brand in favor of asian TV makers such as Samsung and LG.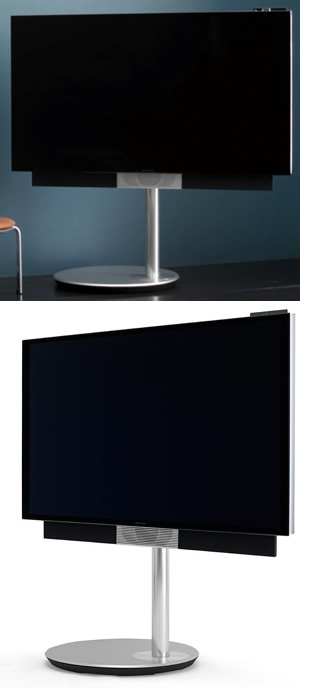 An intersting feature of the BeoVision Avant TV is its rotating stand, which allows the TV to actually move, point in the viewer's direction and also move away from the wall towards the viewer. However, this extra gunctionality would cost you some additional $2,000 (!) for the
motorised stand.
The UHDTV features an integrated "three channel" stereo speaker setup, Spotify and Deezer, WiFi, 6 x HDMI ports and supports WiSA / wireless audio. The built in speakers emerge from below the screen as soon as you switch the set on.
The BeoRemote One, Bang and Olufsen's universal remote, can control everything in your front room, and has three buttons that automatically switch the Avant on with your favorite settings and/or channel. The Avant will also let you control other devices such as a cable box or your PlayStation, even if even when these devices are placed in another room.
The BeoVision Avant manages your speaker output depending on your setup and taste. In a full surround setup with two additional front speakers, a subwoofer and two rear speakers, BeoVision Avant devotes all its built-in drivers to dialogue. Alternatively, BeoVision Avant can replace the two additional front speakers by splitting its own drivers into dedicated right, left and centre channels.
Similarly, a sensors measure the ambient light and even room color to automatically adjust the TV's image reproduction to Bang & Olufsen's optimized settings.
BeoVision Avant 55"
Display: Ultra High-Definition (4K), edge-type LED panel with 1.5 local backlight dimming
Placement options:
Table stand raises the TV to an upright position from its 9 degree slightly tilted resting position.
Floor stand allows screen to move up to 90 degrees from the wall.
Wall bracket allows the screen to move up to 60 degrees from the wall. Choose right or left sided wall bracket.
(Above stands are motorised)
Fixed wall bracket keeps the screen close to the wall in a fixed position
Materials:
Anodized aluminium profiles in silver and black.
Anodized aluminium profiles in silver and black.
Front speaker fabric in black.
Rear part black and anodized aluminium.
Anti-reflection coated, grey front glass.
Theft protection feature:
Pincode activates if disconnected from the mains more than 5 min.
Digital 7.1 surround sound module: Standard built-in
Sound input formats
HDMI: PCM, multichannel PCM
SPDIF: Stereo PCM, Dolby Digital and DTS Digital Surround
Digital sound decoding capabilities: Multichannel PCM, Dolby Digital, Dolby Digital Plus 7.1, DTS Digital Surround, HE-AAC v1 and v2, LC-AAC, mp3, WMA, WMA lossless, FLAC. Up- and down-mixing: Bang & Olufsen TrueImage, downmix, 1:1
Screen type:
16:9 TFT LCD, glare surface
Backlight type
Two, edge-type LED
1.5D local backlight dimming
Resolution: Ultra High-Definition (3840 x 2160 pixels)
3D function: Requires active shutter glasses (not possible on UHD signals)
Refresh rate: 100Hz/120 Hz
Luminance of white (centre of screen): Typical 450 cd/m2
Contrast ratio (centre of screen): Typical 5000:1
Picture optimisation
: VisionClear picture technology.
Room adaptation: Automatic Picture Control with Chromatic Room Adaptation adjusting the picture performance to the light conditions in the room.
Colour calibration: 10-point display calibration
Contrast enhancement"
Adaptive contrast algorithm
1.5D local backlight dimming
Motion picture improvement: Adaptive film judder compensation
Analogue tuner: Standard built-in
Digital tuner dual T2/C/S2: Standard built-in
USB hard disk recording: Yes (pause Live TV with 4 hour time shift buffer), make a recording if you have connected and set-up a USB HDD or SSD for recording.
Loudspeaker:
Integrated 3-channel stereo
Power amplifiers:
8 amplifiers ? one per driver
3 x 60 watts for treble
3 x 60 watts for midrange
2 x 60 watts for bass
Effective frequency range: 60 Hz - 22,800 Hz
Crossover frequency range: 300 Hz, 600 Hz and 4000 Hz
Woofer: 4? and 6½?
Midrange: 3 x 2?
Tweeter: 3 x ??
Cabinet volume:
Left, right: 0.3 l
Centre woofer: 1.5 l
Centre midrange: 0.3 l
Woofer: 2.5 l
Bass equaliser: Adaptive Bass Linearisation (ABL)
Protection: Thermal protection
IR control outputs (PUC): 3 x RJ45 sockets with two control outputs in each for control of up to six connected devices
Analogue video connections: 1 x mini AV input (RGB FB or CVBS and one way AVL)
PAL, SECAM, NTSC
USB:
2 x USB connectors
5V DC/500 mA
Ethernet: 1 x Ethernet RJ45 10/100 Mbit/s
Digital video connections: 6 x HDMI free configurable (one HDMI located at the easy access, not UHD capable)
Digital sound connections: 1 x RCA SPDIF, free configurable
Loudspeaker outputs: 5 x RJ45 Power Link, allowing up to 10 BeoLab speakers
Immaculate Wireless Sound
: Standard built-in, WiSA compliant connect up to eight speakers wirelessly in addition to the wired speakers
Audio distribution: Standard built-in, requires BeoLink Converter NL/ML to Master Link products
Peripheral Unit Control:
Integrated Peripheral Unit/Set-top Box Controller controlling six units

Allowing you to control set-top boxes with the Bang & Olufsen remote control
Music services: Spotify and Deezer
Internet radio: Available
Hbbtv: Available
Bang & Olufsen Smart TV: Available
Automatic speaker calibration: Yes, calibration microphone included
Sound modes: 9 editable sound modes
Speaker groups: 9 user-configurable speaker groups
Media player
: Standard built-in
Media: USB device or DLNA
Media containers: MKV, MP4, ASF,AVI, MP2TS, MP2PS, MOV (not UHD capable)
Video codecs: MP1V, MP2V, MP4-ASP, H264, MJPEG,VC-1, WMV9, XviD (not UHD capable)
Photo formats: jpg, bmp, tiff, png, gif (not UHD capable)
DLNA media player (DMP): Available
DLNA media renderer (DMR): Available
Automatic software update: Available
3rd party hdmi matrix: Support of formats: 4x4, 4x8, 8x8, 16x16
Power consumption: 169 W
Mains voltage range: 100-240 VAC, 47-63 Hz
Remote control: BeoRemote One, BeoRemote App for iPad or Android tablet