3. Conclusion
be quiet! has many different lines of fans, and the Pure Wings 3, comes to replace the Pure Wings 2 lineup, with a different fan frame outlet that is designed to minimize air leaks, which will benefit performance mostly with radiators. Apart from the frame design, the fan blades have changed as well, their angle is adjusted to achieve even more air pressure, which is always a good thing. be quiet! describes the Pure Wings 3 as the right choice for any case configuration that demands high cooling performance and great air circulation. Due to its lower price, the Pure Wings 3 lineup includes rifle-bearing technology and boasts a lifespan of 80,000 hours. The Pure Wings 3 lineup comes with 6 different variations either in 120mm or 140mm to cover most users' needs.
The high RPM variation includes up to 9 blades for the 120mm/140mm dimension and 7 blades designed for the rest lineup. The improved performance compared with the Pure Wings 2 is present as the slightly lower overall noise. Users can choose either from a 4-pin PWM or a 3-pin design to best suit their needs.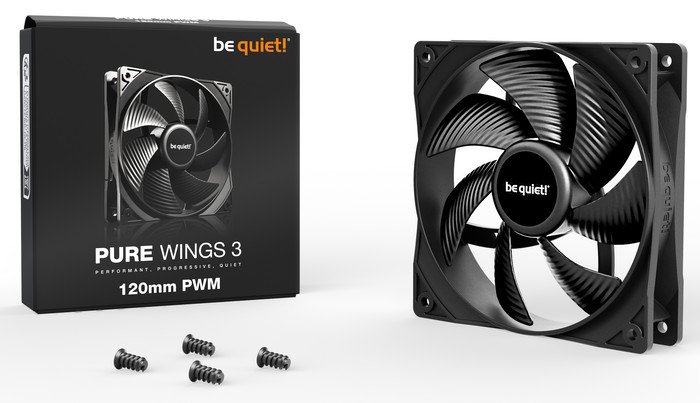 Concluding this review, the new Pure Wings 3 is another new addition from be quiet! that promises a low entry price point, decent features, and good performance. We ticked all those three boxes, so we found the Pure Wings 3 to be a solid product that will further boost your performance, especially if don't have much to spend to get the higher-end Silent Wings 4 series, which costs much more but also offer much more performance. The retail price for the 140mm PWM Pro series is around $ 11.90 / € 14.90 / £ 10.99, while the 120mm variant is slightly cheaper at $9.90 / € 13.90 / £ 10.99 and can be found now at all major retail/online stores.
(+) Positive
Many different versions (high-speed PWM, PWM, No PWM mode)
Rifle 4-pole fan motor
Optimized fan frame for improved performance on radiators
Re-designed fan blades and improved performance Vs. Pure Wings 2 series
Good lifespan of 80,000h for the fan motor
3-year manufacturer warranty
Great retail price for entry-level users
(-) Negative