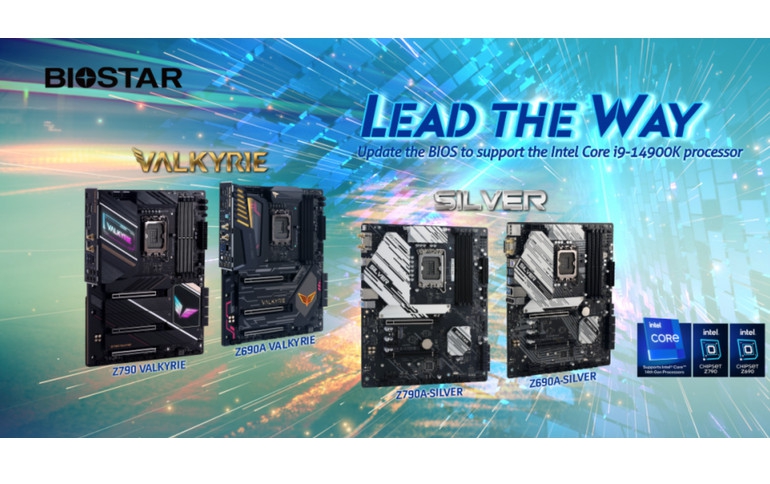 BIOSTAR INTRODUCES THE BEST MOTHERBOARDS TO POWER THE BEEFY INTEL CORE i9-14900K PROCESSOR
BIOSTAR introduces the best motherboards to power the latest Intel Core 14th gen i9-14900K processor.
BIOSTAR's flagship Z790 VALKYRIE, Z790A-SILVER, Z690A VALKYRIE, and Z690A-SILVER motherboards are fully optimized to accommodate the cutting-edge Intel Core i9-14900K processor, promising exceptional performance across various user needs. Meticulously crafted with precision engineering, BIOSTAR motherboards carry the latest technological advancements and innovative features for peak performance and durability. With each component designed to harness the full capabilities of the cutting-edge Intel Core i9-14900K Processor, BIOSTAR motherboards promise users an unparalleled computing experience that blends speed with stability.
These motherboards cater to diverse user requirements, such as gamers seeking smoother, more immersive gaming experiences and office users who demand swift task execution, reduced application load times, rapid file transfers, and instant computer responsiveness.
Furthermore, content creators will find a significant boost in performance and productivity when BIOSTAR motherboards are paired with the highly potent Intel Core i9-14900K processor. Designed to Power up productivity, gaming, and content creation, The Intel Core i9-14900K 24-Core LGA 1700 Processor is built with the latest Intel 7 process technology. Featuring an optimized Hybrid Core Architecture, the Core i9-14900K powers demanding applications and games with eight performance cores while the 16 Efficient-cores handle background tasks for smooth multitasking, exhibiting its capabilities with supreme rendering and processing times, making tasks such as video editing and 3D rendering faster and more efficient.
Showcasing unparalleled features among its peers, the Z790 VALKYRIE motherboard from BIOSTR is the ideal partner for the Intel Core i9-14900K processor. It is built on the advanced Intel Z790 single-chip architecture and precisely crafted to enhance the jaw-dropping performance of the Core i9-14900K processor to the next level.
The Z790 VALKYRIE further showcases enhanced performance due to its remarkable features, such as support for 4-DIMM DDR5 memory of up to 192GB, PCIe 5.0, 2.5 GbE LAN, and DisplayPort 5K.
In parallel, the Z790A-SILVER encompasses similar attributes but adds HDMI 2.1, ensuring pristine, high-definition visuals. When paired with the Intel Core i9-14900K processor, these motherboards emerge as the pinnacle of DDR5 platforms, ideal for constructing the ultimate high-end gaming or workstation build that outshines all competitors.
Constructed on the proven Intel Z690 single-chip architecture, the Z690A VALKYRIE and Z690A-SILVER stand out with their Dual Channel DDR4 memory support up to 128GB. The Z690A VALKYRIE is equipped with premier features like DisplayPort 5K and PCIe 5.0. At the same time, the Z690A-SILVER parallels distinct attributes tailored for content creators and industry professionals. Showcasing BIOSTAR's robust offerings, both motherboards bolster connectivity and speed with support for WiFi 6 & 6E modules and PCIe 4.0 M.2 (64Gb/s), ideal for online gaming, content creation, and enthusiast-grade workstations.
Users can expect a robust Max Turbo P-CORE at 6.0GHz and E-CORE at 4.4GHz performance across all four motherboards thanks to their superior power delivery and overclock capabilities, ideal for extracting the maximum performance from the latest Intel flagship processor. Enhancing any task thrown at them, which includes myriad tasks like web browsing, office applications, and content consumption to power-hungry functions such as gaming, video editing, and 3D rendering, the synergy of BIOSTAR motherboards and the Intel Core i9-14900K processor seems like a match made in heaven.
Built on its legacy of innovation and quality, BIOSTAR's top-tier motherboard offerings, combined with the Intel Core i9-14900K processor, elevate performance to unprecedented levels. The synergy between BIOSTAR's advanced hardware and Intel's cutting-edge processor ensures that users, from gamers to content creators, enjoy swift, smooth, and power-packed computing experiences. Whether it's immersive gaming, rapid file transfers, or efficient multitasking, the blend of BIOSTAR motherboards with the Intel Core i9-14900K processor marks a new pinnacle in technological advancement, setting the standard for future innovations in the industry.
Connect with US
Facebook www.facebook.com/BiostarHQ
Twitter https://twitter.com/BIOSTAR_Global
Instagram www.instagram.com/biostarofficial
YouTube www.youtube.com/user/BiostarTaiwan
Availability http://www.biostar.com.tw/app/en/wheretobuy/index.php