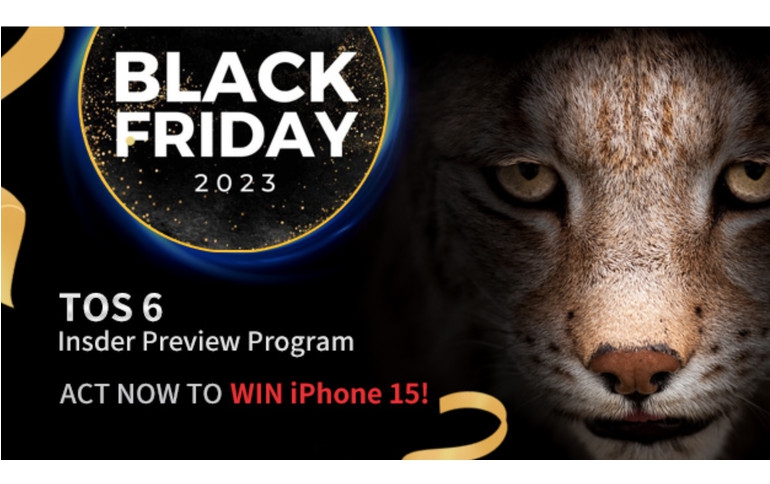 BLACK FRIDAY 2023: BEST DEALS AND TERRAMASTER TOS 6 INSIDER PREVIEW ARE HERE! ACT NOW TO WIN AN IPHONE 15!
Terramaster announced their Black Friday 2023 deals.
Product Series 1 Participating in the Discount: Home Multimedia Storage
Ideal NAS for creating personal private cloud and home multimedia center.
Product Series 2 Participating in the Discount: Plex 4K HD Video Hardware Decoding
Powerful Hardware Decoding for Intel Jasper Lake GPU, greatly improving the 4K video hardware decoding capability of TerraMaster NAS.
It can transcode video in real time into a file format that can be played smoothly on various devices.
Product Series 3 Participating in the Discount: 10GbE NAS for 4K Video Editing
Desktop-class high-speed NAS with dual 10G optical interfaces, designed for professionals who require high-speed, large-capacity applications
such as virtualization, databases, image and video content creation, etc.
Product Series 4 Participating in the Discount: USB 3.2 Hybrid Disk Array
The industry first hybrid USB disk array can accommodate multiple SATA HDD/SSD and NVMe M.2 SSD, while having the ultra-large capacity of HDD
and the high-speed performance of M.2 SSD! Free TPC Backupper backup software.
High-speed NLE Lightning Product Series 5: 40Gbps Thunderbolt 3 RAID Storage
Equipped with the latest Hardware RAID Controller and dual 40Gbps interfaces, it is suitable for a video editor that works with real-time multi-channel HD 4K/8K video streams.
TOS 6 Insider Preview Program
Participate TerraMaster TOS 6 Insider Preview Program to Win an iPhone 15!
Click here for more details: https://www.terra-master.com/global/press/index/view/id/1758/
US: https://amz.run/6sNo
UK: https://amz.run/7JxP
FR: https://amz.run/6sNi
DE: https://amz.run/6sNk
ES: https://amz.run/6sOH
JP: https://amz.run/6sO6
CA: https://amz.run/6sNp
AU: https://amz.run/6sNq
NEWEGG: https://sourl.cn/hXJ2Sj