CES: Canon Introduces New 4K Camcorders, Portable Mini Projector
Canon today announced a portable mini projector, the new Canon Rayo S11, along with the Canon VIXIA camcorders.
Canon Rayo S11
With the ability to run for up to two hours completely wirelessly and share presentations from a USB drive or internal storage, business presentations can now be refashioned thanks to the Rayo S1. The Rayo S1 projects up to 84 inches, giving users the ability to take their presentations on the road. In addition, the Rayo S1 can easily integrate into family activities for projecting movies at sleepovers and playdates or sharing photographs during family gatherings.
At the core of the Rayo S1 is portability – weighting 0.5 pounds and measuring 4 inches x 4 inches in size. The projector is featuring 4GB of internal storage as well as:
A smart touchpad for navigation
Compatibility with select wireless mouse, keyboard and presenters
The ability to connect and mirror a smartphone or tablet
On-screen QWERTY keyboard to type
Built-in power bank for charging mobile devices
3 Watts Bluetooth speaker
Built-in web browser
WiFi connectivity
Built-in Canon Camera Connect application
Android OS
Tripod mount
The Canon Rayo S1 is scheduled to be available for purchase in May 2019 at an estimated retail price of $259.99.
Waterproof And Shockproof Canon VIXIA Camcorders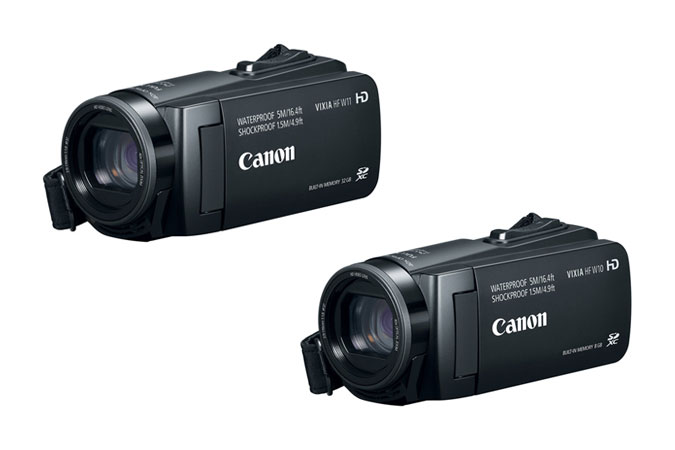 Canon also announced two new ruggedly designed additions to the VIXIA family of digital camcorders – the VIXIA HF W11 and HF W10. Both models are waterproof (up to 16.4 ft. / 5m), shockproof and dustproof and are capable of functioning in temperatures as low as 14 degrees Fahrenheit /-10 degrees Celsius. Featuring 1920 x 1080 video AVCHD Full HD video recording, both camcorders are equipped with a 40x optical and 60x digital zoom lens.
The VIXIA HF W11 camcorder offers an attached LED light and 32GB of internal storage for recording up to13.5 hours of high-definition video, while the VIXIA HF W10 camcorder offers 8GB of internal storage for recording up to three hours of video. Both models allow for five hours of continuous recording time. Users can also record to a removable SD memory card, allowing for additional recording capacity as well as easy sharing with friends and family. In addition, both camcorders feature a 3.0-inch touch-panel LCD screen enabling users to view a recording or change settings all at the touch of a finger.
The VIXIA HF W11 and VIXIA HF W10 camcorders are both scheduled to be available in April 2019 for an estimated retail price of $449.99 and $399.99 respectively.
The New VIXIA HF G50 4K UHD Video Camcorder
A new addition to the VIXIA G-series family of camcorders, Canon announced the Canon VIXIA HF G50. The camcorder is the first VIXIA G-series camcorder to feature 4K 30P recording. Featuring a wide-angle Canon 20x (29.3-601mm) optical zoom lens, the VIXIA HF G50 provides a well-rounded feature set at an affordable price point.
The camcorder records 4K UHD/30p (4:2:0 8 bit) and 1080p Full HD (4:2:2 10 bit via SDI/HDMI Output) in MP4 format to dual-card SD card slots with dual and relay recording. Users can also record in slow and fast motion interval from 0.4x to 1200x. To help provide enhanced image quality over its predecessor, over sample HD processing can be utilized with information obtained from the 4K 1/2.3-inch sensor and the DIGIC DV 6 image processor.
The VIXIA HF G50 camcorder's Intelligent Optical Image Stabilization five-axis system Dual-Pixel CMOS AF provides users with image stabilization via a Dynamic mode, which reduces image distortion even when shooting while walking. By adopting the 8-bladed circular aperture applying the EF lens technology, it is possible to take pictures using natural beautiful bokeh. The portable camcorder has a 3-inch LCD touch panel screen and tilting, user-friendly, high-resolution color Electronic View Finder (EVF).
The Canon VIXIA HF G50 4K UHD video camcorder is scheduled to be available in April 2019 for an estimated retail price of $1099.00.