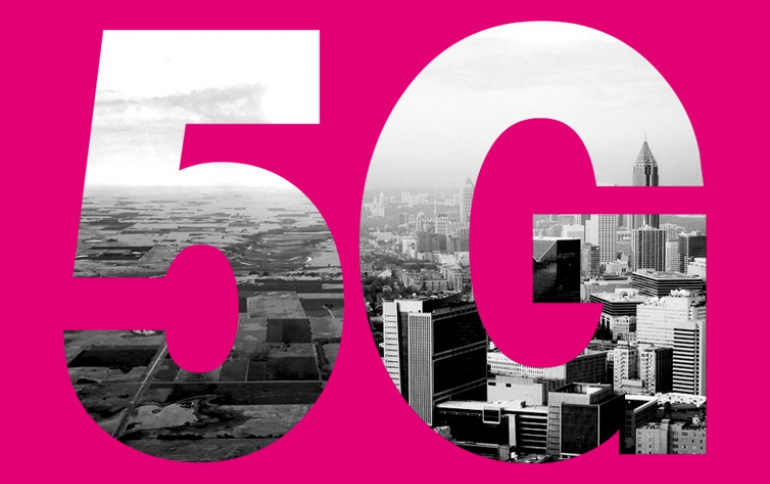 T-Mobile, Ericsson and Intel Complete First 5G Call on 600 MHz
T-Mobile, Ericsson and Intel have achieved the world's first 5G data call and video call (including successful uplink and downlink communication) on 600 MHz, both on a live commercial network.
During the tests, the teams generated a 5G signal capable of covering more than a thousand square miles from a single tower. T-Mobile also accomplished a tri-band 5G video call with three users on different spectrum bands – 600 MHz, 28 GHz and 39 GHz.
The New T-Mobile, when approved, will provide 5G to customers on multiple spectrum bands, including low-band, mid-band and millimeter wave. Low-band 600 MHz spectrum delivers a broad layer of 5G and provides a balance to millimeter wave (mmW) – which is an important piece of the 5G puzzle – but has limited coverage (less than a square mile) and is unable to pass through most objects, like walls.
"This is a huge accomplishment for Neville and his team, who had a vision for nationwide 5G and are building it out the right way – across multiple spectrum bands," said John Legere, Chief Executive Officer of T-Mobile. "While the other guys focus on 5G millimeter wave on a handful of blocks in a handful of cities, we're building 5G for everyone, everywhere! And together with Sprint, we'll add much-needed spectrum depth, creating a truly transformative 5G network!"
Visitors at CES will be able to check out T-Mobile's future 5G network in action at T-Mobile's booth, along with the Un-carrier's Future of Wireless Truck. A live 5G demonstration will show attendees how low-band spectrum is able to penetrate physical barriers like windows and doors, while mmW cannot.
T-Mobile is on their way to delivering nationwide 5G in 2020, deploying 5G-ready equipment as they roll out 600 MHz Extended Range LTE, which is already live in more than 1,500 cities and towns in 37 states and Puerto Rico.