CES: Samsung Launches New Odyssey Gaming Monitors
Combining performance with QLED-quality visuals and an extremely deep curvature, Samsung Electronics' new Odyssey G9 and G7 present a new take on the gaming monitor.
Both the (49-inch) G9 and the (32- or 27-inch) G7 have been optimized, inside and out, with enhancements that put gamers first. The monitors' 1000R curvature maximizes your field of view, making it easier to immerse yourself in the on-screen action, while a 240Hz refresh rate and 1ms response time eliminate lag and ensure that gameplay and screen transitions are silky smooth. The devices' specs are complemented by eye-catching designs – highlighted by Samsung's new, futuristic Infinity Core Lighting – that users can tilt, raise and rotate to find their optimal viewing angle.
The monitor's performances have even been certified by TÜV Rheinland, an international certification organization which has awarded Samsung the industry`s first high performance 1000R curved display and Eye Comfort certificate.
Samsung`s newest gaming monitors will support NVIDIA G-SYNC Compatibility and Adaptive Sync on DP1.4.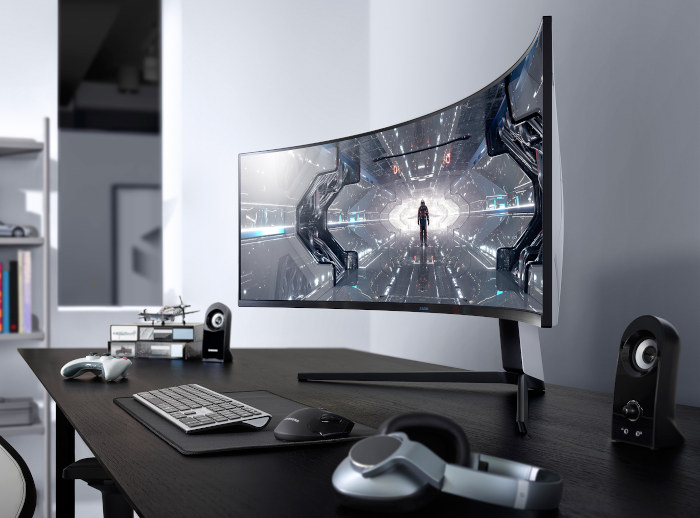 The G9 is the first Dual Quad High-Definition (DQHD; 5120×1440 resolution) gaming monitor to feature a 240Hz refresh rate, 1ms response time, 32:9 aspect ratio, a deep and immersive 1000R curvature, and a peak brightness of 1000 cd/m2. The monitor features Quantum dot technology combined with an HDR1000 VA panel to produce lifelike colors in vivid detail.
The G9 has a new design with a glossy white exterior and a futuristic infinity core lighting glowing rear core, which includes 52 colors and five lighting effect options.
Gamers will appreciate that the G7 has the same quick response time and refresh rate, deep curved display, and overall performance of the G9, in smaller 32" and 27" models. The G7's Quad-High Definition (QHD; 2560×1440 resolution), 16:9 aspect ratio and HDR600 VA panel are complemented by a 600 cd/m2 peak brightness. Additionally, the G7's QLED screen with Quantum dot technology provides a wide range of accurate color reproductions.
The G7 has been redesigned with a matte black exterior and color-changing rear core lighting that can remain static or dim during gameplay, as well as change colors based on gamers' preferences. In addition, the G7 has added dynamic shapes and lighting to the monitor`s front bezel.
Samsung's G9 and G7 will be available globally beginning Q2 2020.