CES: Sennheiser Presents Augmented Audio Experience, New MOMENTUM True Wireless and Upcoming AMBEO Soundbar
At CES 2019, which closes its gates today, Sennheiser provided visitors with the opportunity to explore the world of Augmented Audio and craft their own AMBEO AR experience.
Additionally, the company offered at its booth listening sessions with AMBEO Soundbar, showcasing its technology in 3D sound for the home.
AMBEO AR Experience
Immersive sound is essential to create a compelling Augmented Reality journey. This idea was embodied by an interactive CES experience that combines Sennheiser's AMBEO AR One headphones, developed for spatial computing creators and developers, and Magic Leap's One headset. Utilizing the AMBEO Augmented Audio Lab, a dedicated app, CES visitors explored the world of Augmented Audio and craft their very own AR experience.
With the AMBEO AR One and its Transparent Hearing feature, users can blend real-world sounds with virtual audio and play around with sound using the companion app and the Magic Leap One. Sounds are visualized as balls of pulsing energy which users can capture, grab, position, loop and interact with. In the context of creating augmented and mixed reality applications, this platform empowers developers to bring augmented audio soundscapes to future spatial computing productions.
The new AMBEO Soundbar
In another showcase of the AMBEO 3D audio program, Sennheiser presented the forthcoming AMBEO Soundbar, a prototype of which was unveiled at CES 2018. The finished product ffers a spatial sonic experience with 5.1.4 sound and deep bass in a single all-in-one device.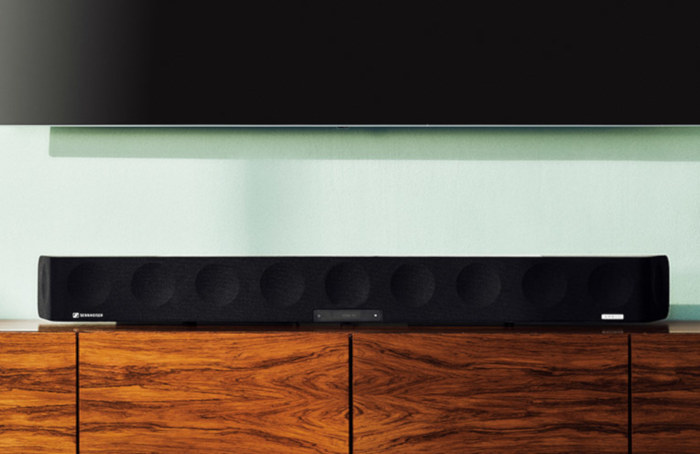 Beneath its lacquered and brushed aluminum surface, the AMBEO Soundbar is powered by 13 drivers and the latest virtualization technology which was jointly developed with Fraunhofer IIS.
Whether watching a movie, listening to music or enjoying a football match, the soundbar optimizes the sound for the individual room and preferred seating position.
This room calibration is intuitive for the user as calibration with the included external microphone automatically adapts and optimizes the acoustics to fit the individual environment.
The AMBEO Soundbar is compatible with Dolby Atmos, MPEG-H and DTS:X. Thanks to its Upmix Technology, it can also recreate stereo and 5.1 content in 3D. The soundbar features five different presets (movie, music, sports, news and neutral) tailored to a range of scenarios and content types that precisely adjust not only the frequencies but also the 3D sound characteristics.
The soundbar features connectivity via-built in Google Chromecast, Bluetooth and HDMI eARC/CEC. Connectivity options also include three further HDMI inputs, an optical audio port, and an AUX (RCA) input.
The AMBEO Soundbar will be available from May 2019 for 2,499 EUR (MSRP).
MOMENTUM True Wireless
Visitors to the Sennheiser booth had also the chance to get their hands on the MOMENTUM True Wireless, which made its CES debut.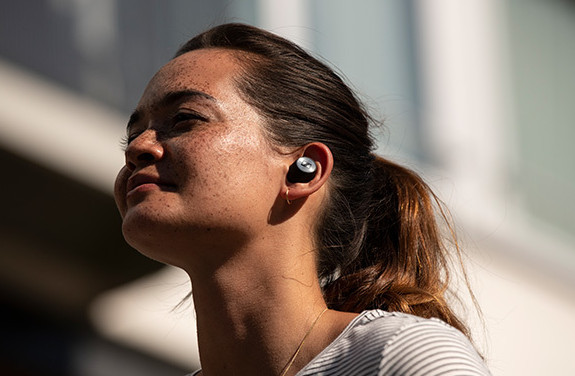 The latest addition to the MOMENTUM range of headphones feature Sennheiser's audiophile 7mm dynamic drivers. The MOMENTUM True Wireless offers direct voice access to Apple Siri or Google Assistant. Meanwhile, the earphones' Transparent Hearing feature makes it possible to hear sound from the outside environment to increase situational awareness, or to participate in conversations without removing the ear buds.