CES: Sony Presents New OLED TVs, Audio Products, Robot Car Image Sensors
Sony presents its lineup of new entertainment products for 2018 at the Consumer Electronics Show in Las Vegas, as well as initiatives that use new technology, such as the entertainment robot aibo and automotive image sensors designed for self-driving cars.
On display will be the new 4K organic light-emitting diode Bravia A8F series, which features the 4K HDR image processor X1 Extreme and brings a new design to the Bravia lineup.
The prototype of the next-generation picture processor X1 Ultimate, which has twice the real-time processing power of the X1 Extreme, will also be on display.
The Acoustic Surface technology allows the sound to come from the screen, creating an entertainment experience with just a beautiful picture in sight thanks to the One Slate concept which eschews all visible speakers.
The new design with a minimised stand allows the AF8 to be positioned in a wider range of locations.
In parallel, Sony has expanded the LCD screen TV line-up. The new XF90 series, equipped with the X1 Extreme processor, will be available in 75", 65", 55" and 49" screen sizes.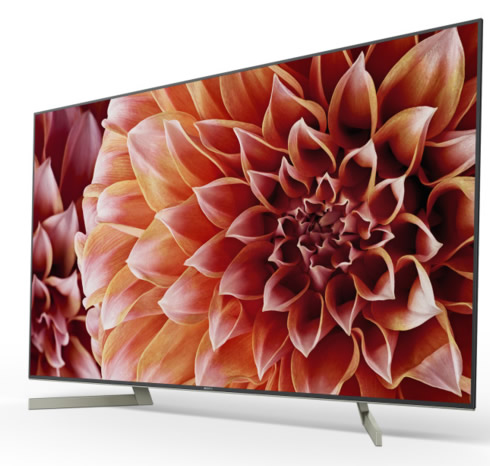 The XF90 series is using a new technology, X-Motion Clarity, to keep fast action images smooth and clear. The X-Motion Clarity technology utilises Sony's proprietary direct LED local dimming and backlight boosting algorithm to control the luminance and optimise its duration.
Both the AF8 and the XF90 series will support Dolby Vision, the HDR format from Dolby Laboratories.
To provide better user experience, Sony's 2018 Android TV also works with smart speakers like Amazon Echo, Google Home and the latest Sony's smart speaker.
New Sony TV models and key features:
AF8 Series (65", and 55" models) 4K HDR OLED TV
Features OLED as display device - 8 million self-illuminating pixels.
4K HDR Processor X1 Extreme - incorporating three technologies: Object-based HDR remaster, Super Bit Mapping 4K HDR and Dual database processing.
Acoustic Surface technology.
TRILUMINOS Display
4K X-Reality PRO
Android TV, Chromecast built-in
Hands-free control from smart speakers - Amazon Echo, Google Home and Sony's latest LF-S50G.
HDR compatible, supports HDR10, Hybrid Log-Gamma and Dolby Vision
XF90 Series (75", 65", 55", and 49" models) 4K HDR TV
4K HDR Processor X1 Extreme
X-tended Dynamic Range PRO.
X-Motion Clarity
TRILUMINOS Display
4K X-Reality PRO
Android TV, Chromecast built-in
Control from smart speakers
HDR compatible, supports HDR10, Hybrid Log-Gamma and Dolby Vision
XF85 Series (85", 75", 65", 55", 49" and 43" models) 4K HDR TV
4K HDR Processor X1
TRILUMINOS Display
4K X-Reality PRO
Android TV, Chromecast built-in
Hands-free control from smart speakers
XF80 Series (55", 49", and 43" models) 4K HDR TV
4K X-Reality PRO
TRILUMINOS Display
Android TV, Chromecast built-in
Hands-free control from smart speakers
HDR compatible

Sony has also on display a new ultra-portable MP-CD1 Mobile Projector, which fits in the palm of your hand, and can project content up to 120 inches in size from a short distance of 3.5m.
The compact MP-CD1, which weighs 9.9 ounces, transforms any surface into a wide screen.
The projector's display uses Texas Instruments DLP IntelliBright technology, which employs image processing algorithms to boost brightness without compromising on battery consumption.
With a rating of 105 ANSI lumens and 5,000mAh built-in battery, users can project clear and bright images for up to two hours of projection time.
The projector's auto keystone correction ensures a full-screen display without distortion, even when projected from an angle or onto an uneven surface, while dynamic picture mode enhances images and videos to optimal brightness and saturation. A standard tripod socket is also located on the underside of the device to facilitate projection on any surface - even ceilings.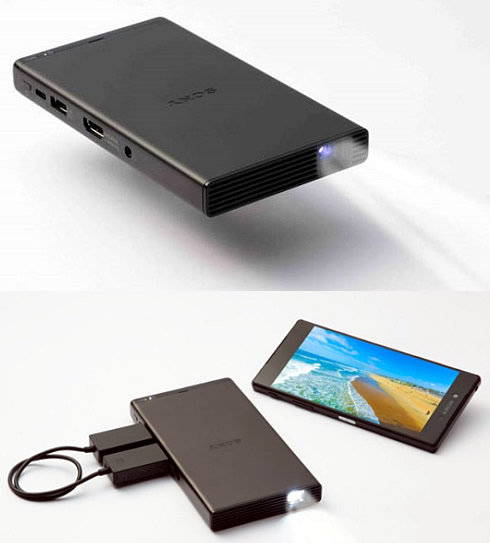 With a five second boot up time and easy HDMI connection, which accepts a wide variety of devices such as media-streaming dongles, smartphones, laptops and gaming consoles, the MP-CD1 ensures smooth presentations without delays. An optional HDMI dongle enables wireless connectivity with a variety of devices or for watching streaming content, thanks to simultaneous powering from a USB port to the dongle even during projection.
Charging the projector is simple, as it connects to a standard USB-C port, with no proprietary AC adaptor to carry or forget. Rated at 5V 3A, it can be charged quickly anywhere with an AC outlet or power bank.
The MP-CD1 is planned to be available in the spring of 2018 for a suggested retail price of $399.99.
In the headset category, Sony is introducing the WF-SP700N, which has "the world's first noise-canceling and splash-proof functionality among truly wireless headphones," according to the company. The headphones' IPX4 waterproof protection level allows users to enjoy full functionality without worrying about sweat or rain.
In addition, Sony's new MDR-1AM2 headphones are extending further their Hi-Res credentials, they are compatible with up to 100kHz frequencies playback, and boast a newly developed 40mm HD driver unit. They also have aluminium-coated liquid crystal polymer diaphragms. The 1AM2s feature a Fibonacci-patterned grill to support ultra-high frequency ranges as well as silver-coated OFC (oxygen-free copper) for less transmission signal loss. A final benefit is the option of a 4.4mm balanced connection, as well as a standard 3.5mm connection for improved usability. This pair of headphones has taken learnings from the Signature Series headphones, the MDR-Z1R, and follows the same sound direction.
The headphones are lighter than their previous model and feature ear pads that have been designed for lasting comfort.
The 1AM2s are introduced in two colour options - black and silver. The product will be priced at approximately €250 and available from early April.
The headphones come with two cables, a standard one as well as a 4.4mm balanced-connection headphone cable in the box. However, Sony is also releasing a Kimber Kable as a match for the 1AM2's.
The MUC-S12SB1 will be priced at approximately €200 and available from 2018/Spring.
Designed to fit together with 2018 Sony BRAVIA TVs, the premium HT-ZF9 soundbar with Dolby Atmos through Sony's Virtual technology promises to bring a new level of cinematic audio to your home. With the new Vertical Surround Engine from Sony, you can enjoy virtual three-dimensional surround sound without the need for ceiling or up-firing speakers.
Combining that with S-Force Pro Front Surround technology which improves the front surround sound field, means you may find it hard to believe this sound comes out of a 3.1ch soundbar. Additionally, even without Dolby Atmos and DTS:X content you can enjoy virtual three-dimensional sound due to "Vertical S." button on remote, that can up-mix even 2ch stereo content up to 7.1.2ch and thereby create height.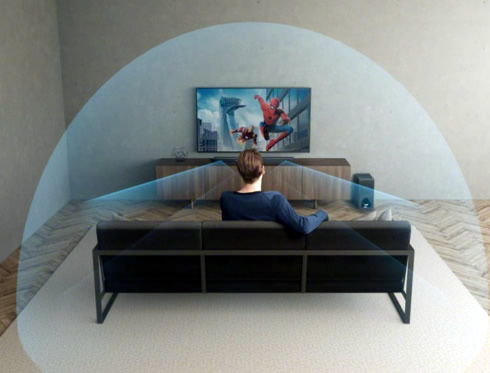 Alternatively, there is the option to add on a pair of SA-Z9R rear speakers, which are designed to partner with the HT-ZF9, and can extend your surround sound experience with a true surround sound speaker configuration.
The HT-ZF9 supports 4K HDR and Dolby Vision pass-through, so the original picture quality is passed directly through the bar to your TV, without any loss of quality, colour, clarity or brightness. On the audio side, the HT-ZF9 supports High-Resolution Audio formats including playback from a USB source. Alternatively, you can enjoy any of your other music files in near High -Resolution Audio quality from your mobile device via Bluetooth connection thanks to DSEE HX (Digital Sound Enhancement Engine HX technology).
The HT-ZF9 is also Wi-Fi enabled. By talking to a smart speaker, you can play music from streaming services through the HT-ZF9, or you can opt for multi-room playback, which feeds the same music simultaneously throughout your whole house.
Additionally, Sony is launching the HT-XF9000 soundbar with front 2ch speakers. With up to 2 HDMI in and 1 out connections in the HT-ZF9 model, you can connect multiple devices to your soundba. Both models also have Bluetooth connectivity and USB inputs.
Both the HT-XF9000 and HT-ZF9 models will be available from spring 2018.
Another new Sony 2.1ch Compact soundbar is the HT-SF200. It has a built-in subwoofer and supports the Dolby Digital codec. Despite its compact size, the inclusion of S-Force PRO Front Surround creates the effect of being surrounded by speakers - without wires trailing around the room.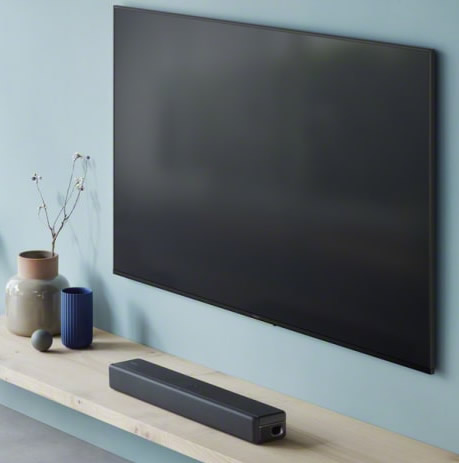 The SF200 benefits from simple connectivity to your TV via HDMI ARC, Optical or Bluetooth. It can also wirelessly connect to other smart devices by Bluetooth technology. Alternatively, for those moments when you want to quickly connect and instantly play a song, the SF200 has the handy feature of a USB input which allows you to connect a USB device for easy playback.
The HT-SF200 and HT-SF201 models will be priced at approximately €250 and available from late February/early March 2018.
At CES, Sony is also showcasing two new super mid-range smartphones that will be released globally starting later this month: the Xperia XA2 and Xperia XA2 Ultra.
For the home, Sony will add the LSPX-A1 4K Ultra Short Throw Projector, coming to the US market in spring 2018, to its Life Space UX line. The projector allows 4K projections when placed near a wall, with audio produced through an Advanced Vertical Drive Technology-compatible tweeter and enhanced with subwoofers.
Set up just 9.6 inches from the wall, the Ultra Short Throw technology of the LSPX-A1 provides up to 120" (dia.) of image displayed directly on a wall with the high brightness of 2500 lumens laser projection. Utilizing Sony's 4K SXRD projection and HDR technology, LSPX-A1 produces native 4K resolution (4096 x 2160) with detail, color and contrast.

Sony's Advanced Vertical Drive Technology from Glass Sound Speaker promise to generate crystal clear high frequency sound in 360 degrees by vibrating the two organic glass tweeters installed on the front legs. The addition of dynamic bass produced from a separate subwoofer and three midrange speakers (left, right, and center) will fill the room with sound. The center speaker, positioned in the rear of the device creates center vibrant audio by reflecting on the wall to elevate the sound field.
In terms of design, the LSPX-A1 features a marble top, half mirror finished aluminum frame and wooden shelf. The thoughtful design of the rear cover allows for easy cable management to conceal connectors hidden within. In addition, the remote controller has been uniquely developed for the LSPX-A1 by reexamining the design of a conventional projector's remote control. The controller has minimal buttons with a complimentary design to fit with the high style look of LSPX-A1.
The LSPX-A1 is also easy to install and use. The addition of the audio enhancements make the LSPX-A1 an entirely self-contained system eliminating the need for separate surround sound speakers or subwoofers, or wiring the cables behind walls and floors.
LSPX-A1 will be available in the US in Spring 2018, and price is expected to be around $30,000.
Sony has also unveiled a new UBP-X700 4K Ultra HD Blu-ray Player and the STR-DH790 AV Receiver.
Adding to its current range of 4K Ultra HD Blu-ray Players, Sony claims tha the UBP-X700 delivers a much wider range of colour, contrast and brightness than standard Blu-ray players.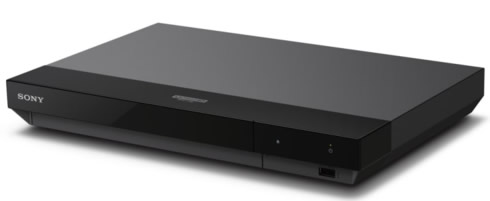 The STR-DH790 receiver offers a flexible 5.1.2 Channel configuration with Dolby Atmos and DTS:X support.
The X700 will support HDR10 and Dolby Vision for ground-breaking detail, colour and brightness. The DH790 also has HDR10 and Dolby Vision Compatible features.
The X700 lets you access a world of 4K streaming services including Netflix, Prime Video, and YouTube. This 4K Ultra HD Blu-ray Player also supports a number of high-quality video and music formats, including MP4, DSD, FLAC, and more.
Designed with the average living room in mind, the DH790 makes it easy to figure out your speaker setup thanks to its Advanced D.C.A.C (Digital Cinema Auto Calibration) automatic speaker setup system. With the use of a plug-in provided microphone, the Advanced D.C.A.C uses a series of test tones to determine the proper speaker levels, based on the detected placement of speakers in relation to the acoustical properties of your room.
The UBP-X700 model will be priced at approximately €270 and available from January 2018.
The STR-DH790 model will be available from spring 2018.
Sony has released four fantastic new High Power home audio systems to power a proper party in 2018. With three options of the "all-in-one box" style; MHC-V81D, MHC-V71D and MHC-V41D and a "3-box" model MHC-M60D, they will fill any room with booming sounds.
These one-box style High Power Home audio systems spread loud and powerful sounds around the room, thanks to the integrated Spread Sound Generator. The V81D has 360°LIVE SOUND and the V71D has LIVE SOUND, while both models feature psychedelic 360°party lights that illuminate the room. The gesture control feature lets you be the DJ, sothere's no need to leave your living room as they bring all the essentials of a club to you.
The new TAIKO mode, as the name suggests in Japanese, allows you to use your High Power Audio one-box system like a drum. Add your own twist to your favourite songs, by tapping the touch panel to enjoy a variety of drum samplers. You can also use the gesture control feature to enjoy a variety of virtual instrument samplers, by swiping over the top of the device. TAIKO can also be a game, whereby you tap to the rhythm and compete with your friends for the highest score.
The V81D, V71D and V41D have the ability to bring people together with their interactive features that get everyone involved. Why not let your social media network know that you're having a big night with the "Party King" feature? With the accompanying "Fiestable" app, you can show off these home audio systems thanks to the new social posting button.
Alongside this you can get certified as a Party King and enter the party ranking. The more you party, the higher your ranking! Your achievements can even unlock special samplers.
With the Wireless Party Chain feature you can now connect up to 50compatible systems together. You can also use multi-device connectivity so the power of the DJ can be passed around by connecting several smartphones to the speaker, so different partygoers can put their favourite song easily.
Sony has also developed a new 3-box model with the introduction of the M60D. The speakers achieve an improved level of sound pressure, with a high power amplifier which will liven up any event. The system also includes speaker and main unit lights.
The MHC-V41D model will be priced at approximately €420 /£400 and available from April 2018.
The MHC-V71D model will be priced at approximately €600/£550 and available from April 2018.
The MHC-V81D model will be priced at approximately €700 and available from April 2018.
The MHC-M60D model will be priced at approximately €450 and available from April 2018.
The company will also be showcasing aibo, the artificial intelligence robotic dog that it announced last November, for the first time outside of Japan at CES. Powered with Sony's deep learning technology, aibo changes and adapts in response to its environment. Eventually, the robot is able to develop a unique personality based on interactions with its owners.
Sony will also display the concept for its automotive image sensors, which offer 360-degree sensing that is quicker and more precise than the human eye.