10. Overclocking/Noise/Heat
The Club3D HD3850 can be overclocked with the ATI Catalyst 7.11 drivers. Select the overdrive section and prepare to do your own tests. We can see the default clocks for memory/GPU as reported by ATI Catalyst.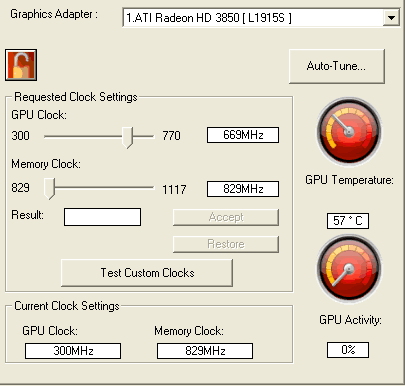 The Auto-Tune function offers automatic detection of the highest core/memory clock speeds. In our first attempt, the ATI Overdrive managed to reach 759MHz for core and 1104MHz for memory. Pretty high numbers, which unfortunately didn't manage to produce the goods in our real life tests.
We had to lower the memory frequency down to 984MHz to get a stable system.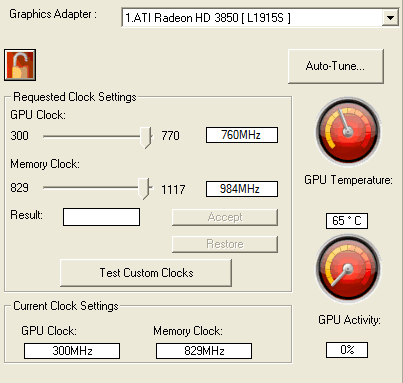 After applying the overclocking settings (13.60% for GPU and 18.70% for memory), we saw only a slight improvement in the 3D Mark 05 and 3D Mark 06 scores, which showed that overclocking won't give much of a performance boost.
| | | |
| --- | --- | --- |
| 3D Mark 05 | Normal | OC |
| Club3D HD3850 | 12966 | 13211 |
| | | |
| --- | --- | --- |
| 3D Mark 06 | Normal | OC |
| Club3D HD3850 | 8207 | 8565 |