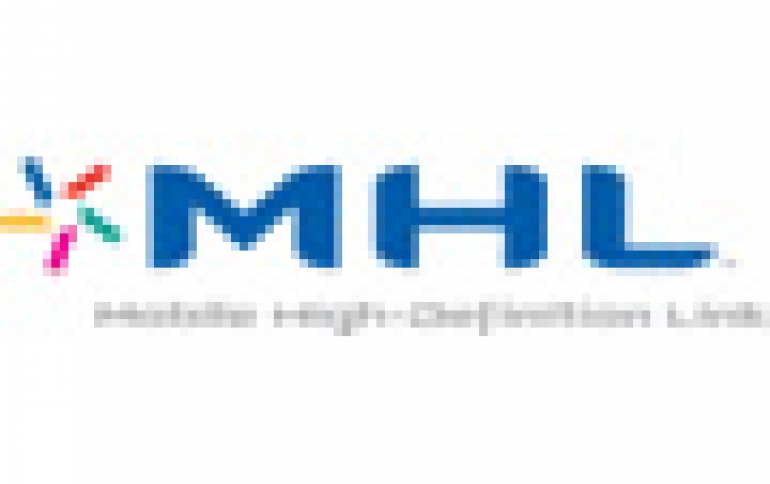 Companies Form MHL Consortium To Advance Standard For Wired Mobile Connectivity
Nokia, Samsung, Silicon Image, Sony and Toshiba today announced the formation of the MHL (Mobile High-Definition Link) Consortium to develop a new mobile audio/video interface standard for directly connecting mobile phones and other portable consumer electronics (CE) devices to high-definition televisions (HDTVs) and displays. The MHL standard features a single-cable with a low pin-count interface able to support up to 1080p high-definition (HD) video and digital audio while simultaneously providing power to the mobile device. The standard is based on the previously introduced Silicon Image Mobile High-definition Link technology. However, that was a proprietary physical signal layer technology only, and did not include features of the new MHL standard such as powering the mobile device and other protocols.

The MHL Consortium claims that there is a need for the introduction of the MHL standard, since the currently available HDMI connectivity solution is not optimized for mobile phones and portable devices. MHL requires only a low pin-count instead of 19 pins for a smaller form factor and provides power for the mobile phone or portable device through small connectors and a single cable.

The MHL Consortium was established by the Mobile High-Definition Interface Working Group announced on September 28, 2009 and is responsible for developing, licensing and promoting the new mobile connectivity technology as an industry standard open to anyone desiring to become an adopter and enabling the development of compliant mobile and display products across a broad connectivity ecosystem. Products implementing MHL technology will feature:

HD Video and Digital Audio
Consumers will be able to display HD video content with up to 1080p picture quality and digital audio from their mobile device on an HDTV.

Low Pin-Count Interface
HD video and digital audio is transmitted via a low pin-count interface simultaneously providing data, control and power, which allows mobile devices to maintain their small form factor and keep implementation costs low.

Provision of Power to the Mobile Device
Digital HD content can be output from the mobile device over a single cable while power is provided to the device. For example, a mobile phone can play back a full-length movie on an HDTV without draining power, so when the playback is completed the mobile phone can continue to be used for other purposes, such as calls and emails.

Content Protection
High-bandwidth Digital Content Protection (HDCP) technologies protect high-value digital motion pictures, television programs and audio against unauthorized interception and copying.

The Consortium added that the MHL mobile phones and portable devices will be able to connect to legacy products' digital interfaces through various active cables, dongles or docks.

For more information about the MHL Consortium, abridged draft specification and how to become an adopter, visit http://www.mhlconsortium.org. The abridged draft specification is now available for evaluation purposes for a fee. The Consortium's goal is to release the 1.0 specification in the first half of 2010. The MHL Consortium did not provide details about the adopter fee and royalty structure that will be applied.