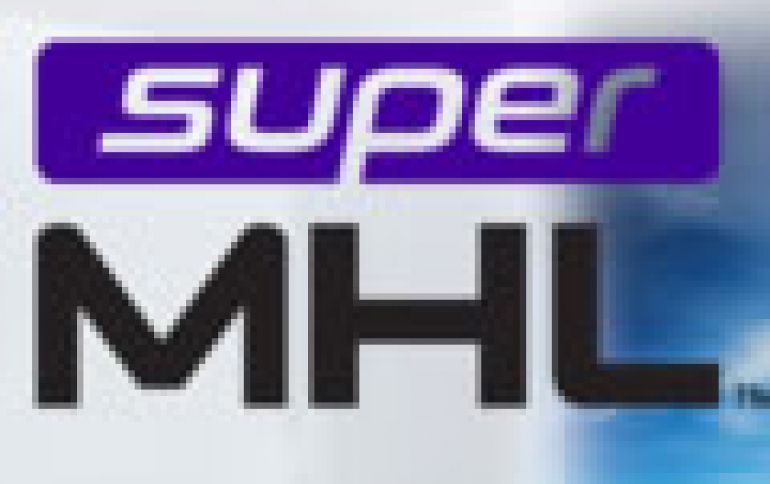 SuperMHL Specification Supportd Up to 8K
The MHL Consortium today announced the superMHL specification, the next-generation of MHL technology for CE and mobile devices capable of delivering up to 8K 120fps video. The Mobile High-Definition Link (MHL) was introduced in 2010 in order to offer power in and digital video out of cell phones and other mobile devices without requiring additional ports.
Now the MHL consortium plans to take MHL beyond its mobile roots and move it into the TV space.
SuperMHL delivers significant mobile advancements such as higher resolution and frame rates along with 40W of power charging, while broadening MHL's reach in home theater connectivity by supporting 8K video resolution and expanded audio formats. With superMHL, consumers can link their mobile devices, set-top boxes (STBs), Blu-ray Disc players, AVRs, streaming media sticks and other source devices to TVs and displays. The release of a new reversible superMHL connector supports enhanced video formats.
Features of superMHL Include:
Delivery of up to 8K 120fps video
Deep Color support up to 48-bit color depths
Wider color gamut to view content the way filmmakers intended
High-Dynamic Range (HDR) support to strike the perfect balance of bright spectral highlights along with shadow details
Surround sound with support for object audio such as Dolby Atmos, DTS-UHD, 3D audio, and an audio-only mode
Advanced connectivity configurations to link multiple MHL devices together (TV, AVR, Blu-ray player) and control them via one remote
Power charging up to 40W
Content on multiple displays when connecting a single device
New reversible superMHL connector
New support for the MHL Alt Mode for the USB Type-C specification
superMHL mandates a minimum set of feature requirements. To support these advanced features, MHL has introduced the new reversible superMHL connector. This 32 pin connector can carry concurrent video, data and power charging all in a slim form factor. A reversible design means that consumers don't have to worry about the plug's orientation or the cable's direction.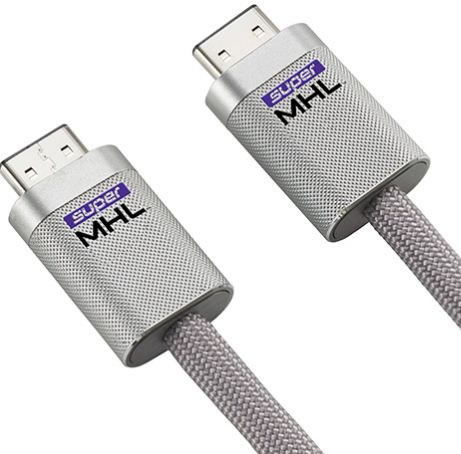 SuperMHL is backward-compatible with previous MHL 1, 2 and 3 specification versions and supports the latest HDCP 2.2 content protection for the secure delivery of premium content.
The superMHL specification will be available at the end of January.
Future 8K (7680x4320) televisions wanted a single cable that could carry the enormous amount of data required for 8K video with deep color and high frame rates. HDMI was not enough since HDMI 2.0 was only planned for up to 4Kp60 video. Consequently TV manufacturers turned to the MHL Consortium, who became tasked with developing a cable and connector standard for 8K video.
It seems that for thenear future, superMHL-to-superMHL cables will be the cable necessary for 8K video, and meanwhile USB to HDMI cables will continue to support mobile devices.