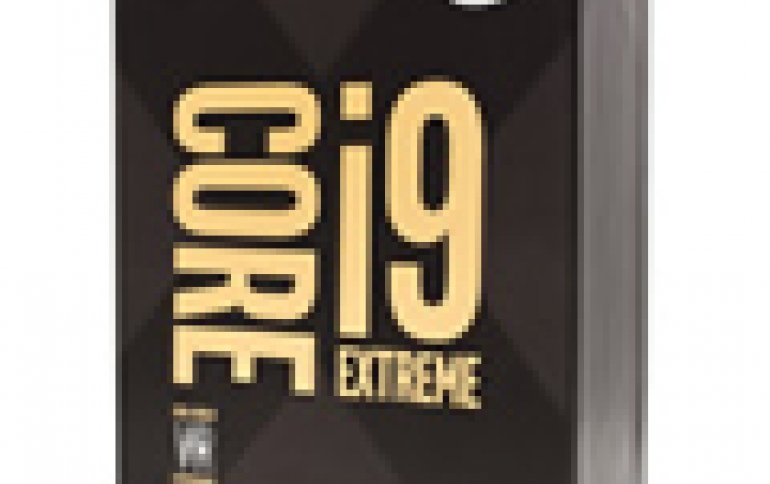 Computex: Intel Announces Skylake-X and Kaby Lake-X Processors, X299 Chipset with New Basin Falls Desktop Platform
Intel at Computex announced a new high-end "Basin Falls" desktop platform based on the new X299 chipset, and two new processor families: Skylake-X and Kaby Lake-X.
Intel , trying to head off a fledgling attempt by rival AMD. to compete in the market for high-end personal computer processors, introduced a new more-powerful chip. The company will begin selling chips with as many as 18 processing cores under a new Core i9 brand aimed at gamers. The world's largest chipmaker said it's reaffirming its commitment to providing the fastest PC chips available.
Intel's only competition in PC processors, Advanced Micro Devices, has demonstrated its new Ryzen product outperforming Intel chips. AMD is trying to muscle in on one of the few attractive parts of the PC market with new products the company began offering in the first quarter.
At the low end are "Kaby Lake-X" LGA 2066 socket processors: the i5-7640X and the i7-7740X. These chips are similar to the existing mainstream Kaby Lake processors that came to market earlier this year. They feature four cores with either four (for the i5) or eight (for the i7) threads, two memory channels, and 16 PCIe 3 lanes from the CPU itself. The chips have a higher power envelope-up to 112W, instead of the 91W of non-X parts-and use X299's new Socket 2066. The $339 i7-7740X has a base clock of 4.3GHz and a turbo of 4.5GHz, compared to the 4.2/4.5GHz of the $339 i7-7700K.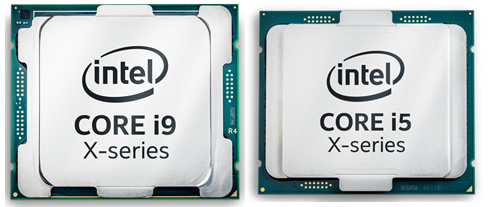 Intel Kaby Lake Processors

Core i7

Core i5

Core i7-7740X
Core i7-7700K
Core i5-7640X
Core i5-7600K
Socket
LGA2066
LGA1151
LGA2066
LGA1151
Cores/Threads
4/8
4/8
4/4
4/4
Base Frequency
4.3 GHz
4.2 GHz
4.0 GHz
3.8 GHz
Turbo Frequency
4.5 GHz
4.4 GHz
4.2 GHz
4.2 GHz
TDP
112 W
91 W
112 W
91 W
L2 Cache
256 KB/core
L3 Cache
8 MB
6 MB
DRAM Channels
2
DRAM Support
DDR4-2666
DDR4-2400
DDR4-2666
DDR4-2400
Graphics
None
HD 620
None
HD 620
Price
$339
$242
Skylake-X is a desktop version of the Skylake-SP core that's going to be used in the next generation of Xeon chips. Skylake-X will include some of the new features of Skylake-SP, such as the new AVX-512 instruction set that both doubles the size of the vector operations (up from 256-bit) and includes new instructions to make those vector operations more flexible. However, while Skylake-SP will support up to six memory channels, for example, X will be limited to four.
Skylake-X also introduces the latest revision of the Turbo Boost Max 3 feature that was used on the previous generation Broadwell-E HEDT chips. In Broadwell-E, Turbo Boost Max 3 identifies which individual core within the processor supports the highest clock speeds, and boosts that core in workloads that stress only a single core. Skylake-X extends that to identify the two individual cores that support the highest speeds, going from a single core boost to a dual core boost.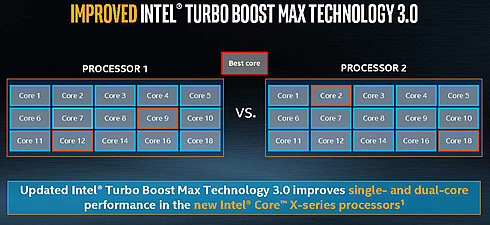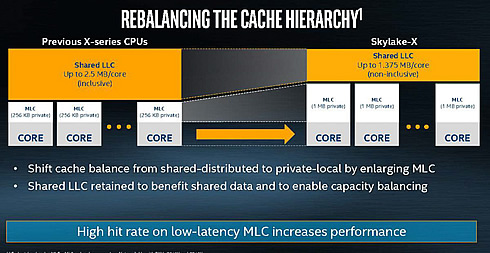 Skylake-X also changes the cache topology. It's neither the same as the hierarchy used on existing Skylake chips, nor is it the same as was used in Broadwell-E. Each individual core now gets a 1MB private level 2 cache, up from 256KB in Broadwell-E and Skylake. The shared last-level cache, however, has been shrunk; instead of the 2.5MB per core of Broadwell-E, or the 2MB/core of Skylake, it's now only 1.375MB/core. That last level cache has also been changed from an inclusive design (wherein it contains everything held in the per-core level 1 and level 2 caches) to a non-inclusive design, wherein it only contains data that has been evicted from the private caches.
Intel says this switch from large shared caches to a smaller shared cache and large private caches boosts performance; the private caches have lower latency than the shared cache, and the quadrupling in size means they have a superior hit rate to the previous generation caches.
Intel is also adding a new i9 branding that slots in above the i7 branding for the high-end processors.
Skylake-X Processors

Core i7-7800X
Core i7-7820X
Core i9-7900X
Core i9-7920X
Cores/
Threads
6/12
8/16
10/20
12/24
Base Clock
3.5 GHz
3.6 GHz
3.3 GHz
TBD
Turbo Clock
4.0 GHz
4.3 GHz
4.3 GHz
TBD
TurboMax Clock
N/A
4.5 GHz
4.5 GHz
TBD
L3 cache
8.25 MB
11 MB
13.75 MB
TBD
PCIe Lanes off CPU
28
44
TBD
Memory Channels
4
Memory Freq
DDR4-2400
DDR4-2666
TBD
TDP
140W
TBD
1KU Price
$389
$599
$999
$1199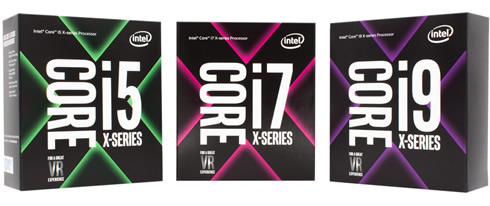 Skylake-X Processors

Core i7-7940X
Core i7-7960X
Core i9-7980XE
Cores/
Threads
14/28
16/32
18/36
Clocks
TBD
L3
TBD
PCIe Lanes
TBD
Memory Freq
TBD
TDP
TBD
Price
$1399
$1699
$1999
The cheapest Skylake X part, the $389 six core, 12 thread i7-7800X, won't include Turbo Boost Max 3, and will only officially support 2400MHz memory. Both that processor and the next highest, the $599 eight core, 16 thread i7-7820X, will have only 28 PCIe 3 lanes, though this part will support memory speeds up to 2666MHz. It's not until the $999 10 core, 20 thread i9-7900X, that the full range of features is lit up: 44 PCIe lanes, Turbo Boost Max 3, and 2666MHz memory. These three parts will all have a 140W power envelope.
Moving on, with a 165W power rating, parts will be available with 12, 14, 16, and 18 cores, with that top 18 core, 36 thread chip, the i9-7980XE, branded "i9 Extreme", costing a whopping $1,999. Intel hasn't yet disclosed clock speeds for these parts.
All the chips will include unlocked multipliers, making them overclocking-friendly. The X299 chipset also supports Intel Optane Memory for disk acceleration, up to three PCIe/NVMe SSDs, 8 SATA ports, and 10 USB 3.1 generation 1 ports. While the X299 chipset will be supported when used in conjunction with an Alpine Ridge Thunderbolt 3 and USB 3.1 generation 2 controller, the high-speed interconnect won't be built in.
Compared to AMD's latest offerings, Intel's chips retain their price premium. Intel's eight core, 16 thread Intel chip costs $599, whereas AMD's corresponding part is $499. But the Intel chip does have twice as many memory channels. But Intel has also two processors lined up to take on AMD's ThreadRipper: the sixteen-core Core i9-7960X at $1699, and the eighteen-core Core i9-7980XE at $1999.
X299 motherboards and X-series processors should hit the market in coming weeks.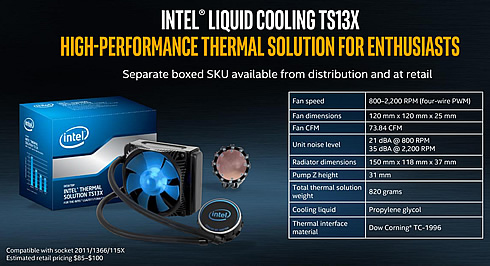 Intel also plans to release its 8th generation mainstream processors later this year.
The company promises that these the new chips will, at least in some particular circumstances, be 30 percent faster than 7th generation Kaby Lake parts. The 30 percent boost came in one benchmark-SYSmark 2014 version 1.5-and applies to 15W U-series mobile processors. The comparison pits an i7-7500U (2.7GHz base, 3.5GHz turbo) with two cores and four threads against an unnamed next generation chip. The new chip has an unspecified base clockspeed, a 4GHz turbo, and doubles the number of cores and threads to four and eight. The 8th generation chip is built on a refined iteration of Intel's 14nm process.
Intel compute card
Intel's Compute Card was announced back at CES. It's a small, credit-card sized device that packs in everything you'd need to make a device "smart" -- an Intel system-on-a-chip, memory, storage and networking capabilities. Today during its Computex keynote, Intel officially launched the Compute Card and announced a slew of partners, including Dell, LG, and Lenovo.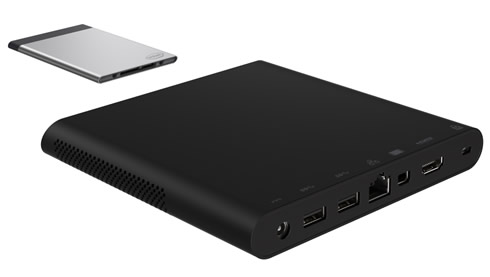 The Compute Card could power devices like small desktop replacement docks, s laptops and tablets, digital signage and POS to AIOs and intelligent whiteboards.
Intel's partners who have products showing at Computex include Contec, ECS, Foxconn, LG Display, MoBits Electronics, NexDock, Sharp, Seneca, SMART Technologies, Suzhou Lehui Display and TabletKiosk. Other partners currently working on solutions include Dell, HP and Lenovo.
| | | | | |
| --- | --- | --- | --- | --- |
| Processor | 7th Gen Intel Core i5 vPro (i5-7Y57) processor | 7th Gen Intel Core i3 (m3-7Y30) processor | Pentium N4200 processor | Celeron N3450 processor |
| Memory | 4GB DDR3 | 4GB DDR3 | 4GB DDR3 | 4GB DDR3 |
| Storage | 128GB Intel SSD | 128GB Intel SSD | 64GB eMMC | 64GB eMMC |
| Connectivity | Intel Wireless-AC 8265 (2x2 .11ac & Bluetooth 4.2) | Intel Wireless-AC 8265 (2x2 .11ac & Bluetooth 4.2) | Intel Wireless-AC 7265 (2x2 .11ac & Bluetooth 4.2) | Intel Wireless-AC 7265 (2x2 .11ac & Bluetooth 4.2) |
Intel is also releasing today the Compute Card Device Design Kit, a set of guides and reference designs that contain the information a device developer will need to create a product that supports an Intel Compute Card. The guides are available today via Intel's Classified Design Information (CDI) portal for any customer under NDA, and the reference design are available upon request.