Crucial BX300 480GB SSD review
3. HDTach, ATTO Disk Benchmark
The HDTach software shows the potential read speed and write which you are likely to experience with the SSD. We see the average speed numbers, which tell you what to expect from a given drive in normal, day to day operations.
The drive's read and write graphs are smooth and stable across its entire capacity. The average read and write speeds were 460 MB/s and 423.6 MB/s, respectively.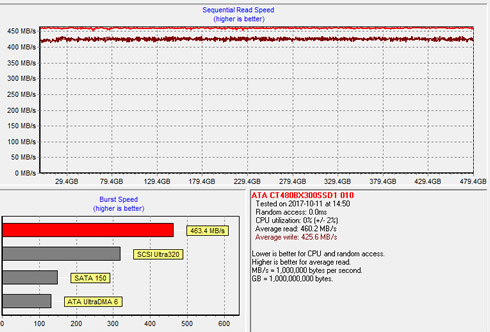 The ATTO Disk Benchmark measures storage systems performance with various transfer sizes and test lengths for reads and writes. The benchmark performs file transfers ranging from 0.5 KB to 8192 KB. ATTO can be adjusted to do overlapped I/O, in a variety of queue depths. The test was run with the default runs of 0.5KB through 8MB transfer sizes with the total length being 256MB and QD4. ATTO probably gives the most accurate results for compressible read and write data:
The drive's official Sequential read/write figures for are up to 555MB/s & 510MB/s respectively. Using the ATTO benchmark, the reviewed drive did a little better in the write part, but slowed down a bit in the read tests with files larger tham 128K. This is shown in the read graph below, as you see a dip in the graph for the BX300 after the 128K mark:
The Crucial BX300 performed very well across the board in the write part, finishing near the top of the stack regardless of the transfer size.