Intel Core i7-8700K and Core i5-8400 benchmarks
1. Meet the Intel Core i7-8700K and Core i5-8400 CPUs
We were looking forward for Intel's first six-core parts for the mainstream PC market. But now the company is finally launching the Intel's new 8th Generation Coffee Lake CPUs, with the Core i5 and Core i7 parts having six distinct physical cores. Today we are running some benchmarks with the top SKU, the Core i7-8700K, along with looking at numbers from the Core i5-8400, comparing them with the Core i7-7700K and the AMD Ryzen 7 1700 parts.
Intal is actually releasing six desktop processors that all fall under the '8th Generation' nomenclature, and are built under the codename 'Coffee Lake' to designate the microarchitecture and manufacturing process combination.
All these new processors require appropriate motherboards featuring the Z370 chipset. Technically these processors use the LGA1151 socket, which is also used by the 6th Generation and 7th Generation processors with the Z170 and Z270 chipsets. However due to differences in the pin-layout of these two sets of processors, 8th Gen will only work in Z370 boards and there is no level of cross compatibility.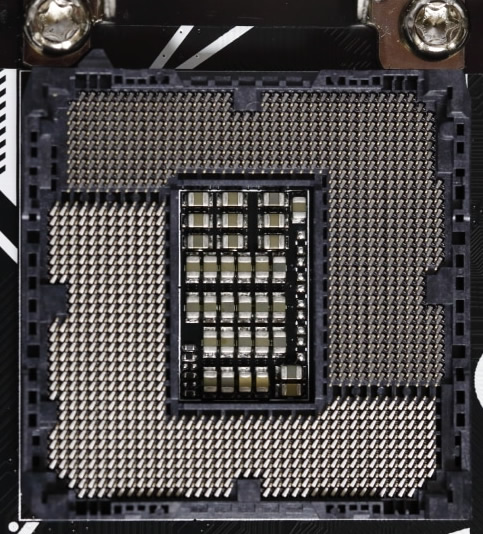 Intel 8th Generation 'Coffee Lake' Desktop Processors

 
i7-8700K
i7-8700
i5-8600K
i5-8400
i3-8350K
i3-8100
Cores
6C / 12T
6C / 6T
4C / 4T
Base Frequency
3.7 GHz
3.2 GHz
3.6 GHz
2.8 GHz
4.0 GHz
3.6 GHz
Turbo Boost 2.0
4.7 GHz
4.6 GHz
4.3 GHz
4.0 GHz
-
-
L3 Cache
12 MB
9 MB
8 MB
6 MB
DRAM Support
DDR4-2666
DDR4-2400
Integrated Graphics
Intel UHD Graphics 630 GT2: 24 EUs
Intel UHD Graphics 630 GT2: 23 EUs
IGP Base Freq
350 MHz
350 MHz
IGP Turbo
1.20 GHz
1.15 GHz
1.05 GHz
1.15 GHz
1.10 GHz
PCIe Lanes (CPU)
16
16
PCIe Lanes (Z370)
< 24
< 24
TDP
95 W
65 W
95 W
65 W
91 W
65 W
Price (tray)
$359
$303
$257
$182
$168
$117
The Core i7-8700K starts at a 3.7 GHz base frequency and is designed to turbo to 4.7 GHz in single threaded workloads, with a thermal design power (TDP) of 95W. The K designation means this processor is unlocked and can be overclocked by adjusting the frequency multiplier, subject to appropriate cooling, applied voltage, and the quality of the chip (Intel guarantees 4.7 GHz). The Core i7-8700 is the non-K variant, with lower clocks (3.2 GHz base, 4.6 GHz turbo) and a lower TDP (65W). Both of these processors use 256 KB of L2 cache per core and 2 MB of L3 cache per core.
Intel's newest '14++' manufacturing process is being used for these 8th Generation processors. Intel has decided that it will use multiple process nodes and microarchitectures across a single generation of products. A lot of this is down to product maturity, yields, and progress on the manufacturing side.
With a new processor generation comes an update to memory support. Intel is supporting DDR4-2666 for the six-core parts and DDR4-2400 for the quad-core parts, in both 1DPC (one DIMM per channel) and 2DPC modes.
Intel has made it clear that Coffee Lake processors will work only in Z370 motherboards, and not in the previous generation Z270 motherboards.
All the six processors being made available today will have Intel's UHD Graphics 630. This is basically identical to the previous generation's HD Graphics 630, except the name is now UHD. The other change is HDCP2.2 support.
Intel claims that there are performance improvements with the new graphics package, mainly from an updated driver stack but also increased frequencies. All the parts will have an idle frequency of 350 MHz, and boost up to the following frequencies:
i7-8700K
i7-8700
i5-8600K
i5-8400
i3-8350K
i3-8100
Integrated Graphics
GT2: 24 EUs
GT2: 23 EUs
IGP Base Freq
350 MHz
350 MHz
IGP Turbo
1.20 GHz
1.20 GHz
1.15 GHz
1.05 GHz
1.15 GHz
1.10 GHz
The Z370 chipset is identical to the Z270 chipset. The connectivity is the same, the number of supported PCIe 3.0 lanes is the same, the available bifurcation is the same, the controller support is the same. The chipset has 20-24 PCIe 3.0 lanes, six SATA 6 Gbps ports with support for RAID 0/1/5/10, a total of 14 USB ports (either 2.0 or 3.0, up to a maximum of ten of USB 3.0), and supports network controllers, Thunderbolt 3, and Intel's Optane memory as a boot drive.
Looking at the prices and the compatition, the Core i7-8700K ($359) sits almost equally between the Ryzen 7 1700X ($399) and Ryzen 7 1700 ($329). Here this would be a battle of sixteen Zen threads compared to 12 Coffee Lake threads, with the IPC and frequency advantage on Intel's side. It will be interesting to see where the Core i7-8700 ($303) sits in performance per dollar compared to the Ryzen 7 1700.
The Core i5-8600K ($257) costs almost the same as the Ryzen 5 1600X ($248). With Intel moving the Core i5 parts to having six full cores, albeit without hyperthreading but with a high frequency, it is going to be an interesting battle between the two at this price.
The Core i5-8400 ($182) and Core i3-8350K ($169) sit near the Ryzen 5 1500X ($189) and the Ryzen 5 1400 ($169) respectively.
For this review today, we are focusing on our preliminary testing of the Core i7-8700K and the Core i5-8400: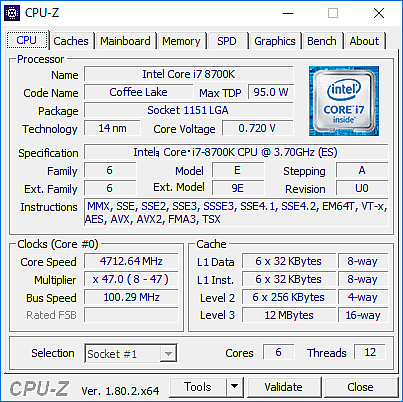 Here is out testbed:
CPU
Core i7-8700K
Core i5-8400
Core i7-7700K
Ryzen 7 1700
Motherboard
ASUS PRIME Z370-A (UEFI: 0408)
ASUS PRIME Z270-A (UEFI: 1009)
ASUS PRIME X370-PRO (UEFI: 0902)
Memory
16GB x 2 DDR4-2666
(2Ch, 19-19-19-43,1.20V)
16GB x 2 DDR4-2400
(2Ch, 17-17-17-39,1.20V)
16GB x 2 DDR4-2666
(2Ch, 19-19-19-43,1.20V)
GPU
GeForce GTX 1080 8GB (Founders Edition)
Power supply
KRPW-TI700W / 94 + (700W 80PLUS Titanium)
CPU Cooler
Scythe Fuma SCFM-1000
Graphics driver
GeForce Hotfix Driver version 385.69
OS
Windows 10 Pro 64bit