Intel Core i7-8700K and Core i5-8400 benchmarks
4. 3D Mark Time Spy, Fire Strike Ultra and Fire Strike
The 3D Mark Time Spy becnhmark utilizes the DirectX 12.
The multi-thread performance of the CPUs are strongly reflected in their overall score here. The Core i7-8700K had highest overall score, with the Ryzen 7 1700 to follow. Notice that the 6-core, 6T Core i5-8400 CPU gave almost the same results with the quad-core, 8T Core i7-7700K: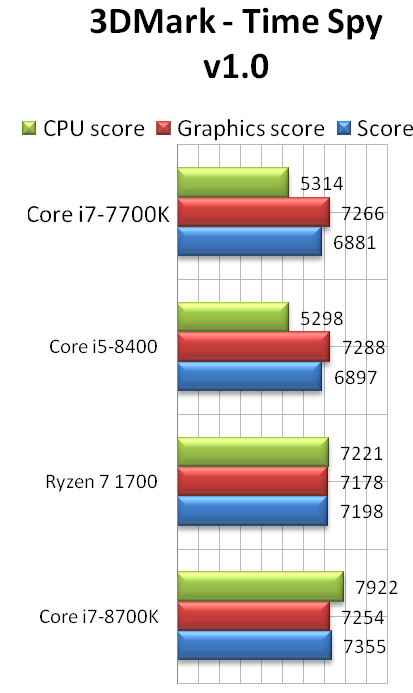 In the Fire Strike Ultra and Fire Strike benchmarks, the small differences in the overall scores of the CPUs are mainly attributed to their respective 'Physics Score,' while the Graphics score of the chips in the Fire Strike Ultra is overall low.