Intel Core i7-8700K and Core i5-8400 benchmarks
8. Power consumption, CPU temperature
Here we measured the power consumption of the entire PC system with each different CPU installed, during the VRMark, 3DMark, Cinebench R15 and TMPGEnc VMW6 tests.
Our goal was to give you an idea as to how much power each configuration used while idling at the Windows desktop and while under a heavy CPU workload. Keep in mind, this is total system power consumption being measured at the outlet with only the processor loaded and not the the individual power of the CPUs alone.
In an idle state, we measured a 35W power consumption for all the Coffee Lake-S CPUs. This value is lower than the 45W and the 37W we measured for the Ryzen 7 1700 and the older Core i7-7700K processors, respectively. But since we are measuring the total system power consumption of each system, this power difference could be attributed to the different motherboard we used for the AMD Ryzen 7 1700 test.

With all the CPU cores working in full load during the TMPGEnc Video Mastering Works 6 and the CINEBENCH R15 benchmarks, the system based on the Core i7-8700K CPU recorded 141~ 158W. The system that used the Core i5-8400 (TDP 65W) had the lowest power consumption in this comparison setup. Compared with the consumption of the Core i7-7700K, the Core i5-8400 consumed just 2~7 additional Watts: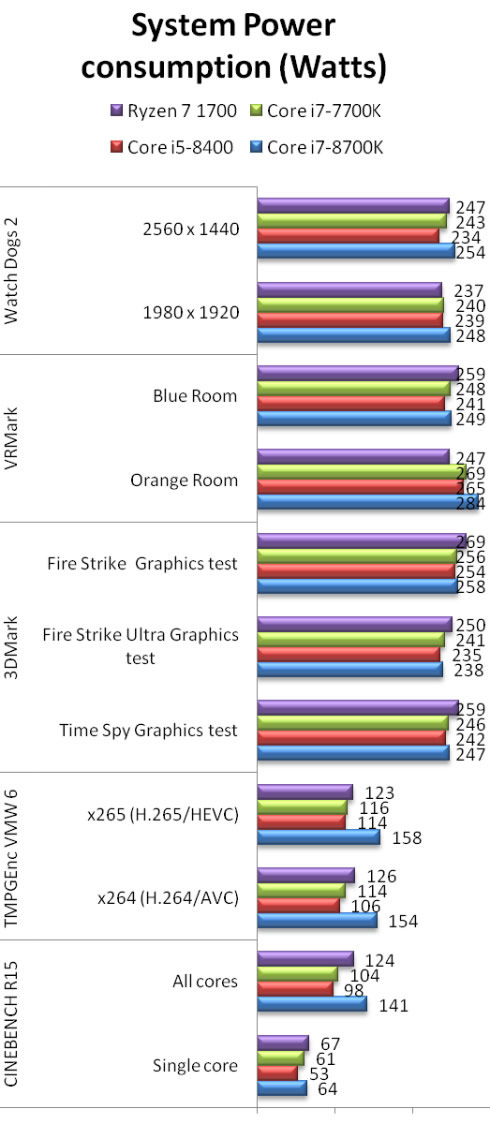 We measured the CPU temperatures during various benchmarks using the HWMonitor.
The Core i7-8700K reached the 72 degrees C in during some benchmarks, close to the temperature of the Core i7-7700K. The Core i5-8400 was TDP 90W so it runs significantly cooler than the rest CPUs.