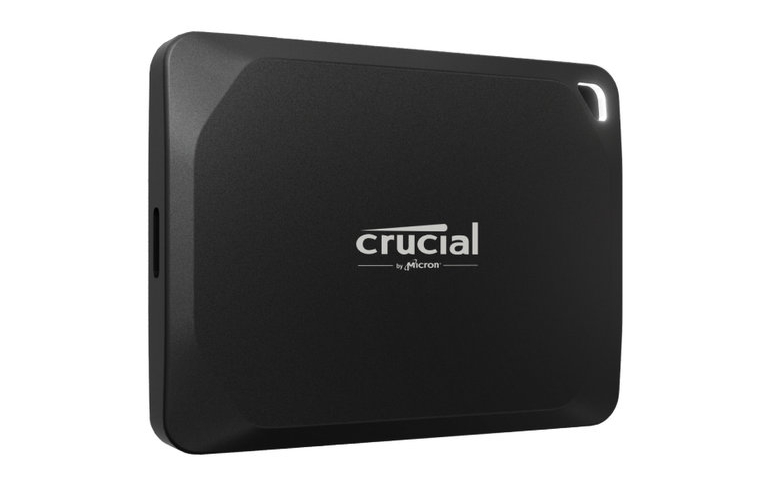 Crucial Expands Portable SSD Portfolio and unveils X9 Pro and X10 Pro Portable SSDs
Micron Technology announced the Crucial® X9 Pro Portable SSD and Crucial X10 Pro Portable SSD, two new performance offerings in the Crucial Pro Series product portfolio, designed for content creators such as photographers, videographers, designers, or any performance-seeking consumer.
Both drives utilize Micron TLC NAND and leverage a revolutionary single-ASIC portable storage architecture to enable a breakthrough, ultra-compact, lightweight form factor and allows Micron to ship the most capacity per square millimeter in the industry. With either the Crucial X9 Pro and X10 Pro, users can safely store, transport and backup important videos, photos, files and more on the go, without cloud or internet access at lightning-fast speeds.
"We recognize that fast, efficient workflow processes are essential to the success of videographers, photographers and other content creators," said Jonathan Weech, senior director of product marketing for Micron's Commercial Products Group. "We designed and built our two new portable SSDs, the Crucial X9 Pro and the Crucial X10 Pro, to specifically address these demanding workloads. With more photos and videos being taken than ever before, consumers are looking for ways to save, preserve and protect their digital lives reliably and quickly. These two new Crucial Pro Portable SSDs are a great choice for anyone who needs dependable, fast, high-capacity storage."  
Real speed. Raw power. Crucial X10 Pro Portable SSD
The Crucial X10 Pro Portable SSD, the fastest external SSD offered to date by Micron, delivers sequential read/write speeds up to 2,100MB/s and 2,000MB/s respectively and up to 4TB of space. Creative professionals can transfer 1TB of data in under nine minutes, dramatically improving video editing workflow efficiencies. The Crucial X10 Pro can connect directly to a laptop or workstation via the provided USB-C cable to blaze through multi-camera timelines and users can even edit, trim and render directly from the drive. Both water and dust resistant (IP55), the Crucial X10 Pro works with Windows, Mac, Android, game consoles and more right out of the box.
Powerful performance. Broad compatibility. Crucial X9 Pro Portable SSD
With space to store thousands of photos, files and videos, the Crucial X9 Pro Portable SSD provides the speed required to organize, curate, edit and retouch photos quickly. Photographers can accelerate their workflow with powerful performance and storage capacity, as the Crucial X9 Pro provides sequential read and write speeds up to 1,050MB/s2 and is available in sizes up to 4TB3. The Crucial X9 Pro is plug-and-play ready with a USB-C connection5 and works with Windows, Mac, Android devices7 and more. Its diminutive size of 65 x 50 millimeters provides palm-sized portability and weighs only 38 grams. 
Micron + Adobe: Accelerating the pace of content creation.
Micron has collaborated with Adobe to provide a one-month Creative Cloud All Apps plan with the purchase and complete drive registration for every Crucial X9 Pro or Crucial X10 Pro Portable SSD product. This product bundle will allow a wide variety of users to express their creativity more easily than ever before.  
Availability
The Crucial X9 Pro and Crucial X10 Pro Portable SSDs are available now in capacities of 4TB, 2TB and 1TB from leading retail and e-tail stores, retailers and commercial resellers worldwide. For more information on Crucial Pro Series storage and memory options, visit crucial.com/ProSeries.
Micron's Crucial brand is uniquely able to connect millions of customers to the innovation and technology that Micron has been perfecting for more than four decades. Online tools like the Crucial System Selector have made it easy for content professionals, gamers, PC enthusiasts and DIY system builders to find compatible memory (DRAM) and storage (SSD) products for more than 175,000 desktops, laptops and workstations.  
The retail prices of the new Crucial X9 Pro and X10Pro as found over Crucial website are: 
| | |
| --- | --- |
|   | US (excl. tax) |
| Crucial X9 Pro 1TB | $    79.99 |
| Crucial X9 Pro 2TB | $  129.99 |
| Crucial X9 Pro 4TB | $  239.99 |
| Crucial X10 Pro 1TB | $  119.99 |
| Crucial X10 Pro 2TB | $  169.99 |
| Crucial X10 Pro 4TB | $  289.99 |
Notes:
Based on internal competitive research and analysis across portable SSDs.

 

MB/s speed measured as maximum sequential performance of device as measured by Crucial on a high-performance desktop computer with Crystal Disk Mark (version 8.0.1 for x64). Your performance may vary.

Some of the storage capacity is used for formatting and other purposes and is not available for data storage. 1GB equals 1 billion bytes.

As measured using the Crucial X10 Pro on a high-performance desktop computer.

Best speeds available with included USB Type-C to C cable on USB 3.2 Gen2 supported devices. Use USB Type-A adapter for older devices. USB 3.2 Gen2 2x2 full performance can only be achieved on USB-C host devices

 

Protection against dust and water projected in jets against the enclosure from any direction. The X10 Pro should not be submerged in water. For more information, visit

www.iec.ch/ip-ratings

.

 

Compatibility may vary and may be contingent on device formatting and host capabilities. Compatible Android devices must be able to work with USB Mass Storage over OTG. Operating system updates and reformatting may be required.

 

Terms and conditions apply.