4. Performance - Page 3 / Conclusion
- Performance - Page 3
For the end, we used IOMeter, a software used to measure various different scenario loads. At this test the drive produced a total score of 29335.89 points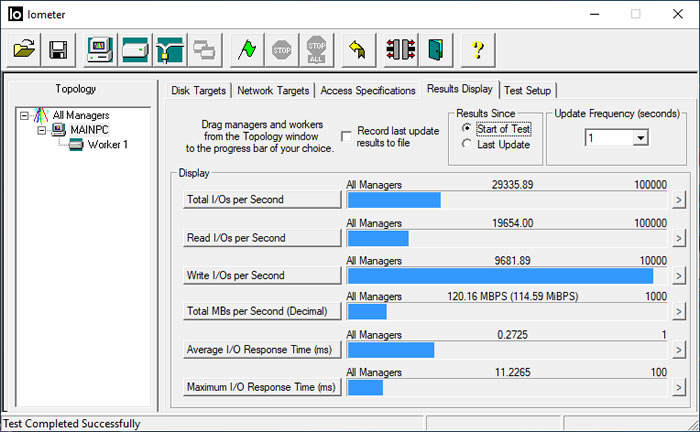 Comparing the Crucial P2 with other similar capacity drives, we see that the Crucial P2, cannto be compared with other higher priced NVMe from Samsung or Adata. However at 70 Euro is the cheapest drive from all the drives we tested, and perhaps its retail price will be even lower at your local market.
| | | |
| --- | --- | --- |
| Drive | IOmeter score | Price (Euro) |
| Samsung 970 Evo 500GB SSD | 87.545,35 | 100 |
| Samsung 970 Pro 512GB SSD | 75.277,83 | 162 |
| Adata XPG SX8200 480 SSD | 75.335,15 | 90 |
| Crucial P2 500GB SSD | 29.335,89 | 70 |
- Conclusion
The Crucial P2 M2 2280 500GB NVMe is a new proposal from Crucial for entry level users who wish to enter the world of NVME drives and dont break the bank. The new P2 series come with 256 and 500GB capacities (for now) and hopefully sometime in the near future we will also see up to 1TB capacities as the press release indicated. The drive comes with advertised speeds of 2.3MB/sec and 900Kb/s respectively, which not only came true from our tests but found be even higher, at least in our test system. The Crucial P2 500GB SSD will fit at all NVMe slots with little effort from an amateur user. Windows will load much faster and will gain higher speeds even compared with a traditional SSD, when making big file read/write operations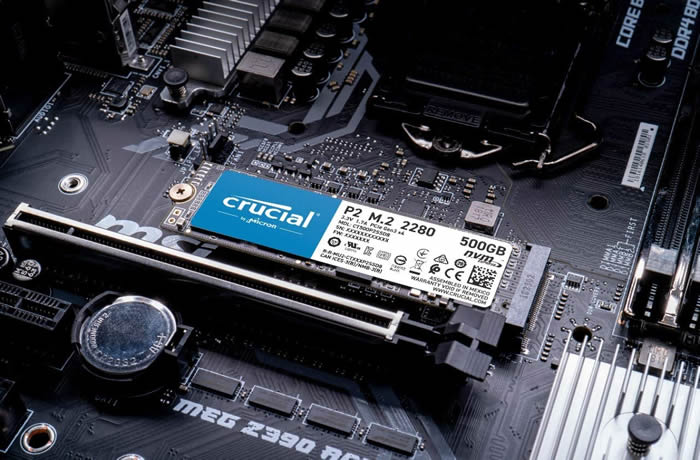 At the retail price of 70 Euros, the drive looks competitive, armed with 5 years of warranty (or 150TB of data written). Looking at the competition, the Crucial P1 500GB drive costs even less ~ 60 Euro, with lower reading/writing speed compared with the P2 series. The higher end drives from Adata/Samsung will offer much higher performance but you also will spend much more money.
Its obvious we like Crucial products and armed with the perfect RMA procedure, we have no issue reccomending this drive to all users who wish to get an NVME drive at the lowest possible price. We hope that Crucial will introduce higher capacities of the P2 series, since users usually need the highest possible storage capacities they can get.