Crucial X8 4TB PortableSSD
2. Tests
To test the Crucial X8 4TB Portable SSD, we used the included USB Type-C to Type-C with the following system configuration. Note that if you are using another Type C-to-Type C cable, performance could be much slower, so for the best possible performance use only the included cable:
CPU: AMD Ryzen 7950X
Thermal compound: bequiet! DC1
Case: bequiet! Silent Base 802
Case fans: 2x140 bequiet! Silent Wings 3 High-Speed RPM speed controllable via SmartFan BIOS + Asus Xpert4 software
CPU Fan: Stock 2x120mm Noctua
Motherboard: Asus ProArt X670
Memory: 2x16GB G.skill Trident Z NEO RGB @ 6000MHz CL30 (EXPO Profile)
PSU: be quiet! Straight Power 11 650Watt
HDD: Crucial MX500 SSD
VGA: Asus 1060 6GB Dual
Operating system: Windows 11 x64 with all the latest updates installed
At the start, we tested the drive with the default Windows configuration for portable devices (quick removal). You can further improve writing performance if you enable Device Manager ->Disk Drives->Micro CT4000X80->Policies->Better Performance.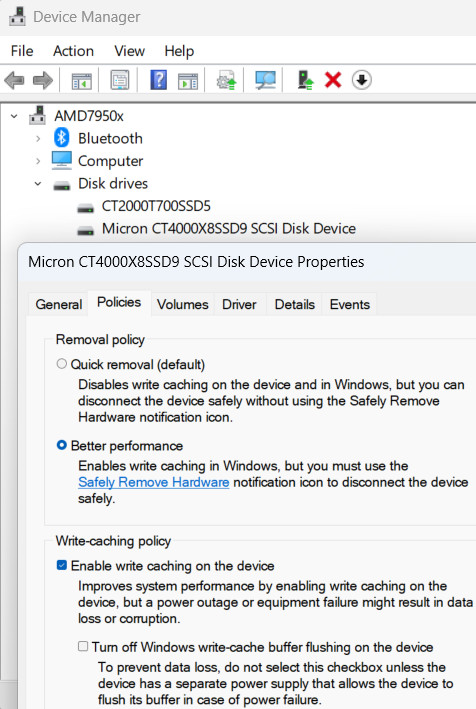 The drive delivered somewhat lower performance than what Crucial advertises. In the best scenario reached 927MB/sec reading and around ~600MB/sec writing.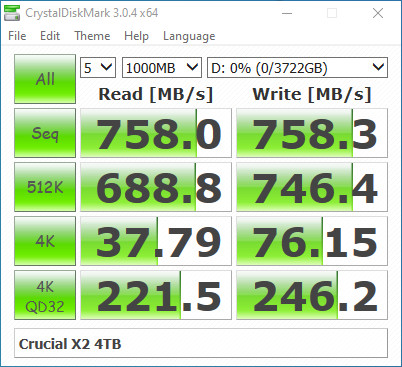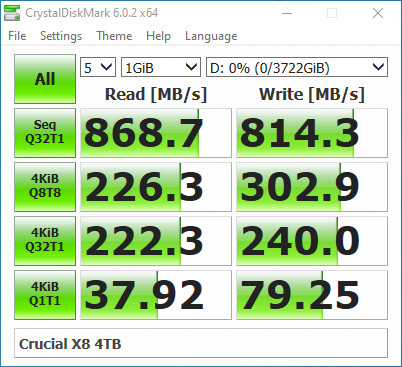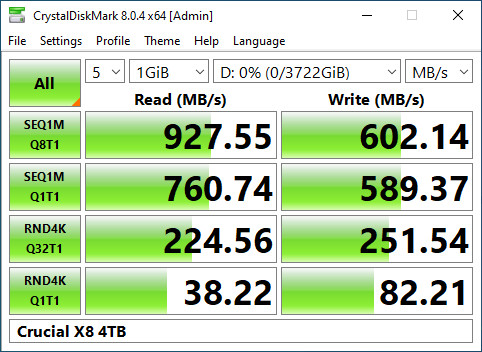 The AJA Test Suite also gives a quick read/write test result, resulting in 782MB/sec reading and around 561MB/sec writing.
Passing to the AS SSD Benchmark, the total score is rather low with 888 points.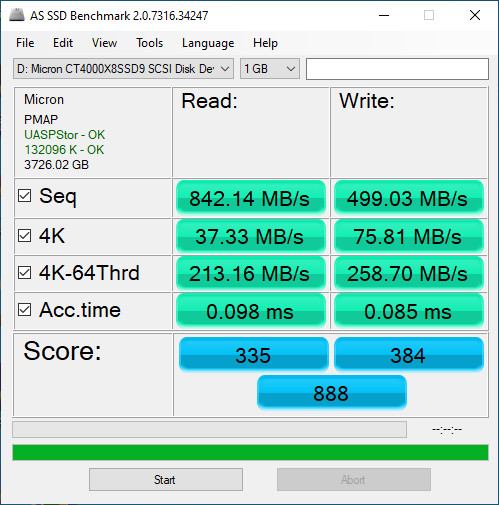 At the ATTO Disk Benchmark, the drive resulted in up to 930Mb/sec reading and around 847MB/sec writing performance.
, while with the latest ATTO Disk Benchmark 4.01.0f1 version, we got somewhat lower performance.
Enabling Crucial Momentum Cache operation will for sure help with the performance of the Portable SSD.
The below results are shown only to indicate what you can expect when Momentum Cache is enabled and it's using the system memory to further accelerate reading/writing.