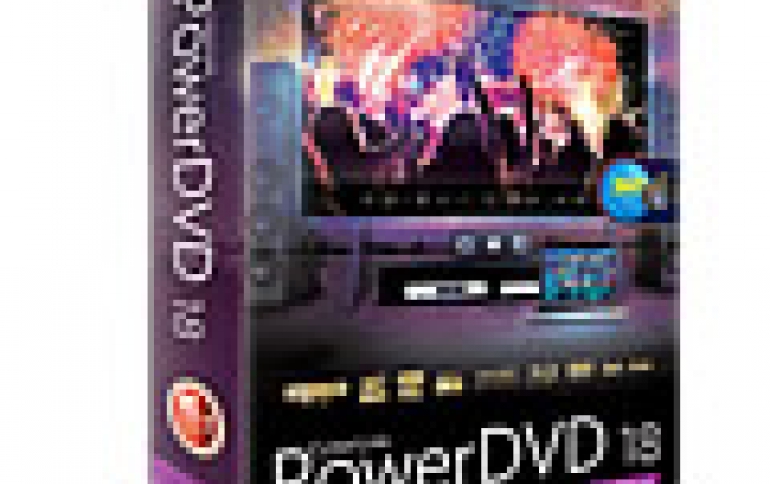 CyberLink PowerDVD 18 Supports Ultra HD Blu-ray and 4K HDR
CyberLink today released PowerDVD 18, the latest version of its flagship movie and media player for 4K high dynamic range (HDR), Ultra-HD Blu-ray, virtual reality (VR), 360o and online streaming content.
With the trend moving from full HD to 4K, PowerDVD 18 supports the latest video formats, including Ultra HD Blu-ray, HDR 10 content and HEVC/H.265 videos.
Users who don't yet own a VR headset can now watch 360o video on their PC with a new viewing mode enabling users to see every angle simultaneously. Now boasting integrated playback support for both YouTube and Vimeo 360o, PowerDVD 18 brings a world of VR content straight to user's headsets or PCs. This extends to owners of new Windows Mixed Reality headsets who can access the same library of online 360o video through CyberLink's Power Media Player MR app.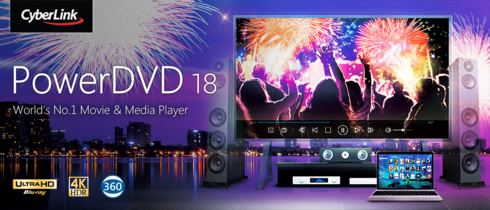 In addition, PowerDVD 18 brings a new "Mini View" player to the program. This feature keeps the player on top of other windows, ensuring uninterrupted viewing of local or online videos. When coupled with the new YouTube Live integration, the Mini View player allows users to multitask on their PCs.
PowerDVD also now supports Fire TVT casting, in addition to Roku, Apple TV and ChromecastT streaming devices. It offers an easy way to send movies, music and photos wirelessly from PCs to a TV. By using PowerDVD, users can apply CyberLink's TrueTheater HDR, Color and Sound technologies to any streamed media content for playback.
Key Features of PowerDVD 18 include:
Supports playback of 4K Ultra HD Blu-ray titles on Windows PCs.
Plays HDR 10 videos
H.265/HEVC on Windows 10-PowerDVD 18 enables users to watch videos shot using the H.265 codec, even though Windows 10 does not natively support.
Tri-View 360° Viewing Mode - an updated interface that shows every angle at a glance
Live Streaming-watch live content on YouTube with HDR support.
Play & Pin Online Videos-save online videos so they can be watched later, even without an internet connection.
Mini View-watch video content in a separate mini window that's always on top of your desktop screen
Media Casting-newly added support for Fire TV, in addition to Roku, Apple TV and Chromecast enables users to cast video, photo or music files to their TV, even in formats that aren't natively supported by their streaming device.
True Full Screen for Blu-ray-when watching a Blu-ray disc on an ultra-widescreen TV (21:9 or 2.35:1 aspect ratio), PowerDVD adjusts playback so that content fits your screen.
TrueTheater HDR-upscales standard video to HDR-like quality.
Power Media Player MR - virtual and mixed reality content with online content for the latest Windows MR headsets.
PowerDVD 18 is available today from the CyberLink online store in English, French, German, Italian, Spanish, Chinese (Simplified and Traditional), Japanese, Korean, Russian and Portuguese.
Pricing
PowerDVD offers both subscription and perpetual licenses. PowerDVD Live is available in annual and quarterly subscription options. Lifetime licenses are available for three versions of PowerDVD 18.
PowerDVD Live: US$44.99/12 month or US $14.99/3 month subscription
PowerDVD 18 Ultra: US$99.95
PowerDVD 18 Pro: US$79.95
PowerDVD 18 Standard: US$59.95
Upgrades from previous PowerDVD versions are also available starting from $49.95.
 
PowerDVD Live
PowerDVD Ultra
PowerDVD Pro
PowerDVD Standard
Video Disc & Format Support

Ultra HD Blu-ray Disc

Yes
Yes
No

Blu-ray Disc, BD Live

True Full Screen for Blu-ray playback on 21:9 aspect ratio

AVCHD, AVCREC

No

ISO file playback

Yes

DVD

No

3D DVD (Side-by-Side, Over/Under) movie

Yes

CPRM Protected Disc

TV Mode & Casting

Interface Optimized for Big Screen TVs

Yes
No

Optimized 4K video playback on 4K TVs

Cast Video, Photo, Audio to Fire TV

Cast Video, Photo, Audio to ChromeCast

Cast Video, Photo, Audio to Apple TV

Cast Video, Photo, Audio to Roku

Apply TrueTheater Enhancements to Video & Audio in TV Mode & Casting UNIQUE

360° and VR Mode

Multi-angle view for 360° video & photos

Yes
No

360°, 3D-360 equirectangular video

Auto-pan 360° photo in slideshow

Supports Oculus Rift headset and controllers

Supports HTC Vive headset and controllers

Video Format Support

MPEG HEVC (H.265)

Yes
No

MPEG-4 AVC (H.264)

Yes

3D videos (MVC/Side-by-side/Up-and-under/2D to 3D)

No

XAVC-S support for 4K/HD movies

Yes

MKV, FLV, MOV, 3GPP support

DivX Video

No

Customized subtitles / multiple subtitles

Yes
Audio Format Support & Features

Dolby Digital (5.1 ch)

Yes

Dolby Digital Plus (7.1 ch)

Yes
5.1 ch

Dolby TrueHD (7.1 ch)

5.1 ch
No

DTS 96/24

Yes

DTS-HD

Yes
No

DSD Audio

AAC Decoding (5.1 ch)

Yes

Lossless HD Audio ? APE/FLAC/ALAC

Audio Equalizer

WASAPI exclusive mode

Audio extraction from video

No

Batch audio extraction from multiple files

Audio CD ripping

Yes

Batch Music Tag Editing

Dolby Pro Logic IIx, Virtual Speaker, Headphones & Digital EX

No
TrueTheater Enhancements

TrueTheater HDR

Yes
No

TrueTheater Color, Sound, HD, Lighting

Yes

TrueTheater Motion, Stretch, Stabilizer, Denoise, Surround

TrueTheater 3D for Blu-ray Movies/ HD Videos/ Photos

No
Online
Yes

Play & Pin YouTube 360 & 3D-360 content

No

Play & Pin YouTube HDR content

Play & Pin YouTube Full HD & 4K content

Yes
No

Watch YouTube Live

YouTube Subtitle Support

Upload Video to YouTube, Vimeo

Browse and play video from Vimeo

Play Vimeo 360 Videos NEW

No

Pin (download) YouTube video for offline playback

Yes
No

webM Support (VP9/9.2 + Opus)

No
CyberLink Cloud Services

Upload, download, and sync media with CyberLink Cloud

No

Convert media before uploading to CyberLink Cloud

Video streaming from cloud

CyberLink Cloud Storage

30 GB
30 GB / 1 year
Media Library & Personalization

Import Music, Photos, and Videos

Yes

Always on top Mini View for Video

Photo slideshow (JPG, BMP, PNG, TIFF, RAW)

3D Photo slideshow (*.MPO, *. JPS)

Yes
No

Media library for Movies

Yes

Media Library for TV Shows

Customizable PowerDVD wallpapers

Video Scene Selector

Auto Resume to Last Viewing Point