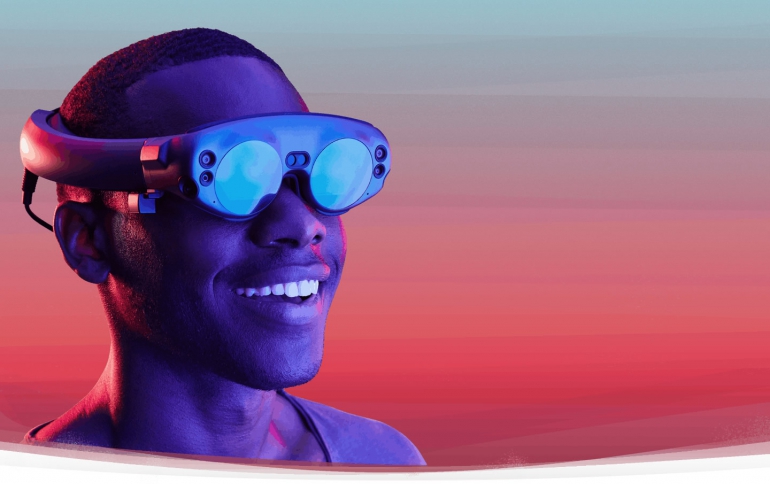 Details From L.E.A.P.
The Magic Leap community of creators, developers, partners and pioneers convened today in Los Angeles for the company's inaugural L.E.A.P. conference celebrating spatial computing.
Magic Leap announced the Independent Creator Program, an initiative designed to support indie development for Magic Leap. Developers accepted into the program will be able to apply for grants that offer support to accelerate their work through access to hardware, financial support, engineering support, and/or marketing support. The company also announced an Award Program for innovative indie concepts and releases.
Beginning this year, AT&T plans to offer hands-on Magic Leap experiences, including Warner Media content, in select stores. Also this year, AT&T will host a spatial computing hackathon in November in San Francisco and AT&T will install a mobile 5G test zone on Magic Leap's campus in Plantation, Florida. Next year, AT&T announced they will bring DIRECTV NOW to Magic Leap One.
Magic Leap wants to make it easier for creators to develop on top of LuminOS, the company's internally built operating system made possible by the contributions of the open source developers and open source communities around the world. Magic Leap already supports WebGL, and plans to support WebXR by the end of the year.
In 2019, Magic Leap will introduce the MagicScript technology, a set of libraries enabling Javascript coding on top of our native LuminOS that makes it even easier to develop with Magic Leap. The first code drop should come in Q1, 2019.
Magic Leap also announced bug bounty programs with Bugcrowd, which will help the company's products and services undergo testing by the external security research community.
Magic Leap started rolling out over-the-air software updates with the first OTA last week (vers. 0.92). The next OTA update (vers. 0.93) is slated for the end of October, and is anticipated to feature Avatar Chat and new user settings that allow you to get better visuals from our capture functionality, among other things. More OTA updates will ship later this year and in 2019, including the ability for Avatar Chat to support three-person calls, the first webview API and Dash support for streaming. Additionally, Magic Leap promised to bring support of the concurrent use of two 6DOF controls through the SDK.
The company also announced that it will enable spectator view and large scale mapping later in the year, paving the way for our object recognition framework. In the first half of 2019, Magic Leap plans to roll out its first requirements related to enterprise deployment management.
Magic Leap has been shipping the Goat_Labs Developer Samples, or GLDS, which include two fundamental tools that the company's team now uses as the basis. Magic Leap is now making these available to all creators. First is DERP, which is a debugger that establishes a connection between your computer and your Magic Leap device. Second is the Dense Mesh Adapter, which converts room geometry into familiar Unity or Unreal objects. On top of this, Magic Leap has built two reference apps that are available with full documentation and access to a discussion forum.
Magic Leap recently rolled out standard shipping of Magic Leap One Creator Edition throughout the contiguous U.S. The compant has also partnered with Affirm to offer 0% APR financing options. Access to delivery service powered by Enjoy has been expanded from 6 cities to 39 cities, with an additional 11 cities opening up within the next month.
The company also introduced prescription inserts for Magic Leap One Creator Edition, along with a carrying case for taking the Magic Leap One Creator Edition on the go.
Moving forward, Magic Leap is focused on enabling multi-user experiences in mixed reality. This is the first step to embedding real spaces with virtual content that we can all see and share. We can see virtual content in the same place at the same time by wearing Magic Leap One together. This is part of an experience Magic Leap calls casting. Today, Magic Leap introduced Avatar Chat, which will allow people far away to appear in each other's rooms as avatars by taking full advantage of Magic Leap's perception features.