Magic Leap One Mixed Reality Headset is Coming Later This Summer
Magic Leap disclosed that the Creator Edition of its One, the company's mixed reality headset, will be available sometime later this summer.
The headset will be powered by NVIDIA's Tegra X2 system-on-a-chip, which is powerful for a mobile device but still power-efficient.
The firm didn't provide battery life estimates, instead suggesting that it was up to developers to decide how demanding their titles would be.
Magic Leap's technology can use hand gesture tracking, eye tracking and a physical controller. The headset combines Magic Leaps' Digital Lightfield technology with environment mapping, precision tracking and soundfield audio. According to the company, the lightfield photonics generate digital light at different depths and blend with natural light to produce lifelike digital objects that coexist in the real world. This technology allows our brain to naturally process digital objects the same way we do real-world objects, making it comfortable to use for long periods of time.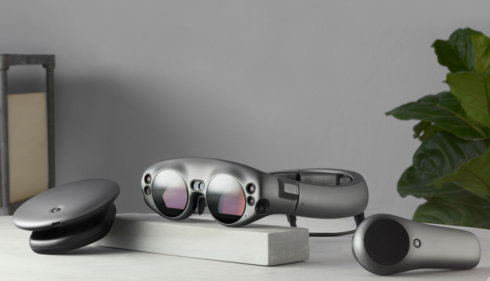 The sensor suite on Magic Leap One detects surfaces, planes and objects, allowing for digital reconstruction of your physical surroundings. The result is a system that sees what you see, allowing lightfield objects to not only exist in the physical world but actually interact with it.
Force control and haptic feedback allow for a fluid, sensory experience. Spatial tracking, with six degrees of freedom, allows for movement that is smooth, and responds to gestures.
The headset's price remains unknown, but will certainly not be cheap.