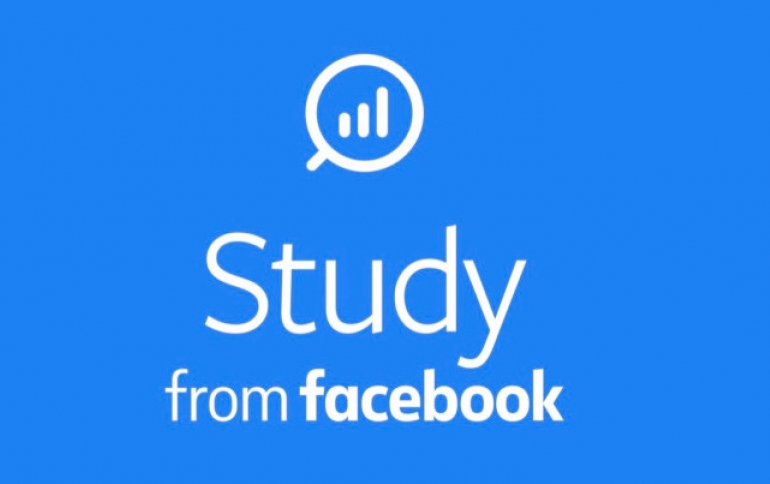 Facebook's Study App Will Reward You For Monitoring Your Activity
Facebook is shifting focus to reward-based market research programs and is launching a new market research app called Study from Facebook.
Study is an app that you will be asked to download in your smartphone a allow it to monitor the apps installed on your device, the amount of time spent using those apps, your country, device and network type and app activity names.
Facebook says that Study does not collect user IDs, passwords, or any of the participant's content, such as photos, videos, or messages. The company also stressed to clarify that it doesn't sell information from the app to third parties or use it to target ads, and it is not added to a participant's Facebook account if they have one.
When you clicks on an ad, you'll have the option to register and, if you qualify, you'll be invited to download the app. Once invited, you'll find the Study from Facebook app in the Google Play Store. As you sign up, you will see a description of how the app works and what information you'll be sharing with Facebook so you can confirm you want to participate. Facebook also notifies users on the Study from Facebook website and in the Play Store description about what information the company collects and how it will be used.
What you get for installing the app? Facebook says that anyone who uses the app will be compensated for contributing to the research. Only people who are 18 and older will be eligible to participate at launch, and all participants will be able to opt out at any time.
In order to manage the logistics of the market research program, Facebook will work with Applause. They'll manage the registration process, all compensation to participants, and customer support.
At first, the app will only be available to people in the US and India.
The real question here is why Facebook is launching a specific app in order to gather information from users, since almost all people out there are already running Facebook's apps on their smartphones and they willingly submit their habits to Facebook's platforms.