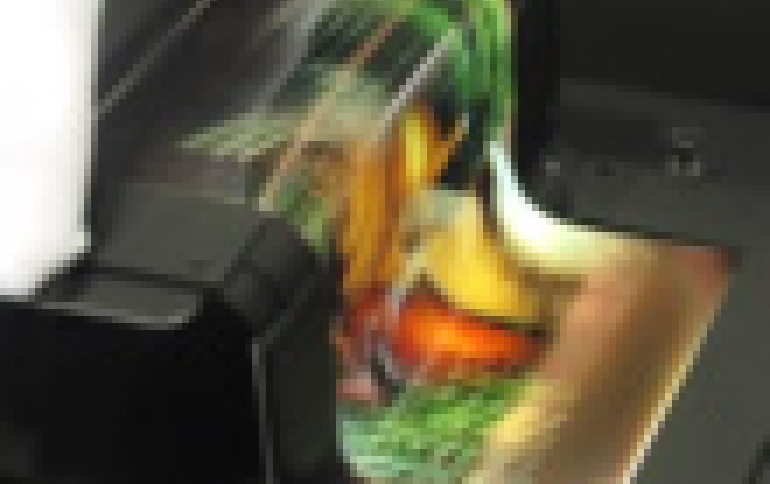 Foldable OLED Panels, MEMS Displays Appear At SID 2014
Japanese Semiconductor Energy Laboratory, Advanced Film Device and Nokia presented papers at at SID 2014 (June 1-6, 2014) in San Diego, describing foldable OLED displays with flexible display surfaces using inorganic barrier layers. The companies also showcased prototype displays that can be folded in two or three while displaying video.

The first prototype display could actually be folded in two like a book, while the other one was even foldable in three. The displays can be bent up to curvature radius of 2mm and 4mm, respectively. They can also be bent more than 100,000 times, SEL said.

When unfolded, the 5.9-inch OLED panels have a resolution of 1,280 x 720 and 249ppi, respectively.

The displays cosisted of a release layer placed above a sealing layer and a color filter layer on top. All three layers were then formed on a glass substrate.

Another set of four layers -- a release layer, a sealing layer, a TFT layer and an OLED layer -- were all formed on a new glass substrate.

Then, the color filter and the OLED layers, which were the upper layers in both previously described layer formations, were attached to each other. What's left was to peel off the glass substrates on the top and the borrom side of the formation and relplace them with lexible substrates.

The final formation is TFT and OLED layers sandwiched between two sets of a sealing layer and a flexible substrate.

SEL and Sharp also prototyped a 13.3-inch 8k (7,680 x 4,320-pixel) display panel using OLEDs.

The 8k panel features a resolution as high as 664ppi and combines white-light OLEDs with three kinds of microcavities to narrow wavelengths down to those of red (R), green (G) and blue (B) lights and applying color filters to them. However, its red color reproducibility is slightly low. It has an 84% or wider color gamut on NTSC standards while many OLED panels have an about 100% color gamut.

During SID 2014, Sony also announced a high-performance 0.23-inch OLED panel for wearable devices, available from next year.

The 0.23-inch panel has 640 x 480 pixels and a pitch of and 7.8µm, and supports the 110% color gamut on NTSC standards. It has also an impressive contracst ratio of 100,000:1, its brightness ranges from 200 to 800cd/m2 and it consumes 440 to 140mW of power. The small display can be viewed from an angle of 70 degrees with respect to the screen.

The OLED device used for the panel has a structure that emits white light.

Japanese Sharp also showcased once again the results of its cooperation with Qualcomm's subsidiary Pixtronix, Inc on MEMS displays.

At SID 2014, Sharp brought a 7-inch high-quality color, low-power MEMS displays incorporating IGZO (Indium Gallium Zinc Oxide) technology. Its pixel count and color depth were 1,280 x 800 and 24 bits, respectively. It had a 122% color gamut on NTSC standards.

Compared to LCD displays, the new display uses micro shutters (MEMS) instead on liquid crystal. It uses red (R), green (G) and blue (B) LEDs for backlighting and switches MEMS shutters at a speed of 100µs. Color display and gradation are realized by switching among RGB colors with a time-sharing method. Most importantly, the new display consumes less power -- less than half that of LCD panel when 24 bits of colors are fully used. The power consumption drops significantly more when it comes to a monochrome MEMS display.

Sharp will start shipment of a MEMS display in the fourth quarter of 2014.