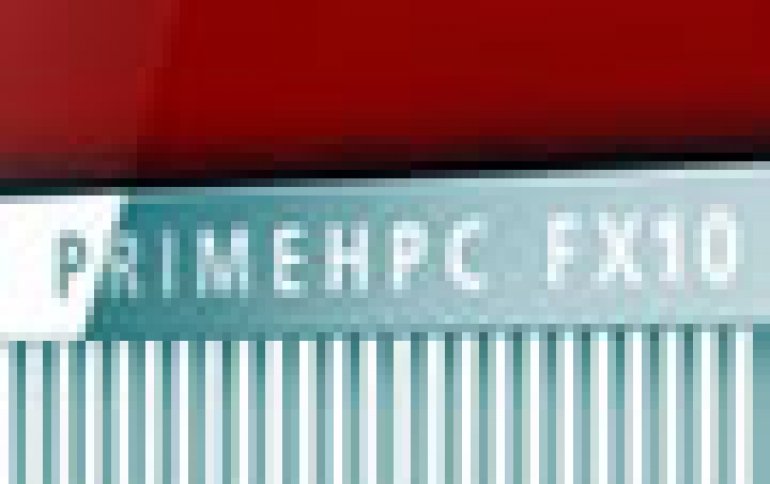 Fujitsu Launches PRIMEHPC FX10 Supercomputer, Cooling Technology That Utilizes CPU's Wasted Heat
Fujitsu today announced the availability of the PRIMEHPC FX10 supercomputer, which is capable of scaling to a top theoretical processing performance of 23.2 petaflops (PFLOPS). The company also announced the development of cooling technology that employs waste heat generated by CPUs to produce chilled water that can be used to cool server rooms.


All of the PRIMEHPC FX10's components - from processors to middleware - have been developed by Fujitsu. The system can be scaled to meet various needs, up to a 1,024 rack configuration achieving a speed of 23.2 PFLOPS.

The new system is also compatible with the "K computer" supercomputer, which is being developed by RIKEN and Fujitsu as part of an initiative led by Japan's Ministry of Education, Culture, Sports, Science and Technology (MEXT).

In its largest potential configuration consisting of 98,304 nodes, 1,024 racks, the supercomputer delivers a high-speed, ultrascale computing environment with a theoretical computing performance of 23.2 petaflops and 6 petabytes of memory.

PRIMEHPC FX10 runs on the newly-developed SPARC64 IXfx processors, which offer a significant boost in performance over the SPARC64 VIIIfx processor on which they are based and which power the K computer. Each processor has 16 cores and achieves standalone performance levels of 236.5 gigaflops and performance per watt of over 2 gigaflops.

PRIMEHPC FX10 also features a variety of enhancements for high-performance computing, such as high memory bandwidth, scalable "Tofu" interconnects with 10 links, each delivering high performance levels of 5 GB/s x 2 (both directions), and Fujitsu's original HPC middleware, Technical Computing Suite, which has a compiler and library, resulting in high execution performance for massively parallel applications.

Fujitsu's original technology VISIMPACT makes it easy to automatically implement a hybrid parallel programming model that combines threads with Message Passing Interface enhancing scalability.

Due to its processors, which include the same built-in RAS functions found in mainframes, and "Tofu" interconnects, which employ flexible 6-dimensional mesh/torus architecture, PRIMEHPC FX10 delivers high reliability and availability.

Moreover, thanks to the system management and job operations management functions in Fujitsu's Technical Computing Suite HPC middleware, as well as its distributed file system, FEFS, that enables sharing across 100,000 nodes, PRIMEHPC FX10 delivers high operability for a large-scale system.

The new supercomputer will launch globally in January 2012. Fujitsu plans to sell 50 systems over the next three years.

New Cooling Technology That Utilizes a CPU's Heat

In related news, Fujitsu Laboratories Limited today announced the development of cooling technology that employs waste heat generated by CPUs to produce chilled water that can be used to cool server rooms. Producing water of a temperature low enough for use in cooling factory equipment requires a substantial amount of energy. Currently, water is normally chilled using electricity, boilers or other sources of thermal energy, but now there are new attempts to employ heat, including that from high temperature waste water, as an energy source. Fujitsu Laboratories has developed a technology that can chill water from relatively low-temperature sources that have not been usable in the past. At 55°C, water produced from water-cooled type CPUs is of a relatively low temperature, which fluctuates depending on load. However, it is possible to continuously produce chilled water even from this waste water.

Fujitsu Laboratories has developed a technology that will continuously chill water to a temperature of 15°C -18°C using waste heat from CPUs.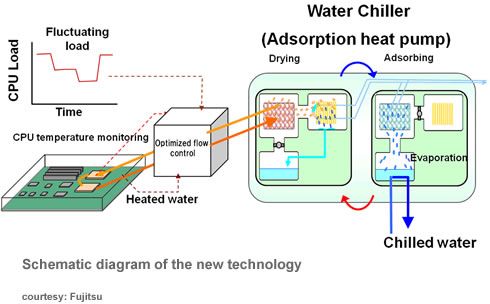 Waste-heat water chillers are adsorption-type heat pumps that work by adsorbing water that has been heated by waste heat into an adsorbing material and then vaporizing it, taking advantage of the phenomenon in which heat is lost during vaporization. Fujitsu Laboratories has developed a new material that has the adsorbent properties of water at room temperature and that has the ability to dry at 55°C. This is what makes operations possible at the low temperature of 55°C.
CPU temperatures vary in response to the load. To produce a constant stream of chilled water, it is necessary to maintain waste water at 40°C to 55°C, this being a temperature range in which the adsorbent material is capable of vaporizing water. The company's technology maintains the temperature of waste water provided to the water chiller in the 40°C to 55°C range by controlling the flow volume in tandem with CPU load.
This technology offers the ability to use a CPU's waste heat to cool a datacenter, which had previously been impossible, and could save about 20% of the power used to air condition datacenters, which accounts for approximately 40% of all power used by datacenters. For a single server rack, which consumes up to 12,000 kWh per year, this is equivalent to the volume of CO2 cut by 360 cedar trees.
Fujitsu Laboratories is working to increase the reliability of these technologies, and expanding their scale and space efficiency, with the goal of deploying them in datacenters around 2014.
Details of this technology were presented at the 2011 International Conference on Power and Energy Engineering, opened from October 28, 2011, in Shanghai.
PRIMEHPC FX10 Specifications
Hardware
 
Node
Theoretical computational performance
236.5GFLOPS
Processor
SPARC64™ IXfx (1.848GHz, 16 cores) × 1
Memory capacity
32GB, 64GB
Memory bandwidth
85GB/s
Inter-node transfer rate
5GB/s × 2 (bidirectional) / link
System
No. racks
4 ~ 1,024
Nodes
384 ~ 98,304
Theoretical computational performance
90.8 ~ 23,248TFLOPS
Total memory
12 ~ 6,291TB
Interconnect
"Tofu" Interconnect
Cooling Method
Direct water cooling + air cooling (Optional: Exhaust cooling unit)
Software