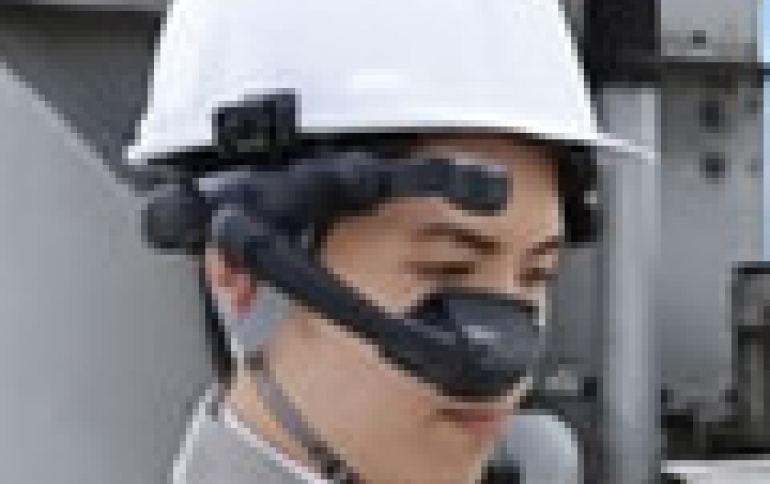 Fujitsu Releases Head Mounted Display For On-Site Operations
Fujitsu has developed a head mounted display called UBIQUITOUSWARE, a wearable device for enterprises. The Head Mounted Display product consists of a 0.4-inch display (854 x 480 pixels), a camera, two microphones, and various sensors, with a non-see-through extension positioned in front of one eye. It can be operated with the included wearable keyboard or by voice. Constructed to be tough and for use with confidence in challenging environments such as precarious heights, the product is water-resistant (IPX5/7) and dust-resistant (IP5X) for outdoor use.
The unit includes a high-capacity battery that can last for up to about four hours, and allows for easy battery swaps. The position of the display can be adjusted, and it can be worn with glasses, directly on the head, or attached to typically used helmets. The built-in accelerometer detects changes in the operator's movements, and can notify a manager with an alarm if the operator falls.
The product can communicate with smart devices through Wi-Fi and Bluetooth, and any problems discovered in the field can be relayed in real time with sound and video using the built-in camera and microphone.
Photos and video captured with the built-in camera can be stamped with time and location data collected with a smart device, and stored as an activity log. These logs can be centrally stored on business systems or the management servers of cloud services, and spots that involve heavy workloads or procedures that are prone to be performed incorrectly can be identified so that manuals can be created.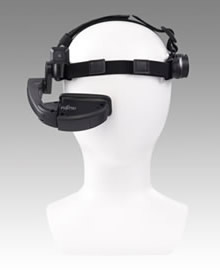 The Head Mounted Display is available with a software development kit that includes developer documentation and libraries, so that companies can develop solutions that work with their business systems, and the product can be adapted to specific purposes.
For infrastructure inspections or factory assembly work, the display allows for safe and accurate hands-free task support in the form of images, video, and audio.
Combining an HMD with middleware such as FUJITSU Software Interstage AR Processing Server, an augmented-reality platform product, and operational-support services such as FUJITSU Business Application AZCLOUD SaaS teraSpection allows for task support using still pictures, video, and audio. The operator wears the Head Mounted Display and views the display for information pertaining to the tasks being performed, such as inspection check lists or work procedures, while using both hands for the task. This dramatically improves operational efficiency and avoids problems of overlooking steps or doing them out of order. The unit can be used with the attached wearable keyboard or the audio command function to carry out a variety of operations, including turning pages in a work manual, entering numbers or taking images with a camera.
The FUJITSU IoT Solution UBIQUITOUSWARE Head Mounted Display will be available starting from mid May.
| | |
| --- | --- |
| OS | Android 4.4 |
| CPU | APQ8026 Quad Core 1.2GHz |
| Internal Memory (RAM/ROM) | 2GB/8GB |
| Form | Non-see-through extension positioned in front of one eye |
| Display Size | 0.4-inch (virtual screen size is 15 inches) |
| Display Resolution | 854 x 480(FWVGA) |
| Camera | Effective pixel count of approximately 8.1 megapixels(recording pixel count of approximately 8.0 megapixels) |
| Communications Features | Wireless LAN (IEEE 802.11a/b/g/n (single) 2.4GHz/5GHz), Bluetooth (V3.0) |
| Battery Run-time | Approximately 4.0 hours |
| Weight | Main unit: approx. 315g, Other mounted parts: approx. 78g, Helmet fastener clip: 45g |