Fujitsu Technology Reduces Network Switches in Cluster Supercomputers
Fujitsu Laboratories Ltd. has developed a technology that reduces the number of network switches used in a cluster supercomputer system comprised of several thousand units by 40% while maintaining the same level of network performance. Cluster supercomputers are made up of numerous PC servers connected by a high-speed network. Existing cluster supercomputers typically use a "fat tree" network topology, in which, for example, 6,000 servers would require about 800 switches, or possibly more than 2,000 switches, with network performance that needs redundancy and other features. Networks account for up to about 20% of the power consumed by a supercomputer system, which means there are high expectations for a new network technology that can maintain good network performance with fewer switches.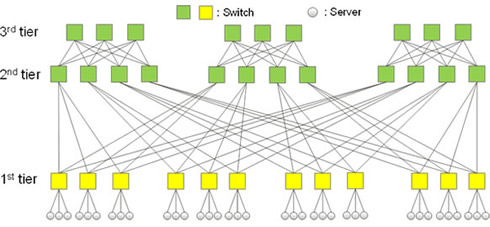 Fujitsu Laboratories has used a multi-layer full mesh topology in combination with a newly developed communications algorithm that controls transmission sequences to avoid data collisions. This means that, even in all-to-all communications, which are prone to bottlenecks during application execution, performance stays on par with existing technology while using roughly 40% fewer switches, saving energy without sacrificing performance.
In Fujitsu's structure, switches for indirect connections are arrayed around the periphery of a full-mesh framework that connects all switches directly, and multiple full-mesh structures are connected to each other. Compared to a three-layer fat-tree network topology, this eliminates an entire layer of switches, with switch ports being used more efficiently and a smaller number of switches in use.

In all-to-all communications, where each server is exchanging data with every other server, reducing the number of switches also reduces the number of paths between servers, which is likely to result in collisions. Fujitsu Laboratories was able to achieve all-to-all communications performance on par with a fat-tree topology by taking advantage of the multi-layer full mesh network topology in the process of transferring data between servers. By using scheduling, servers connected to the various apex switches will divert to a different apex, and also by avoid collisions within paths that traverse different layers.
Fujitsu plans to have a practical implementation of this technology during fiscal 2015. It also plans to continue research into topologies for large-scale computing systems that do not depend on increasing numbers of switches.