2. Page 2
He offered to build-free of charge-the electric chair that was to be used in executing the condemned to death prisoners, so that there would be substantial proof to the danger lurking in the alternating current. His friends held meetings in which they killed little animals with the help of the "dangerous" alternating current. Edison himself had put out posters in which he warned the public about the so-called "Westinghousation", in an attempt to present the name of his rival company as synonym to electric shock.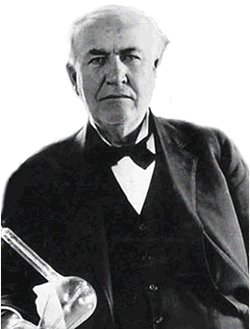 Edison knew very well that the high frequency alternating current presented great benefits regarding energy transference over long distances. On the other hand, direct current, the kind of current he had been trying to sell, could not be transferred, and for that reason every single village would have to operate its own power plant. He would care less though, since he was the main supplier of the necessary components to build these plants.
He manifested the same obstinacy as soon as the gramophone industry got started, when he tried to impose his own model of cylinders in the place of the gramophone records we are familiar with.
Yet, the move that was mostly typical of Edison (very similar to Gates' s tactics) was his effort to control the film industry. Edison was in possession of the largest number of patents in the film industry. "The protection of his literary property being his sole aim" he brought to trial all the film producers who had been using film cameras and projectors that had been manufactured by rival industries. Finally the case reached the USA Supreme Court, which overruled Edison's appeals on the grounds of his contribution to the birth of the moving pictures, which could by no means be identified with the very invention of cinema itself.
Mad with rage Edison resolved to make use of his hold over the market to smash his rivals. In 1908, along with the most prominent film producers of the time, he founded the Motion Picture Patent Company. This company compelled filmmakers to sign contracts that would enforce them to use only the filming apparatus produced by Edison, or else George Eastman (whose company later merged with Kodak) who was also member of the company would not provide them with film rolls!
More terms were included in the agreement, terms, which nowadays would seem unreasonable. For instance, no movie was allowed to be shot if they exceeded an allotted 20-minute-time! Apart from that it was not allowed for the actors' names to be included in the ones of the contributors to the films, as Edison feared (and we was justified in that point) that if they shot to fame they would charge iniquitous sums of money to act, and that would amount to higher production costs for the industry as a whole!