HIS Radeon HD 7850 4GB iPower IceQ Turbo, Radeon HD 7950 IceQ X2
2. Meet the HIS Radeon HD 7850 4GB iPower IceQ Turbo
Model Name
HIS 7850 iPower IceQ Turbo 4GB GDDR5 PCI-E 2xDVI/HDMI/2xMini DP (UEFI Ready)
Chipset
Radeon HD 7850 PCIe Series
ASIC
Radeon HD 7850 GPU
Manu. Process (Micron)
28nm
Memory Size (MB)
4096
Memory Type
GDDR5
Engine CLK (MHz)
1000MHz
Memory CLK (Gbps)
4.8Gbps
Memory Interface (bit)
256bit
Power Supply Requirement
500 Watt or greater power
Max. Resolution
4096x2160 per display (DisplayPort 1.2)
2560x1600 per display (Dual-link DVI)
2048x1536 per display (VGA)
Bus Interface
PCI Express 3.0 x16
Mini Display Port
Yes
HDMI
Yes
DVI
Dual-link DVI-I + Single-link DVI-D
VGA
No
Below you can see the HIS Radeon HD 7850 4GB iPower IceQ Turbo edition: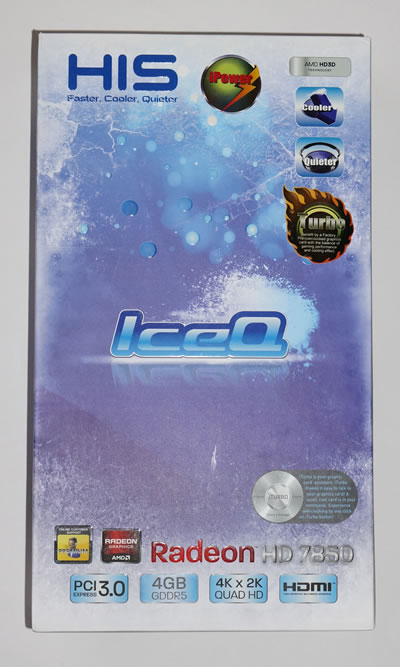 Included with the card is a CrossFireX Bridge, a DVI-VGA Adapter, an install CD with multilingual user guide, a quick installation guide and the 'HIS Power Up' label: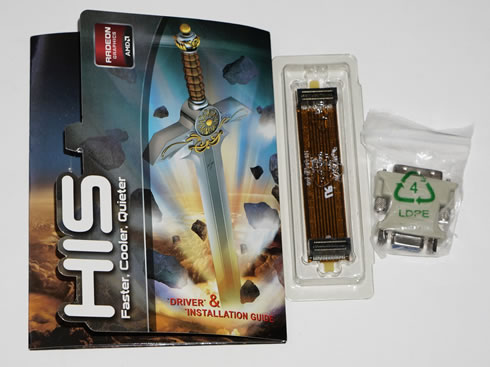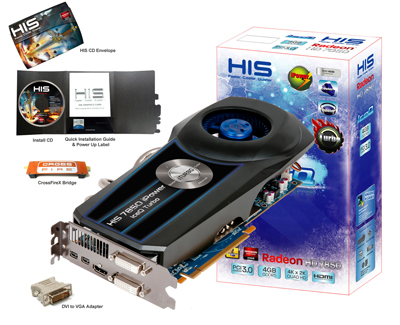 The big IceQ cooler along with some with side panel windows are responsible for keeping the card at low temperatures and noise levels. It comes with a large 57mm single blower fan with a life span of up to 42,000 hours, according to HIS. 2x 6mm plus 2x 8mm wide heatpipes optimize cooling performance by removing heat from the core area. An extra large 115 x 94mm copper heatbase provides a 140 x 125mm heat dissipation area.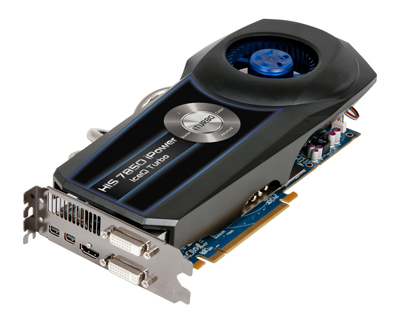 The custom cooler also promises to offer effective cooling even when there is another card in front blocking the fan inlet, such as in CrossFire setup.The card also features fan control and fan monitoring, you are able to read fan speed & Asic temperature from CCC or software.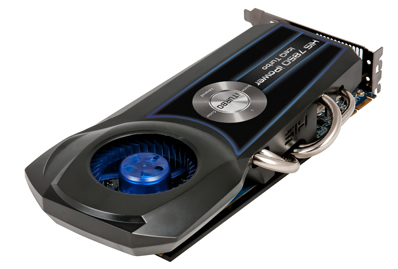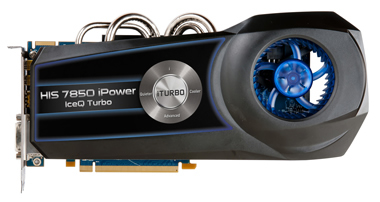 Through the Crossfire connector you can get 2-way Crossfire configurations.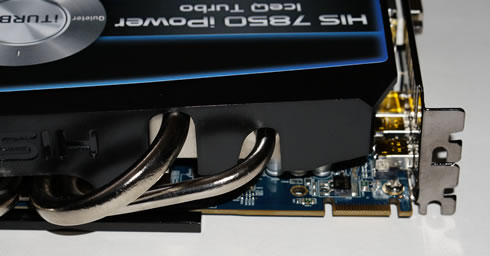 The extra PWM phase for core voltage provides extra power stability, lower temperature for power components:
| | | |
| --- | --- | --- |
| | HIS 7850 iPower IceQ Turbo | AMD 7850 Ref Board |
| Power Input | 6+6 | 6 |
| PWM Phase | 5+1+1+1=8 | 4+1+1+1=7 |
| Copper Layer | 2 Oz | 1 Oz |
| Mosfet | Dr. Mos | Original Mos |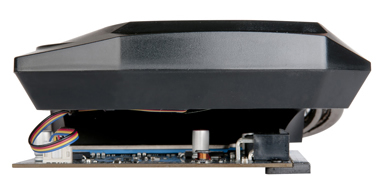 Connectivity options include a four-fold of connectors supporting all high-resolution monitors. We get a display port connectors, HDMI (1.4) and two DVI connectors.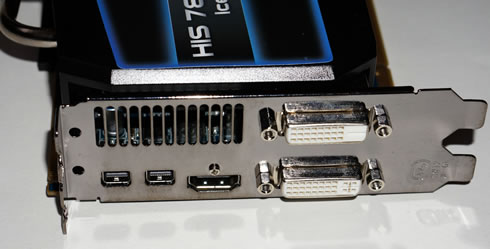 The 7850 utilizes two 6-pin power connector. There are a total of 16 high-density Hynix memory ICs located on the board, each offering 256MB of GDDR3.
PCB might easily warped due to prolonged hanging on motherboard & casing, potentially causing cracks on BGA solder joints and resulting in malfunctioning of the card. For this reason, HIS has applied a special metal rib to provide extra strength to the PCBs to avoid warpage.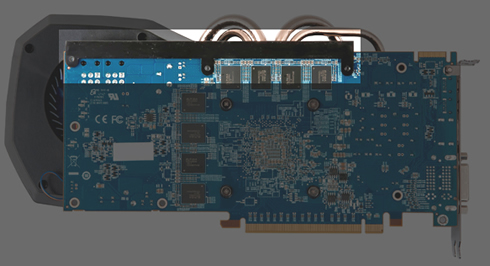 That's all for the packaging and the card's looks. We installed the card and fired up the GPU-Z utility, which confirms the card's basic specifications: