How to create a Mesh Wi-Fi Network!
3. EnGenius ECW215
The EnGenius ECW215AP is an indoor Wi-Fi 6 dual-band 2x2:2 wall plate access point with a built-in 2X1gigabit switch, with port 2 supporting PoE power transfer to other PoE devices, provides exceptional in-room wired and wireless connectivity for superior entertainment in hotel rooms, student housing, assisted living, senior living, multi-tenant dwellings, and classrooms.
This little gem is packed with features and its retail price is ~$300. It has a 2x2 internal antenna design and supports WiFi 6. This device aims mostly for Mesh networks, it also has 2 years of warranty, US-based support, and the EnGEnius Pro online functions for 1 year free. As with other EnGenius products can be controlled through EnGenius Cloud that the Cloud-To-Go free App (Android/IOS).
Features & Benefits
Dual-band 802.11ax 2x2 supports up-to 1,200 Mbps (5 GHz) & 574 Mbps in 2.4-GHz
Sleek, low-profile design for in-room Wi-Fi & wired connectivity
On-board 2-port switch offers port-based 802.1Q VLAN support
LAN1 & LAN2 support 802.3af/at PoE input for flexible installation up-to 328 feet
Connect & power VoIP phones or other PoE devices with PSE Support
SmartCasting to personalize in-room media with mobile device streaming to TV's
Extend SSID settings to LAN ports & provide captive portal, splash page, and advanced security
Mesh wireless support simplifies setup, optimizes signals & self-heals
The retail package has a simple design and overall dimensions are small: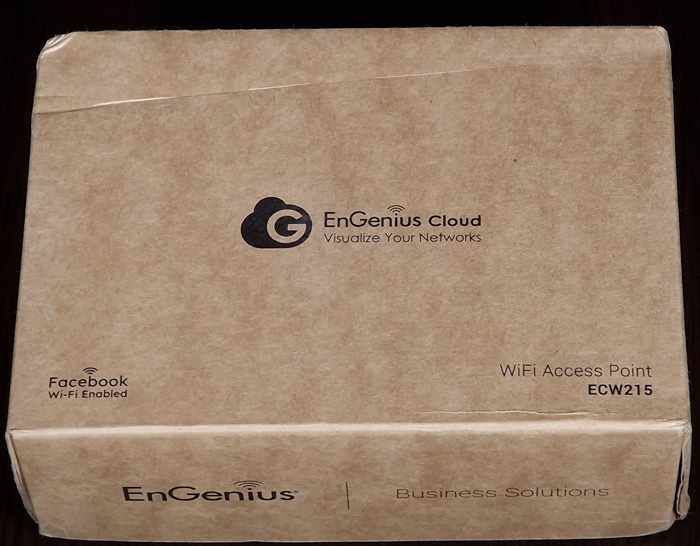 Everything is well packaged and secured. Users can scan QR codes for the online manual and the Clout-To-Go app.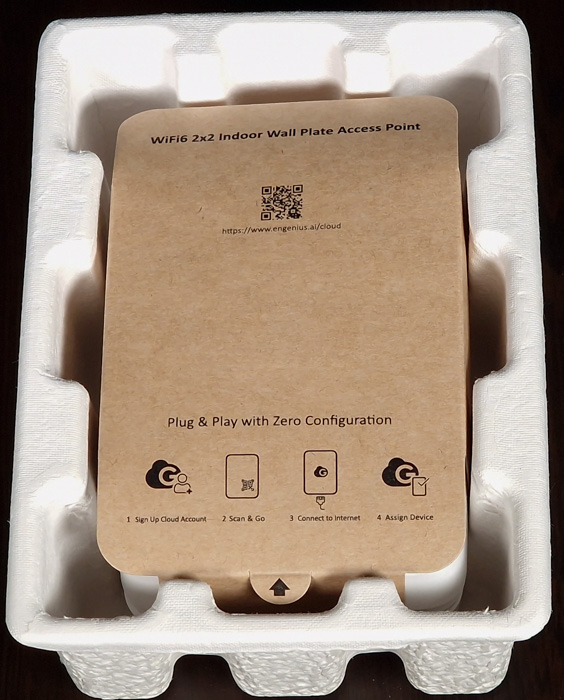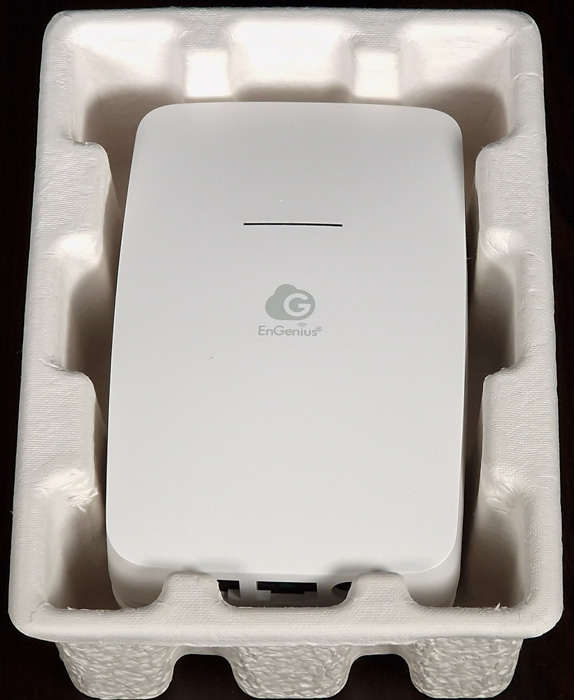 Inside you will find a quick installation guide and ceiling/wall Mounts and screw Kits and junction plates (tall/short).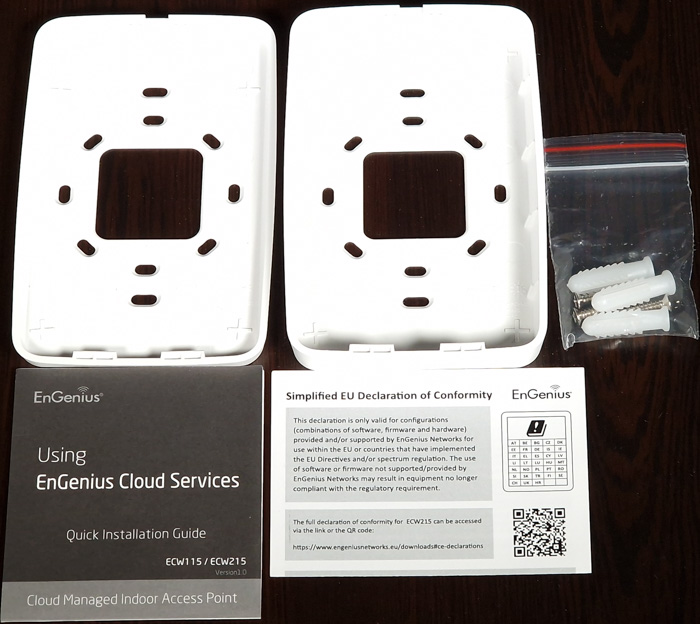 The device has a rectangle square design with the typical frost-white color of EnGenius products. At the front, there is only the EnGenius logo and one led, while its weight is low with 363gr and 140 X 90mm X 40mm dimensions. The Multi-Color LED can be used for the power up/cloud connecting/disconnected behavior. Lastly, the device is powered via a Qualcomm® Quad-Core CPU ARM Cortex A53s @ 1.0GHz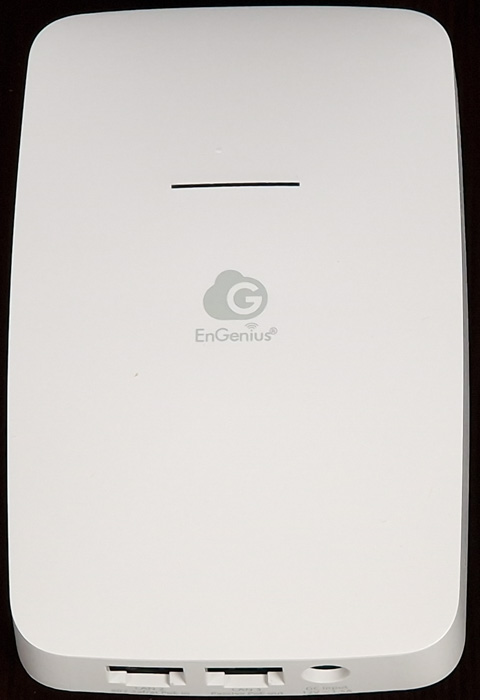 At the bottom area, you will find two LAN ports and a 12V/1.5A power adapter. Both ports support up to 1Gbit speeds, while Port3 is a passive PoE port that requires an 802.3at power source to work. The maximum power consumption is around 14.2W
At the back, there is another LAN with 10/100/1000 Mbps Ethernet Uplink Port and PoE. As you can see this device has many different connectivity ports to work, and the back port can help you to hide cables if you have such relatively wall mounted cable.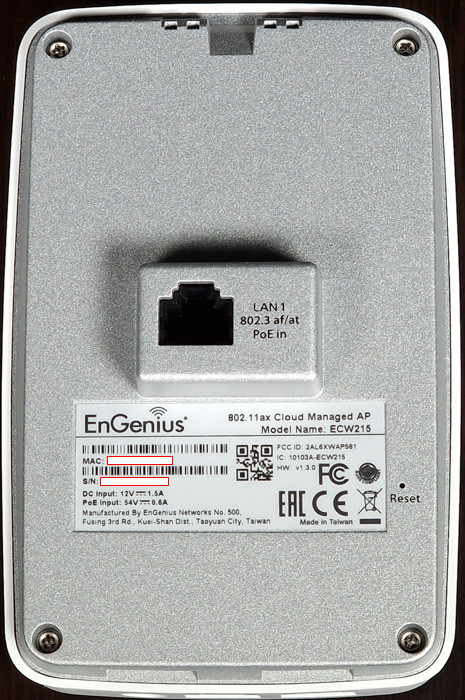 To get things going you need to connect the device with a PoE cable with your local network/switch. After that you need to have already the Cloud-To-Go app installed on your phone and use the build function to add a device, then the camera opens, you simply scan the back QR code, and then the device is automatically recognized and you can it register it under your EnGenius Cloud FREE account.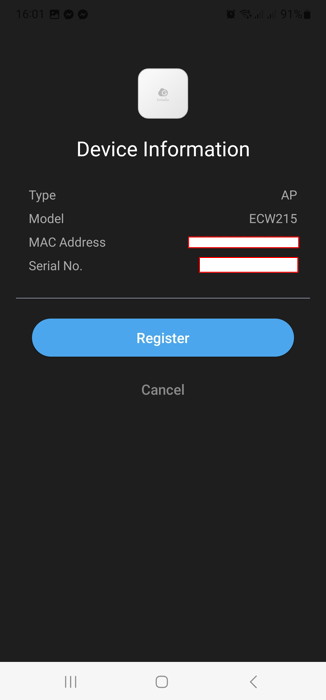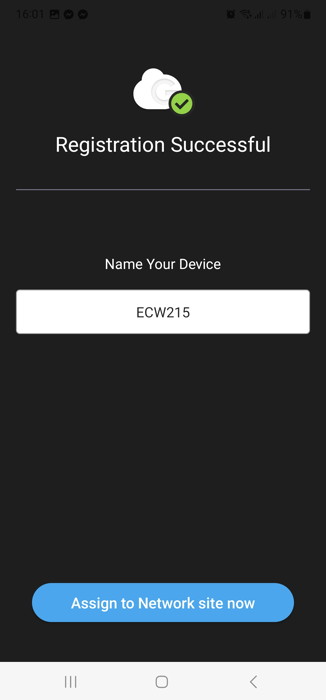 With a few clicks, our device is connected to our Virtual LAN and is displayed online.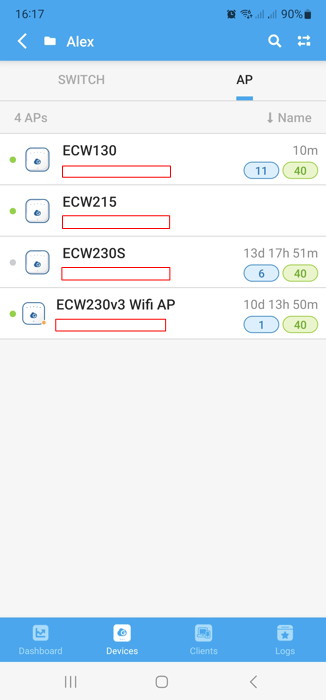 This device will take some minutes and will be updated to the latest possible firmware. From the Clou-To-Go app, users can set the most important device features according to their wishes. The ECW215AP can work either as AP, AP Mesh, and Mesh mode.