How to create a Mesh Wi-Fi Network!
2. EnGenius ECW130
For our Mesh Network, we selected two products from EnGenius, the ECW130AP and the ECW215AP, which are placed in the entry-level category. Let's start with the ECW130AP.
The EnGenius Cloud Managed ECW130 indoor Wi-Fi 5, 4x4, MU-MIMO access point reaches speeds up to 1,733Mbps on 5GHz and 800Mbps on 2.4GHz band providing business-class Wi-Fi. IT teams can use a single pane of glass to remotely manage, monitor, and troubleshoot this business-class AP to increase uptime, improve client performance, and minimize daily maintenance tasks.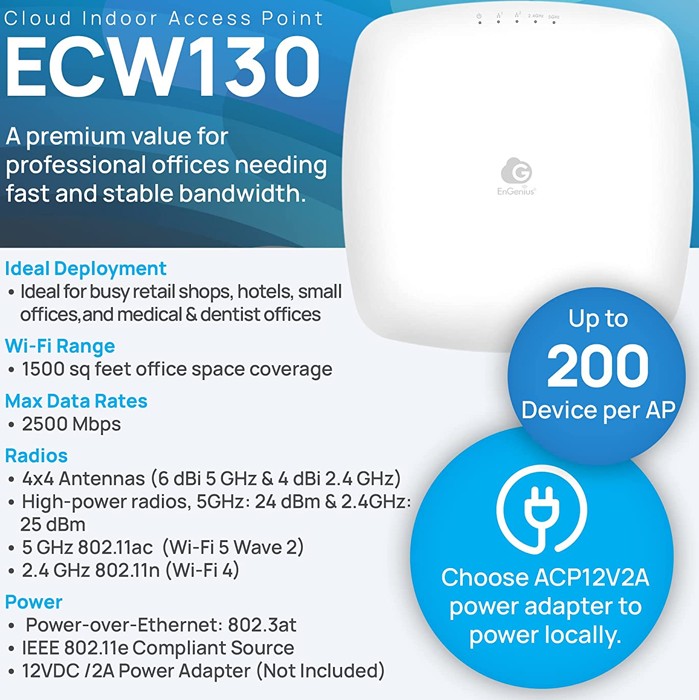 This is a rather low-priced AP (for EnGenius) that costs $169. It has a 4x4 internal antenna design and supports WiFi 5 for up to 2.5Gbps transfer rates. EnGenius ECW130 supports up to 200 concurrent Wi-Fi users and can cover up to 1500 sq ft of office space coverage. The product has 2 years of warranty, real-time US-based support, and the EnGEnius Pro online functions for 1 year free.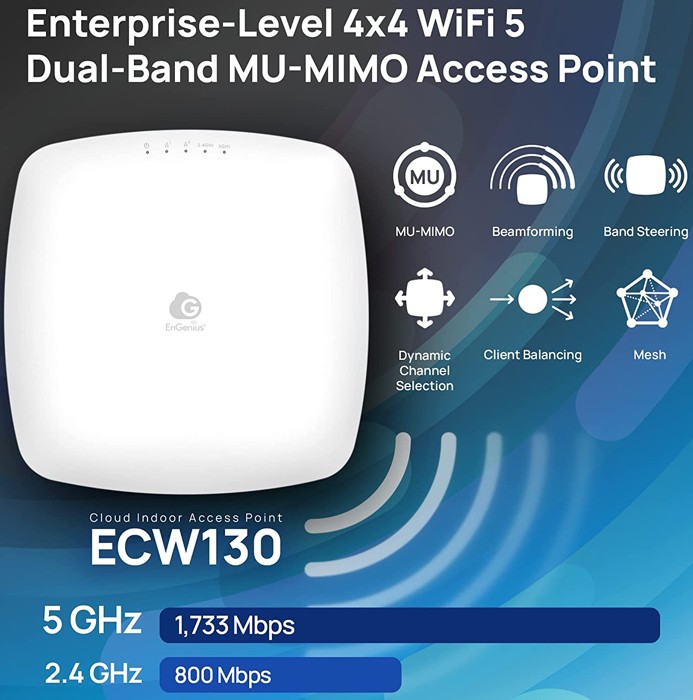 The ECW130AP is based upon EnGenius Cloud and offers complete control over the AP from around the words and also can be controlled with the Cloud-To-Go free App (Android/IOS).
Features & Benefits
Fast and reliable AP utilizing 4 spatial streams and MU-MIMO for any professional office
Supports up to 1,733 Mbps in 5-GHz band & 800 Mbps in 2.4-GHz band
802.11ac wave 2 compatible with ax/ac/a/b/g/n client devices
Four (4) 6 dBi 5 GHz and four (4) 4 dBi 2.4 GHz, for 360 degree Wi-Fi coverage
1 GigE PoE+ compatible port for easy AP placement
1 GigE port for link aggregation to maximize wired speed
High-powered radios to increase meshing distances on either 2.4 GHz or 5 GHz
Cloud-manage unlimited number of APs from anywhere with the EnGenius Cloud app
Real-time AP diagnostics, deep-dive analytics, and remote configurations
No access point licensing or subscription fees needed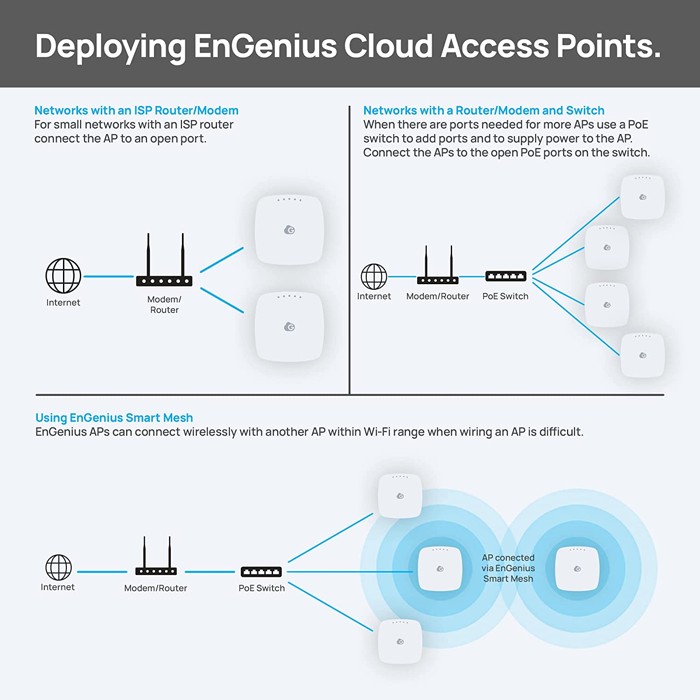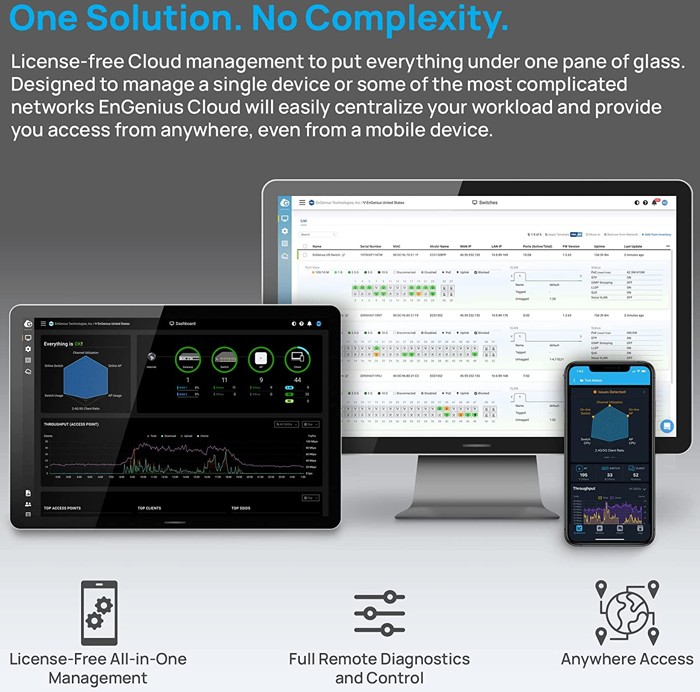 The retail package has a simple design: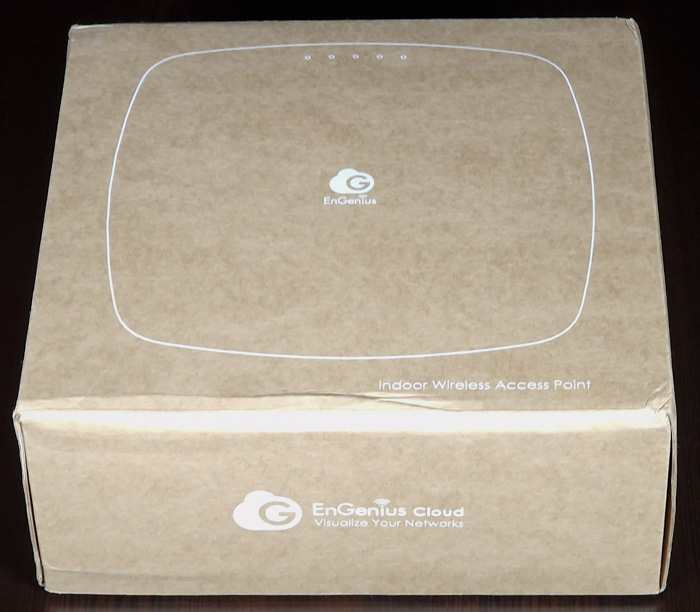 Everything is well packaged and secured. Users can scan QR codes for the online manual and the Cloud-To-Go app.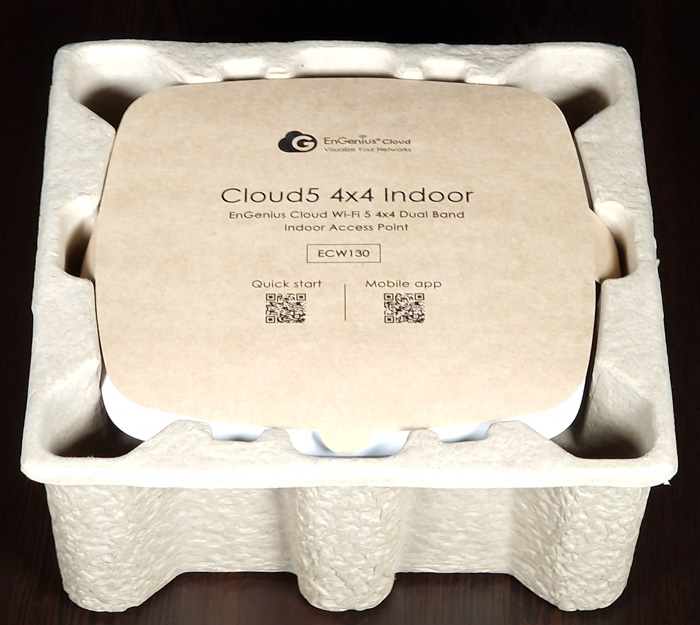 The device has a round shape design with white color and several LEDs at the top. At the front, there is only the EnGenius logo, while its weight is low with 630gr and 21.5 X 21.5 X 5.6cm dimensions. Inside the device, you will find a Qualcomm® Dual-Core Krait CPU ARM7 @ 1.4GHz. The device can work at AP, Mesh, and AP Mesh modes automatically when paired with other EnGenius devices at the local network.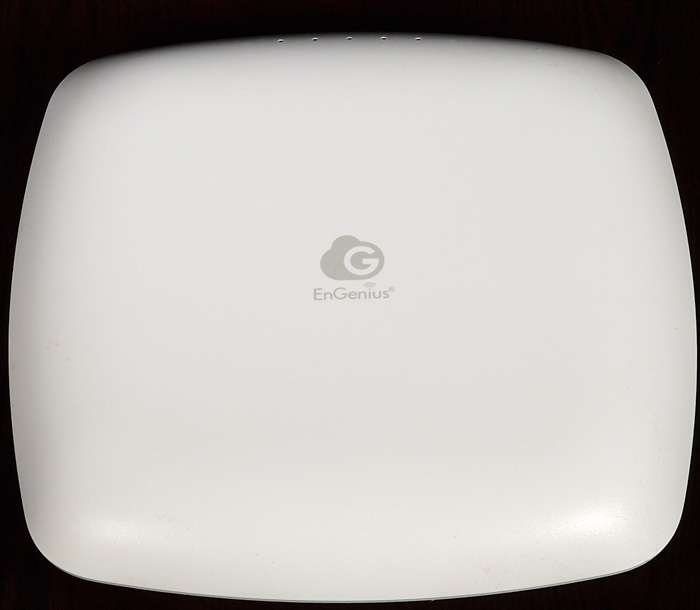 You will find two holders and screws for ceil mounting.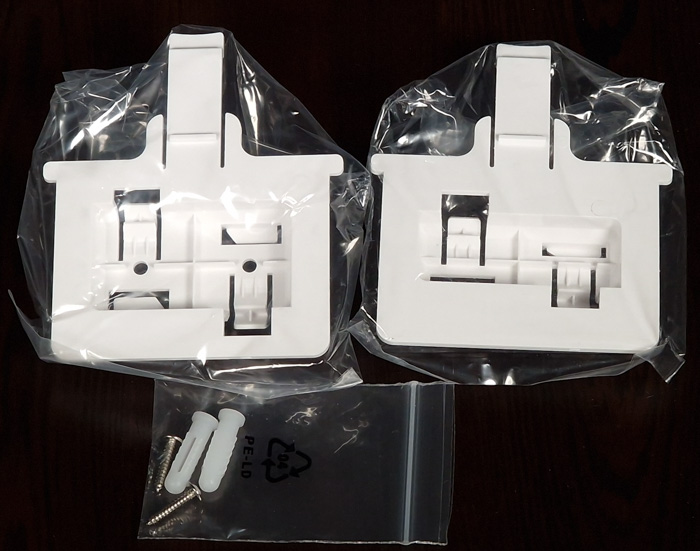 At the top, you will find several LEDs for power, LAN 1, LAN 2, 2.4 GHz, and 5 GHz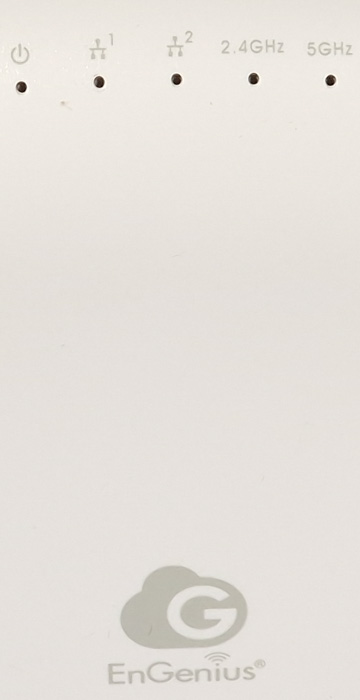 At the back you will find many ventilation holes, remember this is a passive cooling device, the product label, and several ports.
At the back, you will find the DC-in power connector (12V/2A not included), a LAN with 10/100/1000 BASE-T, RJ-45 Ethernet Port (PoE+), another LAN with 10/100/1000 BASE-T, RJ-45 Ethernet Port for data pass-through and a reset button. EnGenius says that you could use the link aggregation function to achieve up to 2 Gbps throughput, keep that in mind if you need this feature! Specs say that the maximum power consumption is 19.1W and you can power the device either with a PoE cable or with a local DC-in power adaptor. We assume most users will use the PoE port and the second port is useful for passing data to a second device.

To get things going you need to connect the device with a PoE cable with your local network/switch. After that you need to have already the Cloud-To-Go app installed on your phone and use the build function to add a device, then the camera opens, you simply scan the back QR code, and then the device is automatically recognized and you can it register it under your EnGenius Cloud FREE account.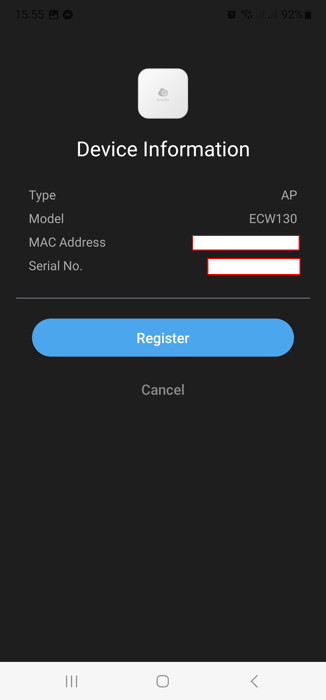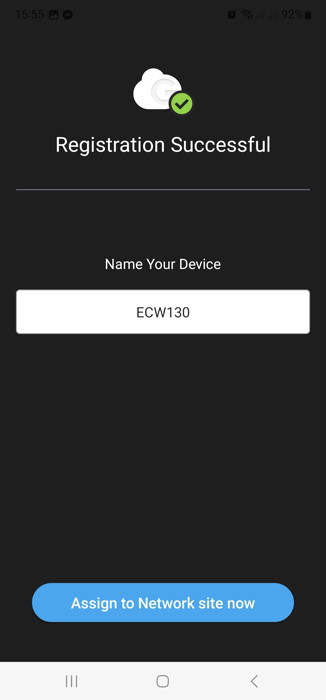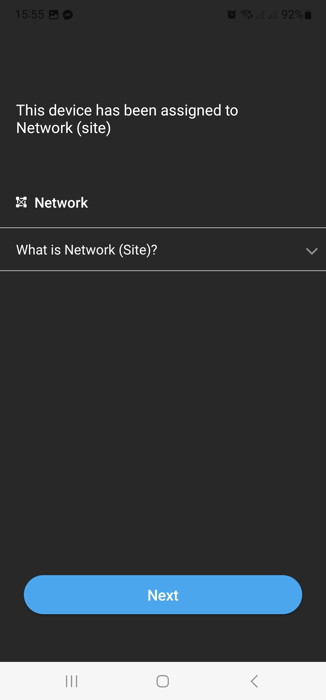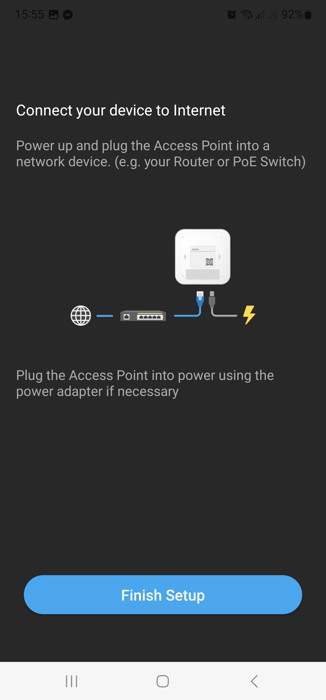 As you can see our AP is recognized and ready to perform. We had already another two AP registered to the local network.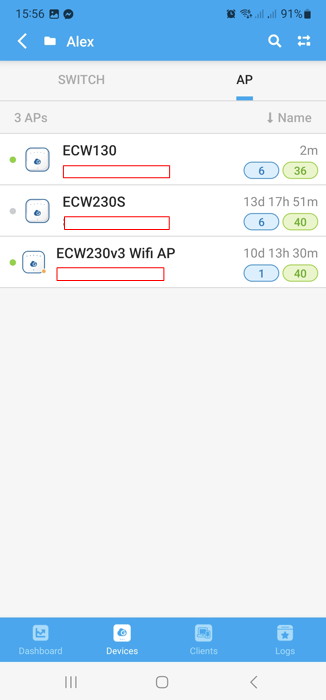 Pressing up the device we can check several various settings and information.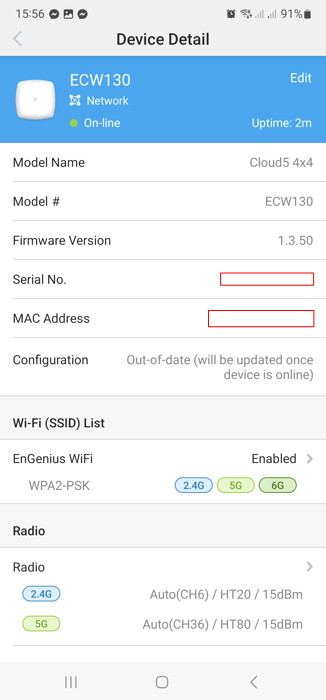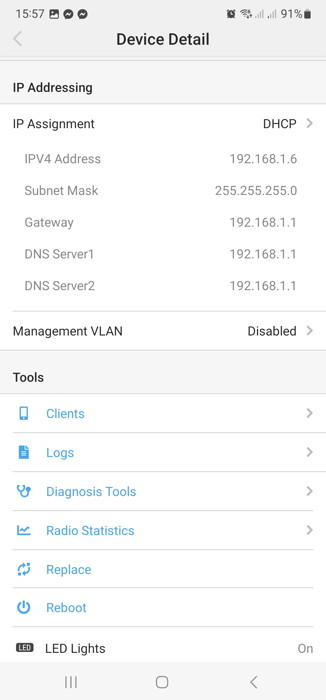 Finally we can view the LED behaviour.
Our device in a few minutes was ready to work and we proceed to the next device the ECW215AP.