HP Unveils Web-connected Printer
Hewlett Packard unveiled a printer on Monday with a built-in Web connection that allows printing directly from the Internet without a PC. The HP Photosmart Premium with TouchSmart Web model features an entirely new web-based printing platform with HP applications (apps). Similar to other Internet-connected devices, these apps, which are viewable on a large TouchSmart panel.
In addition to receiving apps preloaded on the printer, people can download new ones as they become available at the HP Apps Studio to suit their interests and needs. With the sweep of a finger, users will be able to browse and view popular web destinations and simply touch the app of their choice to launch a web page where they can customize and print content on demand in an easy-to-read format.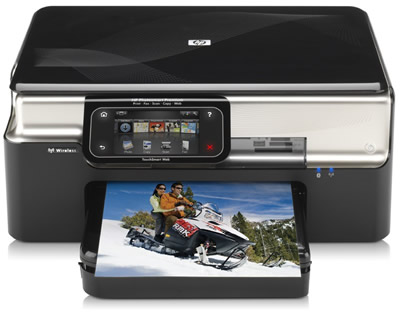 The first HP app partners will be USA TODAY, Google, Fandango, Coupons.com, DreamWorks Animation, Nickelodeon, Web Sudoku and Weathernews Inc. Through these apps, people will have free access to customized daily news, maps, coupons, coloring pages, movie tickets, recipes, personal calendars and more.
The new printers also will connect directly to a user?s Snapfish account to view, print and upload photos. People additionally can access projects from the HP Creative Studio.
People will be able to create and share their own apps to customize their printers through the HP Apps Studio starting in late 2009.
The HP Photosmart Premium with TouchSmart Web has a 4.33-inch touchscreen and prints, faxes, copies and scans. With a full range of wired and wireless connectivity options, the printer provides the flexibility to print directly from Wi-Fi-enabled PCs, Bluetooth-enabled devices, the Apple iPhone and the Apple iPod touch using HP iPrint Photo.
Expected to be available this fall, the HP Photosmart Premium with TouchSmart Web will retail in the United States for a target street price of $399.