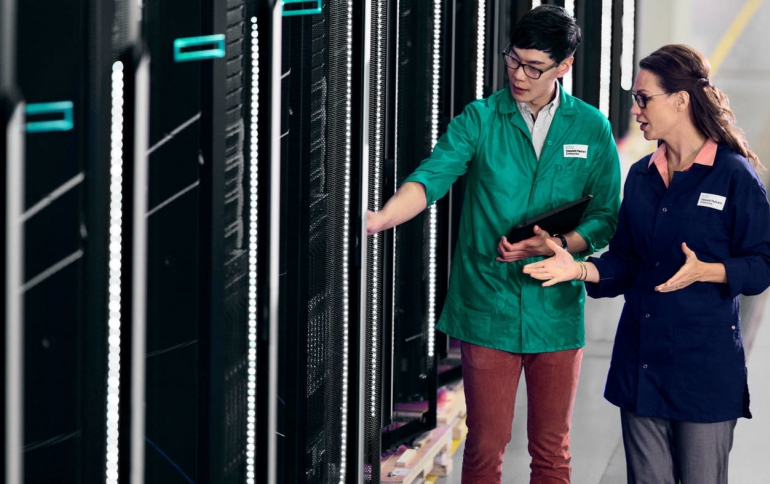 HPE Introduces New Storage Intelligence to Portfolio
Hewlett Packard Enterprise (HPE) is adding new data analysics features to its intelligent storage solutions to help its customers better understand their data's potential.
The company announced:
Advancements in its Artificial Intelligence for Operations (AIOps) platform, HPE InfoSight;
Expansion of HPE Cloud Volumes, a multicloud storage service, to the United Kingdom and Ireland;
HPE Memory-Driven Flash, a new class of enterprise storage built with storage class memory (SCM) and non-volatile memory express (NVMe); and
A partnership for secondary workloads with Cohesity
HPE InfoSight uses artificial intelligence to predict and prevent problems, as well as provide a foundation for context-aware data management. Now HPE InfoSight is expanding into workload management by adding machine-learning intelligence capabilities:
Cross-stack recommendations for HPE Nimble Storage extend the HPE InfoSight recommendation engine to the virtualization layer. HPE InfoSight now moves beyond the basic predictive analytics tools other vendors offer to provide AI-driven guidance across the infrastructure stack regarding how best to optimize customers' environments and where to place their data.
An AI-driven resource planner helps optimize workload placement based on available resources.
Performance insights for HPE 3PAR reduces time spent troubleshooting by using machine-learning to self-diagnose performance bottlenecks. Uniquely delivered on-premises, this capability extends HPE InfoSight to sites that have restricted access to the cloud.
HPE Cloud Volumes, currently available for HPE Nimble Storage, delivers an enterprise-grade storage service with hybrid and multi-cloud mobility. Today, HPE Cloud Volumes is expanding service capabilities and global reach with:
Expansion into UK and Ireland in 2019 to service UK and European customers requiring local cloud data access.
Support for container platforms including Docker and Kubernetes to speed DevOps as well as testing and development of cloud-native apps and hybrid cloud workloads.
Completed SoC 2 Type 1 certification
HPE Memory-Driven Flash is a new class of storage built with SCM and NVMe that accelerates application performance for HPE 3PAR and HPE Nimble Storage. HPE Memory-Driven Flash lowers latency up to 2X and is up to 50% faster than all-flash arrays with NVMe solid state drives. Intelligence built into HPE 3PAR and HPE Nimble Storage optimizes SCM to enable real-time processing for latency-sensitive applications and mixed workloads – like AI and machine learning or high-speed transactions – at scale.
HPE Memory-Driven Flash will be available December 2018 for HPE 3PAR as an upgrade, and is expected in 2019 for HPE Nimble Storage.
Enhancements to the HPE storage portfolio
New products and features include:
Peer Persistence for HPE Nimble Storage, which provides always-on availability for enterprises through multi-site synchronous replication with automatic failover. It is available at no cost on HPE Nimble Storage.
A partnership with Cohesity combines the web-scale simplicity and efficiency of Cohesity software with HPE's big data and storage infrastructure and services.
The expanded resell agreement, which has now qualified HPE Apollo and HPE DL 380 servers, enables HPE's customers to consolidate backup and secondary data over hybrid cloud.
The availability of the HPE Apollo 4200 Gen10 platform, suited for big data analytics, scale-out software-defined storage, and other data storage centric workloads.
Today, HPE manages 500 PB of customer data delivered as a service with HPE GreenLake Flex Capacity in a pay-per-use model on premises. HPE is now expanding HPE GreenLake for backup to include Veeam Software as part of the consumption-based model, further simplifying the economics of data protection.