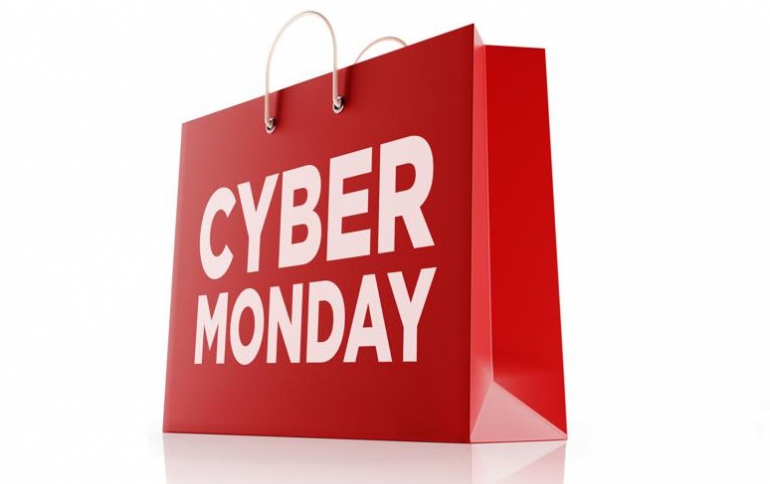 Cyber Monday Broke Online Sales Record with $7.9 Billion
Cyber Monday is projected to hit $7.9 billion, making it the largest online shopping day of all time in the U.S., according to Adobe.
This represents a 19.7 percent increase year-over-year (YoY) as of 7:00 p.m. ET. In comparison, Thanksgiving Day and Black Friday brought in $3.7 billion (28 percent growth YoY) and $6.2 billion (23.6 percent growth YoY) in revenue, respectively.
Adobe said that Saturday and Sunday, November 24 and 25, set a new record as the biggest online shopping weekend in the U.S. ($6.4 billion) growing faster than Black Friday and Cyber Monday with more than 25 percent on each day. The full season thus far (November 1 to 26) drove $58.5 billion in online sales, a 19.9 percent increase, with every day generating over $1 billion.
Buy Online, Pickup In-Store (BOPIS) over the weekend saw a record 50 percent increase year-over-year. As the online and offline retail experience continues to blend, retailers with physical stores drove 28 percent higher conversions online. Top sellers on Cyber Monday included the Nintendo Switch, Little Live Pets, Red Dead Redemption 2, LG TVs, drones (DJI, Air Hogs, Sky Viper), Dell laptops, FurReal Pets and Amazon Echo devices. Revenue from smartphones will hit $2.1 billion on Cyber Monday ($1.4 billion in 2017), making it the highest ever at 48.1 percent growth YoY, while smartphone traffic share grew 16 percent. Mobile overall represented 51.4 percent of site visits (43.6 percent smartphones, 7.8 percent tablets) and 34 percent of revenue (26.3 percent smartphones, 7.7 percent tablets), making it the first Cyber Monday where more than half of visits came from mobile.
According to Adobe's data, Black Friday saw the best deals for televisions (prices down 18 percent) and computers (17.8 percent).
Denver had the biggest shopping baskets since Thanksgiving with orders averaging $163, followed by $157 in San Francisco, $156 in New York, $156 in Portland and $154 in the Seattle/Tacoma area. T
On Cyber Monday, direct website traffic ranked highest for driving revenue at 25.3 percent share of sales (down 1.2 percent YoY), followed by paid search at 25.1 percent (up 7.4 percent YoY), natural search at 18.8 percent (down 2.8 percent) and email at 24.2 percent (up 0.5 percent). Similar to past years, social media continued to have minimal impact on online sales at a 1.1 percent share.
Large retailers ($1 billion or more in annual e-commerce revenue) saw 6 percent higher conversion rates on smartphones, a sign that investments in improving the mobile shopping experience are paying off. Smaller retailers, offering more specialized products, were better at getting shoppers to close sales via desktops with 7 percent higher conversions.
Adobe Analytics analyzes one trillion visits to U.S. retail sites, 55 million SKUs and 80 of the largest 100 U.S. web retailers.
In another estimate, Mastercard SpendingPulse forecast a 25 percent jump in e-commerce sales to at least $3 billion, based on sales via the Mastercard payments network and estimates for other payment forms such as cash and check.
These U.S. forecasts still paled in comparison to Alibaba Group Holding Ltd's "Singles Day" earlier this month, when the Chinese e-commerce giant raked in $30.7 billion in sales.