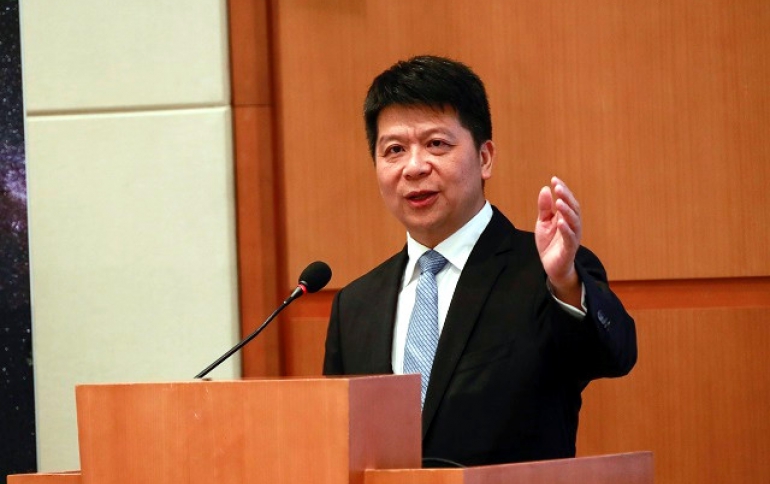 Huawei Reports Bullish Growth in the Face of Adversity
Huawei maintained strong business growth in 2018. Its sales revenue rounded off at CNY721.2 billion, up 19.5% year-on-year; its net profit reached CNY59.3 billion, up 25.1% year-on-year.
The data was part of the company's 2018 Annual Report today, released today by Guo Ping, Huawei's Rotating Chairman.
In 2018, Huawei invested CNY101.5 billion (14.1% of its sales revenue) in R&D, ranking fifth globally in The 2018 EU Industrial R&D Investment Scoreboard. Over the last ten years, Huawei's R&D expenditure has reached more than CNY480 billion. According to official data released by the World Intellectual Property Organization (WIPO), Huawei filed 5,405 patent applications to this organization in 2018, ranking first among all companies globally.
At the release of its annual report, Guo Ping, Huawei's Rotating Chairman, said, "Information communications technology is rapidly working its way into every industry. This has triggered a digital, intelligent transformation – the driving force behind our digital economy. Through heavy, consistent investment in 5G innovation, alongside large-scale commercial deployment, Huawei is committed to building the world's best network connections. Throughout this process, Huawei will continue to strictly comply with all relevant standards to build secure, trustworthy, and high-quality products. As we work towards this goal, we have been explicitly clear: Cyber security and user privacy protection are at the absolute top of our agenda. We are confident that the companies that choose to work with Huawei will be the most competitive in the 5G era. And countries that choose to work with Huawei will gain an advantage for the next wave of growth in the digital economy."
In its carrier business, Huawei launched its latest 5G and SoftCOM AI solutions, focusing on making them as simple as possible to use and maintain. 2018 also saw ongoing innovation in domains like premium home broadband and the Internet of Things (IoT), helping carriers seize new growth opportunities. In 2018, the sales revenue of Huawei's carrier business reached CNY294 billion, roughly the same as the year prior.
In its enterprise business, Huawei continued providing cloud, big data, artificial intelligence (AI), and IoT solutions, as well as a range of products for data centers, all-flash storage, and WiFi. By integrating these technologies into its digital platform, Huawei has facilitated the construction of smart cities, safe cities, and smart campuses, and has helped drive the digital transformation of its customers in the finance, transportation, and energy sectors. In 2018, the sales revenue of Huawei's enterprise business reached CNY74.4 billion, up 23.8% year-on-year.
In its cloud business, Huawei launched 160 cloud services and 140 solutions, and worked with its partners to serve customers worldwide with 40 availability zones across 23 regions. Huawei has grown its list of partners to more than 6,000 in this domain, and is actively exploring the use of its AI services in more than 200 projects across 10 major industries.
In its consumer business, Huawei further increased its share of the global smartphone market and has further enhanced the positioning of its high-end devices. It has also made major breakthroughs in building an intelligent ecosystem for all user scenarios. In 2018, the sales revenue of Huawei's consumer business reached CNY348.9 billion, up 45.1% year-on-year.
Despite being at the center of global scrutiny, Huawei is winning customers for its equipment as it contends with Apple for the mantle of world's No. 2 smartphone label.
"In 2019, we are cautiously optimistic about the growth in 5G business," said Guo Ping. "The future of telecom industry lies in the opportunities that 5G and future generations of technologies can provide to other industries."
Canada detained Chief Financial Officer Meng Wanzhou last December at the behest of the U.S. Meng, also Huawei-founder Ren Zhengfei's eldest daughter, faces potential extradition on alleged bank fraud linked to U.S. sanctions against Iran. And the Chinese company is grappling with criminal charges for intellectual property theft.
In addition, the U.S. government just as it's pushing for leadership in 5G and countries prepare to spend billions on the new standard. Still, nations accounting for more than 40 percent of the world's gross domestic product are either embracing Huawei or appear unlikely to restrict the Chinese vendor.
"The U.S. government has a loser's attitude. It wants to smear Huawei because it cannot compete against Huawei," said Guo Ping.
"I hope the U.S. can adjust its attitude," he added.
The latest blow for the company came on Thursday when Britain rebuked it for failing to fix long-standing security flaws in its mobile network equipment and revealed new "significant technical issues".
In Canada, Meng sued the government for allegedly violating her constitutional rights as she was arrested. And the Chinese technology giant filed a lawsuit claiming the U.S. government is overstepping by barring Huawei from competing to supply equipment to certain federal agencies.