Imagination Reveals PowerVR Automotive
Imagination Technologies announced PowerVR Automotive, a product package to enable growth of the automotive semiconductor industry by combining hardware IP, software, tools, documentation and support.
The British company introduced the PowerVR Series8XT-A GPU core to complement its existing IP already used in infotainment, digital cockpit and advanced driver assistance systems (ADAS). PowerVR Series8XT-A has enhanced recovery and reliability features to make it easier for System-on-Chip (SoC) designers to obtain automotive safety certification for their SoCs aimed at digital human-machine interfaces (HMIs) and autonomous vehicles (AVs).
PowerVR Automotive provides a package of support documentation, automotive safety and traceability information that's designed to help SoC designers achieve the ASIL-levels of functional safety, meeting industry standards such as ISO 26262 and IEC 61506 at the system level. The company offers long-term support (LTS) packages for ten years and beyond.
Based on the PowerVR Furian architecture, the Series8XT-A is a new member of the Series8XT family of GPUs targeted at cluster, HUD, infotainment and the digital cockpit, as well as ADAS functions. The Series8XT-A provides leading power performance and area (PPA) metrics and enables new features in hardware and software for fault detection and recovery of the GPU. Other new features include Error-Correcting Code (ECC), Logic Built-in Self-test (LBIST), as well as verification strategies.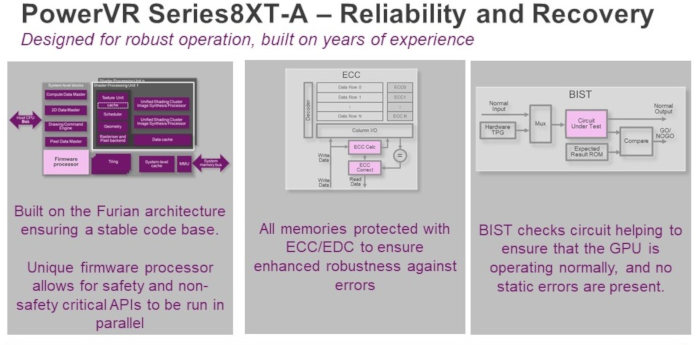 Other key features for automotive are the hardware virtualization that enables multiple OSs to be run at the same time, on a single GPU, without any loss of performance, thanks to fast-context switching. However, a dual-GPU setup is also supported by the Automotive package.
The PowerVR Series2NX NNA is showcased through ADAS applications such as driver monitoring, driver gaze tracking, seat occupancy, road-sign detection, drivable path analysis, road user detection and driver recognition. Thanks to its performance density for embedded environments, PowerVR's NNA technology will play a key role in enabling the industry to move from Level 3 to Level 5 autonomous driving.
PowerVR Series8XT-A GPU is available for licensing now. The next generation of PowerVR GPUs and NNAs for automotive will be available during 2019.