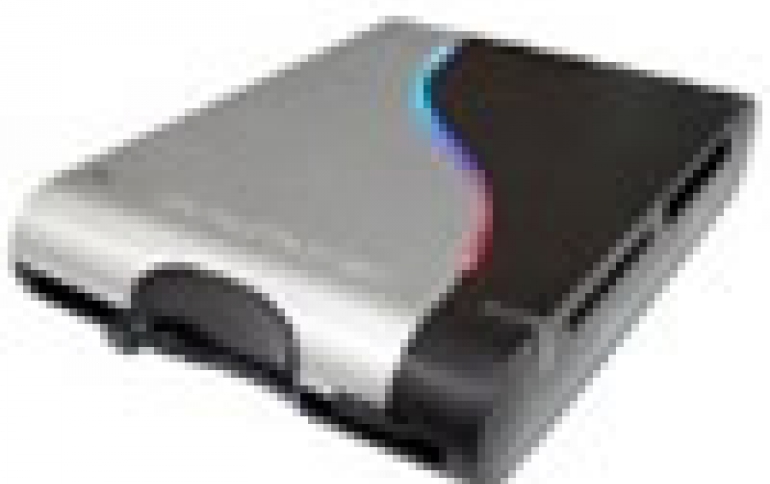 I/OMagic Unveils External Floppy Drive and 7-n-1 Media Card Reader
I/OMagic Corporation announced today the release of its DataStation 2, a USB 2.0 external floppy drive with built-in 7-n-1 media reader. Highlights include a small and lightweight proprietary design, with a built-in lighting system and the ability to draw power directly from the USB 2.0 port of any personal computer or notebook computer, which eliminates the need for an external power adapter.

"The DataStation 2 is a dual problem solver. We've combined two essential components, a floppy drive and a 7-n-1 media card reader, as a solution for users that need these components, but do not have them built into their computer," said Tony Shahbaz, president and CEO of I/OMagic Corporation. "The DataStation 2 can be easily plugged in to any USB 2.0 port and users can easily upload files from floppy discs or read files from any of the seven flash media cards."

The DataStation 2 features a power control circuitry that reduces power consumption. It also comes with a lighting system that switches from blue to red with a touch of a button. The DataStation 2 is compatible with floppy disc format sizes of 720KB, 1.2MB and 1.44MB. The 7-n-1 card reader supports Compact Flash (CF), IBM Micro Drive, Multimedia (MMC), Secure Digital (SD), Memory Stick (MS), Memory Stick PRO and Smart Media (SM). The DataStation 2 is Windows XP, 2000, ME and 98SE compliant.

The DataStation 2 has an introductory price of $59.99.