Japanese Billionaire Yusaku Maezawa Will Be The First SpaceX Passenger In the Around-the-Moon Trip
Japanese billionaire Yusaku Maezawa will be the first SpaceX ride around the moon and plans to invite as many as eight artists to join him.
Maezawa will fly on Space Exploration Technologies Corp.'s BFR rocket on the trip in 2023, Musk announced Monday. SpaceX expects Maezawa, 42, to be the first private passenger to make the journey that only two dozen astronauts have been on during the Apollo era that ended 46 years ago.
"He is, I think, the bravest person and most willing to do so," Musk said, referring to Maezawa. Calling it a "dangerous mission" and "not a walk in the park," he said SpaceX will complete several test flights before putting humans on the rocket.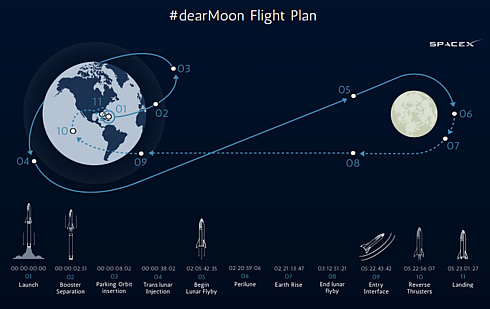 Maezawa is the founder and CEO of Japan's second-largest e-commerce company Start Today Co. The company makes most of its money through its shopping website Zozotown, which is popular with younger domestic consumers.
Musk did not disclose the price Maezawa is paying for the ride, but did say that the billionaire is funding "a material percentage" of the BFR system's estimated $5 billion development cost.
Maezawa said "I hope that this project will inspire the dreamer within each of us. Together with Earth's top artists, I will be heading to the moon... just a little earlier than everyone else."
Boeing and SpaceX have contracts with NASA to fly the agency's astronauts to the International Space Station as part of what's known as the Commercial Crew Program.