Kandao's QooCam 8K Pocket 8K 360 Camera Coming Next Month
KanDao announced its second pocket 360 camera, the QooCam 8K.
Available next month for $589, the QooCam 8K is the smallest 8K 360 camera in the world. Able to capture 8K 30fps and 4K 120fps footage thanks to a 1/1.7'' 20MP sensor, QooCam 8K is the world's first consumer 360° camera that achieves the APS-C level image quality. With 2.4'' touchscreen, QooCam 8K is small enough to fit in your pocket, and also powerful enough to live stream and share your best moments anywhere anytime.
Thanks to 6-axis gyro, IMU sensor and stabilization technology, the patented SuperSteady of QooCam 8K helps you capture stable footage.
With more detailed retained and higher resolution, 8K video allows you to zoom, drag, crop, color, or tweak it, and still get 4K regular video.
In Realtime Raw+ mode, the camera captures a rapid burst of DNG photos, aligns and blends them algorithmically to get one 16bit DNG and JPG, resulting in less noise, higher dynamic range and no ghosts HDR photo. Using computational photography, Kandao claims that Realtime Raw+ photo is brighter, cleaner, sharper and see more details in low light.
You can also capture slow motion in 4K 360 at 120fps. It can even go to 960fps 4K from the original 120fps 4K with Kandao AI Slow Motion.
The camera also features a touscreen and through the QooCam app, you can remote control and quick edit the footage on the go.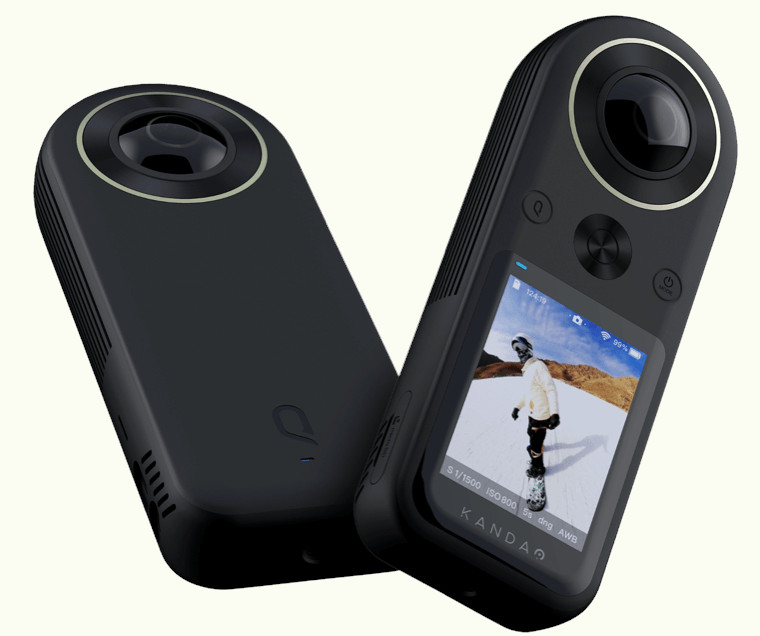 Besides 360 video exporting, SmartClip also adds movie magic to your clips with a variety of templates to choose from, enabling beginners to edit 360 videos and create cool clips. You can trim, frame, apply filters, adjust playback speed, and even add music.
And for more professional editing, go to QooCam Studio for the full-featured editing tools. Offering Windows/Mac version, QooCam Studio allows you to batch edit the footage or run AI Slow Motion.
Other features include a 3.5mm mic port for connecting an external professional Mic, a 3600mAh battery with USB PD 2.0 fast charging support along with build-in 64G storage plus support for external SD card up to 256GB.
KanDao is currently taking pre-orders for the $589 QooCam 8K, and it's expected to ship in December. The company added that accessories including the selfie stick (with phone mount), protective case, dive case and vlog mic will be available at a later date.