Kingston HyperX Savage SSD Released
HyperX, a division of Kingston Technology, ghas just released the HyperX Savage, its next-generation SATA Rev. 3 (6Gb/s) SSD. HyperX Savage is powered by the Phison S10 quad-core, eight-channel controller and promises to deliver high read/write speeds for both compressible and incompressible data, as well as high IOPS.
HyperX Savage is the fastest SATA-based SSD in the HyperX family and replaces the company's HyperX 3K SSD. It supports sequential speeds of up to 560MB/s read and 530MB/s write, and IOPS of up to 100,000 read and 89,000 write. It features a red steel and aluminum case with a low profile to fit most notebooks, desktops and small-form factor PC builds.
HyperX Savage is available in 120GB ($84), 240GB ($140), 480GB ($280) and 960GB ($570) capacities. It is sold as a stand-alone SSD or with an upgrade bundle kit that includes a 2.5" USB 3.0 enclosure, 3.5" bracket and mounting screws, SATA data cable, hard drive cloning software, multi-bit screwdriver and a 7mm to 9.5mm adapter. The drive is available at Tiger Direct, Rakuten, Newegg and Amazon.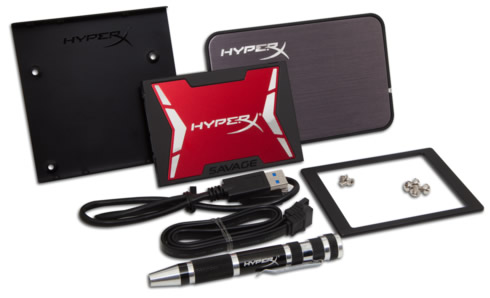 HyperX Savage SSD performance and specs
Form Factor

2.5" 

Capacity

120GB 

240GB 

480GB 

960GB 

Interface

SATA III 

Controller

Phison PS3110-S10 

Max Sequential Read

Up to 560 MBps 

Max Sequential Write

Up to 360 MBps 

Up to 530MBps 

4KB Random Read

Up to 93,000 IOPS 

Up to 92,000 IOPS 

Up to 97,000 IOPS 

4KB Random Write

Up to 83,000 IOPS 

Up to 89,000 IOPS 

PCMARK Vantage HDD Suite Score

84,000

PCMARK 8 Storage Bandwidth

223MB/s

260MB/s

PCMARK 8 Storage Score

4,940

4,970

Anvil Total Score (Incompressible Workload)

4,700

5,000

IOMETER Maximum Random 4k Read/Write

up to 100,000/ up to 84,000 IOPS

up to 100,000/ up to 89,000 IOPS

up to 100,000/ up to 88,000 IOPS

up to 99,000/ up to 89,000 IOPS

Incompressible Data Transfer (AS-SSD and CrystalDiskMark)

520MB/s Read and 350MB/s Write

520MB/s Read and 510MB/s Write

520MB/s Read and 500MB/s Write

520MB/s Read and 490MB/s Write

4KB Random Write

Up to 83,000 IOPS 

Up to 89,000 IOPS 

Total Bytes Written (TBW):

113TB 0.89 DWPD

306TB 1.19 DWPD

416TB 0.81 DWPD

681TB 0.66 DWPD

MTBF

1,000,000 hours 

1,000,000 hours 

1,000,000 hours 

1,000,000 hours 

Power Consumption (Idle)

0.39W 

Power Consumption (Active)

1.4W (MAX) Read
4.35W (MAX) Write 

Operating Temperature

0°C ~ +70°C 

Storage Temperature

-40°C ~ +85°C 

Max Vibration Resistance

Operating: 2.17G Peak (7-800Hz)
Non-operating: 20G Peak (10-2000Hz) 

Height

7mm 

Width

69.9mm 

Depth

100mm 

Weight

96g 

Warranty/support:

3-year warranty with free technical support