LG and Samsung Showcased Their Latest Display Technologies At SID 2014
Both South Korean giants LG Display and Samsung Display showcase their next-generation display technological power at the Society for Information Display (SID) 2014 exhibition held in San Diego, U.S. until the 5th. The companies demonstrated their future display products including super large-sized curved TVs and ultra high-definition (UHD) OLED TVs, but also UHD electronic boards, transparent displays and wearable displays.
Samsung is pushing small-sized OLED panels, while it is heavily investing on ultra high-definition LCD panels. In contrast, LG Display is pushing a "dual-strategy" by pursuing both UHD and OLED panels for televisions.
LG Display exhibited the IPS technology-based 65 and 105" UHD curved LCD TVs, which offer wide viewing angles without causing color changes, together with 55, 65 and 77" UHD curved OLED TVs.
LG's 55-inch full high-definition OLED TV was introduced last year and uses patented W-RGB OLED technology with an oxide TFT backplane, the firm's technical solution of choice for large-sized OLED panels.
In addition, this company showcased a QHD resolution 5.5" mobile display, which providing QHD (2560x1440) resolution at 538ppi (pixel per inch).
LG Display also released the world's largest 98" UHD electronic board. With high brightness and resolution more than eight times that of a HD level projector type electronic board, this electronic board can be used in video education even during the day without light control.
In addition, LG Display showcased a number of next-generation commercial display products, such as a 47" transparent display, a video art wall comprised of four 55" inch panels with 3.5mm bezel piled up vertically and a high brightness 47" display with a function to prevent fogging effect in order to offer clear and bright picture quality even outdoors.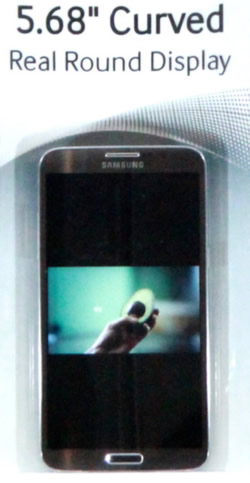 Samsung Display showcased curved displays of various sizes, such as a 105" UHD (5120x2160) curved TV with 4200R, the largest radius of curvature (the degree of bending of a circle that has a radius of 4200mm), a 65" UHD (3840x2160) curved TV and a large-screen curved monitor.
Samsung Display also exhibited 1.84" and 5.69" flexible displays adopted first by wearable devices and smart phones. In addition, it showcased mobile OLEDs in various sizes ranging from 1.63" to 5.69" and the eco-friendly and power-saving 'Green LCD.'
Samsung Display said that its 5.68-inch curved super AMOLED display panel was nominated as "Gold Award Winner" at the exhibition. The panel was selected for Samsung Electronics' Galaxy Round smartphone which was commercialized last year.
Samsung says that the curved screen is more readable thanks to a significant reduction in light reflectance. It is expected to later evolve into bendable and foldable displays that will further revolutionize the use of smartphones and other mobile-product form factors.

The 400R curvature of Samsung's full HD curved, super AMOLED display is the key to a series of optical effects that have resulted in reducing interference from reflected ambient light. It improves screen readability, image contrast, color accuracy and overall picture quality, and can also increase the battery run time because the screen brightness and power consumption level can be lowered, due to reduced light interference from ambient reflections.
The Samsung curved Super AMOLED display is a flexible display that can be bended by evaporating organic light-emitting diodes on a polyimide substrate made of a very thin plastic material. It has a 0.28mm thickness, remarkable color reproduction and an unlimited contrast ratio.