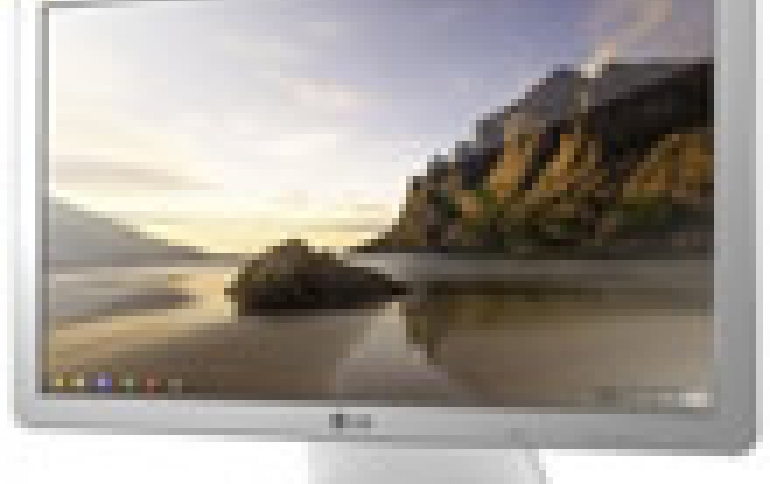 LG Chromebase all-in-one Desktop Coming At CES
LG Electronics (LG) will unveil the first Chromebase, an all-in-one computer powered by the Google Chrome operating system at next month's International Consumer Electronics Show (CES). The Chromebase is an all-in-one (AIO) PC that combines Chrome with a 21.5-inch display with 1,920x1,080 full HD resolution. Given the lightweight footprint that Chrome requires, it should come as no surprise that the Chromebase's other specs aren't awe-inspiring: Intel Celeron Haswell processor, 2GB of RAM, and 16GB of solid-state storage.
The LG Chromebase (Model 22CV241) combines Google's Chrome OS with a 21.5-inch widescreen Full HD IPS display, an Intel Celeron Haswell processor, 2GB of RAM, and 16GB of solid-state storage. The computer also incorporates a 1.3 megapixel webcam, a microphone and a pair of built-in 5W speakers.
The LG Chromebase serves as a gateway to thousands of web apps in the Chrome Web Store, many of which work just as well offline as they do online. The LG Chromebase allows users to write emails and documents, read the latest news and ebooks, edit videos and photos and play entertaining games. It also also offers built-in security, employing multiple layers of protection. Moreover, with automatic built-in updates, Chrome OS reduces the hassle of manually having to conduct maintenance on the computer.
"LG Chromebase is the wave of the future for desktops, expected to be widely adopted not only at home, but especially in schools, hotels, call centers and other business settings," said Hyoung-sei Park, head of the IT Business Division at LG Electronic.
Specifications
- Processor: Intel Celeron CPU
- Operating System: Chrome OS
- Display: 21.5-inch Full HD (1920 x 1080) IPS
- Memory: 2 GB
- Storage: 16GB iSSD
- Ports: HDMI-in, USB 2.0 x3, USB 3.0 x1, LAN
- Accessories: Keyboard, Mouse, Cable Organizer
- Webcam: 1.3 M 720 HD