LG To Release New LTE-enabled Optimus F Series Smartpohnes at MWC
LG is expanding its solid 4G LTE presence with the introduction of its new Optimus F Series -- Optimus F5 and Optimus F7 -- at Mobile World Congress (MWC) in Barcelona. The Optimus F5 is a 4G LTE smartphone with a 4.3-inch IPS display running on a 1.2GHz Dual-Core processor and a 2,150mAh battery, while the Optimus F7 offers a 4.7-inch True HD IPS display and a 1.5GHz Dual-Core processor powered by a large capacity 2,540mAh battery. Both devices will be available with the latest Android Jelly Bean 4.1.2 OS and will include UX features such as the upgraded QSlide and Live Zooming, previously only available in LG?s premium devices.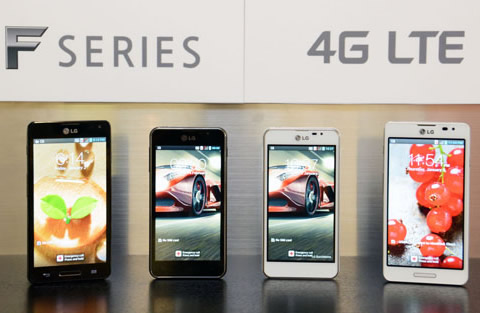 The upgraded QSlide allows users to open two apps at the same time, both in full screen mode. Users can change the size, position and transparency of QSlide apps according to their preferences. Functions now compatible with QSlide include video, browser, memo, calendar and calculator. Live Zooming, previously only seen in the Optimus G, is now standard in the Optimus F5 and Optimus F7. Live Zooming allows the user to zoom into a specific area while watching a video. Additional features included in both Optimus F Series devices are QuickMemo, QTranslator, Video Wiz, Safety Care and much more.
The worldwide rollout of the Optimus F5 will begin in the second quarter in Europe, followed soon by the Optimus F7 in selected markets.
Optimus F5 Key Specifications:
· Operating System: Android Jelly Bean 4.1.2
· Processor: 1.2 GHz Dual-Core
· Display: 4.3-inch IPS (256 ppi)
· Size: 126.0 x 64.5 x 9.3mm
· Memory: 8 GB / 1 GB RAM / microSD (up to 32GB)
· Camera: 5.0 MP AF / 1.3 MP
· Battery: 2,150mAh
Optimus F7 Key Specifications:
· Operating System: Android Jelly Bean 4.1.2
· Processor: 1.5 GHz Dual-Core
· Display: 4.7-inch True HD IPS (312 ppi)
· Size: 131.7 x 68.2 x 9.6mm
· Memory: 8 GB / 2 GB RAM / microSD (up to 32GB)
· Camera: 8.0 MP AF / 1.3 MP
· Battery: 2,540mAh