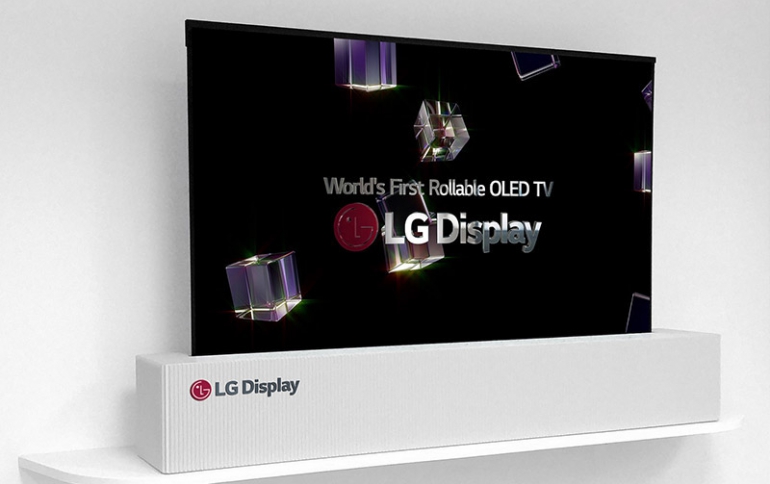 LG to Sell Rollable TVs in 2019
LG Electronics will start selling big-screen TVs next year that can be rolled up and put away like a poster, according to a report.
The 65-inch TVs will retract automatically at the touch of a button like a garage door, Bloomberg reports. They will sport organic light-emitting diode or OLED screens.
LG has already showcased a prototype of the television at its research center in Seoul. The company had also showed off the rollable screen technology earlier this year.
LG Electronics' rollable TV can change its size to serve particular purposes. The TV screen can be rolled up with a console below the screen. The method is similar to adjusting the size of a beam projector screen or blind. A consumer can change the size of the TV screen for movies, dramas, games and music videos with a remote controller or a voice command. The ratio of 16 to 9 which realizes a wide TV screen can be adjusted to the ratio of 4 to 3 suitable for watching old videos taken before the popularization of wide screen TVs. When consumers do not watch TV, they can either roll up the TV screen and have it hidden in living rooms or leave small part of the screen in the outside so that it can show time and weather tickers only.
LG Electronics also plans to showcase an 88-inch 8K OLED TV at the CES. The 88-inch 8K OLED TV will go on sale as early as in June of next year.
Rival Samsung Electronics started selling 8K QLED TVs first but LG Electronics claims that its TV can realize even better picture quality thanks to its different image technology.
LG is also preparing to make its mark on fifth-generation or 5G wireless technology. The company will likely unveil its first 5G smartphone at next year's Mobile World Congress.
While Apple plans to hold off until at least 2020 before offering a 5G iPhone, Samsung Electronics is said to plan rolling out its entry next year after first introducing three versions of its new flagship, to be dubbed the Galaxy S10. Samsung is also said to be working on scrollable and stretchable screens that could eventually go into smartphones.
Unlike Samsung, LG has no plans to introduce a phone featuring "foldable" screens next year.