Logitech Introduces The ERGO K860 Ergonomic Split Keyboard
Today Logitech announced the Logitech ERGO K860 Ergonomic Split Keyboard, an ergonomic split keyboard designed to offer a more natural typing experience.
The keyboard features a curved wrist rest with pillowed cushioning placing your forearms just above the keyboard, offering more wrist support and reducing wrist bending. The adjustable palm lift feature keeps your wrists in a natural posture, whether you're seated or standing. ERGO K860 is certified by United States Ergonomics and has been tested and rated for a 10 million keystroke lifespan.
ERGO K860 connects to up to three devices via Bluetooth Low Energy or the USB dongle, works with both Mac and Windows operating systems and features a numpad for heavy spreadsheet users.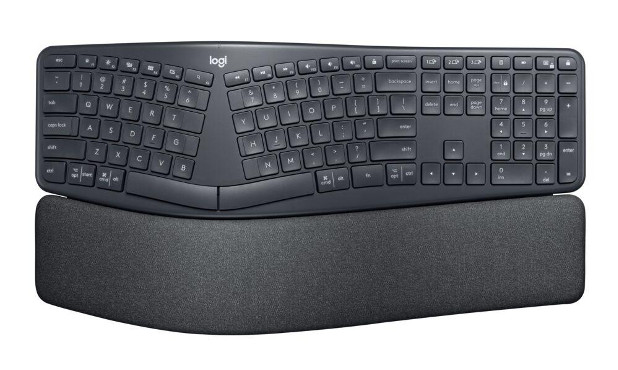 The ERGO K860 follows your Logitech Flow-enabled mouse, such as the Logitech MX VERTICAL Advanced Ergonomic Mouse, from one computer to another, so you can type on multiple devices in one fluid workflow when using Logitech Options software.
The Logitech ERGO K860 will be available in January 2020 at Logitech.com and Amazon.com as well as select retail stores in February 2020. The suggested retail price for ERGO K860 is $129.99.