Marantz Launches New Melody M-CR412 Hi-Fi
Following the deluxe Melody X Network CD Receiver, Marantz has announced a new budget version, the Marantz Melody M-CR412, a classic mini hi-fi system with a modern design, and featuring CD playback, FM/DAB+ radio, USB, as well as built-in Bluetooth.
Engineered and tuned by the company's team drawing on more than 65 years of hi-fi expertise, the Marantz Melody promises to provide "exceptional performance" for your favourite CDs and radio stations. Built on the recently introduced Melody X Network CD Receiver (M-CR612), the new Melody Hi-Fi CD Receiver (M-CR412) is crafted with the same materials.
Despite its small 11cm height, the device's maximum power output is rated at 2x 60 Watts. The Melody is featuring four channels of digital audio amplification, meaning that you can connect two pairs of loudspeakers and drive them with independent volume control for each pair. It even offers a bi-amping mode, known among audiophiles for even better sound quality from a single pair of supporting speakers. Additionally, the Melody is fully compatible with almost all speakers, including 4-ohm models. The quality audio approach is underlined by a USB-A input supporting even high resolution music playback including FLAC, ALAC or DSD files.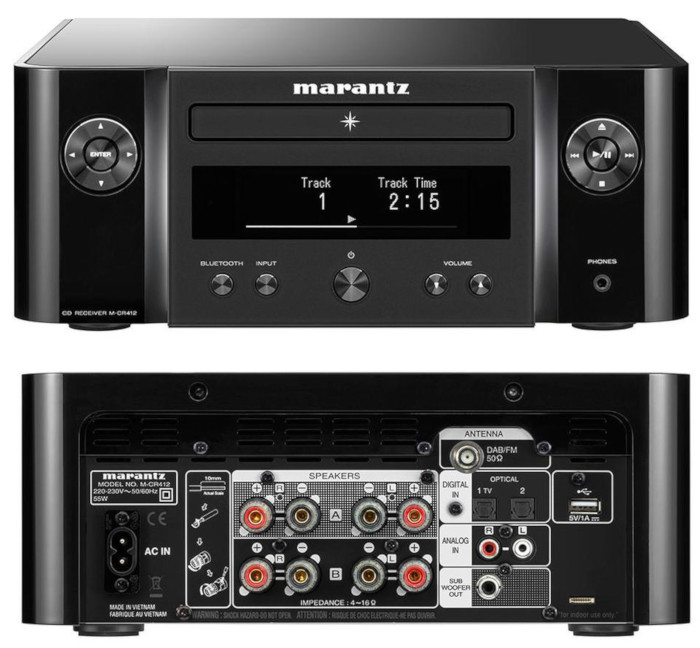 Users can connect their digital TV or cable/satellite set-top box and a Blu-ray or DVD player to either of the two digital audio inputs. The Melody can automatically wake when sensing an audio signal from the television, and can be programmed to work with a TV's remote for volume, mute and source selection, which makes swapping remotes while browsing through the TV stations obsolete. To round up, smartphone users can stream their music to the Melody via Bluetooth.
Deluxe vertical lighting accents on the front panel – a modern-day Marantz trademark – give that extra touch of quality. It is available from June 15th in black or classic silver-gold at authorised Marantz retailers for £449 / €499.