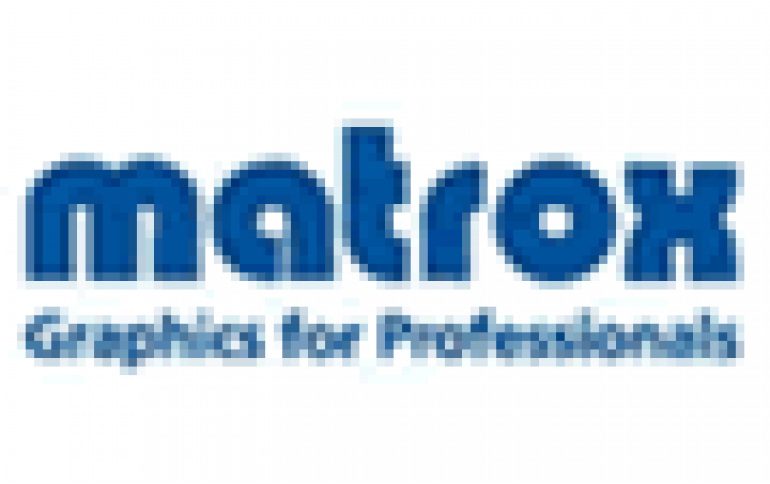 Matrox DualHead2Go and TripleHead2Go are now compatible with Mac
From the Graphics eXpansion Module (GXM) product line, both DualHead2Go and TripleHead2Go are palm-sized boxes that connect externally to a notebook or desktop computer and uniquely allow users to attach two or three monitors respectively for an incredible multi-monitor configuration. "Matrox GXM technology will revolutionize the Mac platform with its unprecedented portability and ease-of-use," says Caroline Injoyan, business development manager, Matrox Graphics Inc. "Now Mac users can finally benefit from Matrox's multi-monitor expertise, traditionally reserved for PC environments, by simply incorporating a GXM into their system setup."

DualHead2Go enables a fully symmetric dual-monitor setup for Mac notebooks or desktops, creating the ideal workspace for managing multiple projects or office applications simultaneously. If a larger desktop space is required, the TripleHead2Go can be used to work with a triple-monitor setup. The extended desktop space across multiple monitors is the optimum backdrop for professionals working with digital content creation applications: they will have ample room to place all their menus, toolbars, editing timelines, and project windows across multiple monitors and experience first hand the productivity benefits of multi-monitor computing.

Graphics eXpansion Modules (GXM) are external devices that are simple to setup-there is no need to open up the computer to insert parts or to replace any hardware or software. The operating system detects the DualHead2Go and TripleHead2Go like an ultra-widescreen monitor that supports resolutions of up to 2560x10241 and 3840x10241 respectively. The GXM technology then splits this ultra-wide resolution into two or three standard resolutions and sends the information to the attached monitors. The GXM maximizes the capabilities of the Mac by using its existing graphics hardware and software for all 2D, 3D, and video acceleration.

A complete list of compatible systems is posted on the Matrox website and maximum resolutions supported may vary depending on the system model or GPU. Visit http://www.matrox.com/graphics/mac for complete Mac details.