Microsoft Announces Intune for Education And New Windows 10 PCs for School
This week, Micrsoft is at the BETT conference in London and announces a new cloud-based application and device management service that is built on the Microsoft Intune service, along with Windows 10 PCs designed for the classroom.
Specially designed for schools who want to put devices in classrooms and not touch them again for the rest of the school year, Intune for Education makes it easy for either IT admins, or teachers playing the role of IT in the classroom, to get up-and-running in minutes on Windows 10 devices and manage shared devices.
The express setup feature in Intune for Education makes it easy to set up default policies for all the devices and users in a class, school or district in a matter of minutes. Schools can customize over 150 granular settings, assign them to a student and apply them to hardware, apps, browsers, the start menu, Windows Defender and more. These settings follow the user to any device when they sign in.
To manage just a few devices, admins or teachers can automatically enroll in Intune for Education by logging in with an Office 365 Education email account. When there are many devices to set up, they can use the "set up School PC" app to set up any number of Windows 10 devices. The first time a teacher or student logs in to the new device, it is customized for their unique needs.
Intune for Education makes it easy to assign and deploy any combination of web apps or education apps from the Windows Store for Business. Once apps are customized, they are available to users at their next login and follow them to any device, so students and teachers always see the apps they are supposed to see, and no apps they shouldn't.
Intune for Education and Windows 10 are engineered to integrate with other Microsoft cloud services including Office 365 Education. By integrating with School Data Sync, Intune for Education automatically creates groups based on school roster data, so apps and settings can be applied to students, teachers, devices, specific schools, or specific classes or sections with no additional work required. Any changes to the roster will be reflected automatically in the group. Intune for Education is suited for schools of any size that want a cloud-based solution to manage their Windows 10 devices. Because Intune for Education is based on Microsoft Intune, larger school districts or schools with large, full-time IT departments can take advantage of cross-platform support to manage iOS and Android devices and integration with System Center Configuration Manager, if they choose. Intune for Education will be available in preview in the coming weeks and broadly available this spring for $30 per device, and via volume licensing.
New Windows 10 Devices Alternatives to Chromebooks
Starting at just $189, Windows 10 PCs are available today from Acer, HP and Lenovo, with many devices featuring Windows Ink, touch support.
The HP ProBook x360 11 Education Edition (starting at $289 with pen included) and the HP Stream 11 Pro G3 for Education (starting at $189) showcase the latest Windows 10 technology at prices competitive to Chromebooks.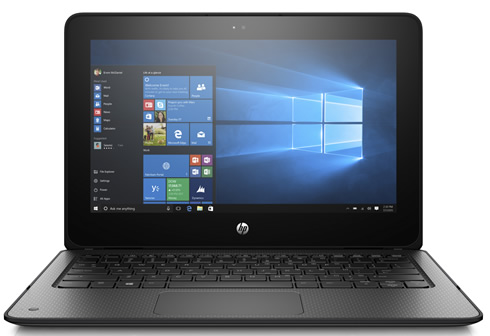 The new Acer TravelMate Spin B118 11.6-inch convertible notebook with a 360° hinge is sized for easy portability with a starting price of $299. It features four usage modes, Windows 10 Pro with a stylus to support Windows Ink, and a design made for the classroom that includes a pressure-resistant screen, shock-absorbent rubber bumper and spill-resistant keyboard. With up to 13 hours of battery life, students can easily power through a full day of school.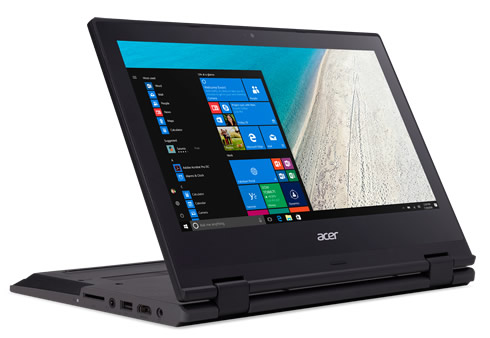 Lenovo has improved the rugged and portable ThinkPad 11e series. Available in both clamshell or Yoga form-factors with Windows 10, ThinkPad 11e simplifies software and security management for educators and offers students notebooks that will last longer, even under the roughest handling. ThinkPad 11e includes military standard testing procedures and up to 11 hours' battery life. The Yoga 11e comes with a pen and support for Windows Ink.
Lenovo's new Lenovo N24 featuring Windows 10 now supports Windows Ink. The N24 convertible notebook will offer an 11.6-inch IPS display with 360-degree screen rotation giving multimode capability, 10-point touch and an Active Pen with pen holder. The Lenovo N24 is expected to be available mid-2017.
The Lenovo N24 joins the currently available Lenovo N22 and N23 Yoga notebooks built specifically for education at the affordable prices of $189 and $249, respectively. The Lenovo N23 is designed to meet the day-to-day needs of teachers and students with a ruggedized design and a 10-hour battery life.
JP.IK - one of the world's largest distributors of devices for education - is announcing the TURN T201 PC for Windows 10. Designed for students between 12 and 18 years old, TURN T201 is a 360-degree convertible PC featuring an active stylus pen with pen holder enabling Windows Ink. It has preloaded Inspiring Knowledge Education Software, which enables teachers and students to work together, a Microlens that works as a microscope for science tasks and a Thermal Probe that detects temperature fluctuations. It also has a retractable handle, which makes it easier to carry around and less likely to be dropped.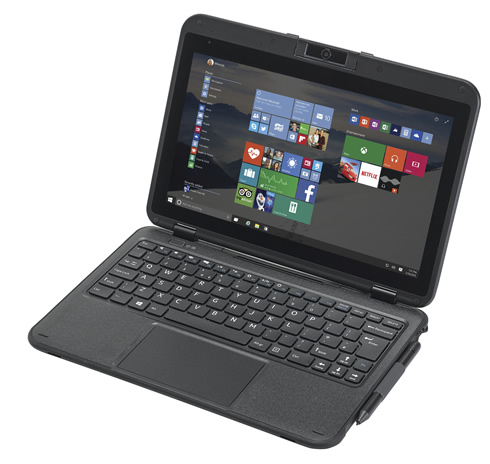 Last year at BETT, Microsoft introduced Minecraft: Education Edition to the world. Today, the company launches the latest Minecraft: Education Edition update, offering a number of new features requested by our community, including Global Pause to take a quick break to transition to a new activity, accessibility features like text to speech for in-game chat, an updated user interface for managing in game settings, 256 world height for greater building capabilities, complete gameplay from the first night to The End dimension, and new "Minecraft mobs" and items including igloos and Polar Bears in snowy biomes.